Making the decision to undergo plastic surgery is an important one – and a decision that should not be taken lightly. One of the most important considerations when selecting a plastic surgeon is what other patients have to say about them. Patient testimonials provide invaluable insight into a surgeon's skill level, bedside manner, and overall attitude.
At my practice, I am proud to have a long list of satisfied patients who have had positive experiences with me and my team team. I understand that the decision to undergo plastic surgery can be a difficult one, and I strive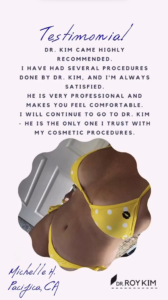 to ensure that each of my patients is comfortable and confident in their choice.
Your safety and satisfaction are my top priority, and I and my team take great care to ensure that you feel comfortable and informed throughout the entire process. We understand that the decision to undergo plastic surgery is a personal one, and take the time to listen to your individual needs and goals.
If you are considering plastic surgery, I strongly recommend that you read through patient testimonials so that you can feel confident in your decision. I am proud of the work that I do, and always strive to provide the best care and results for my patients. I look forward to helping you reach your aesthetic goals.