What is the nerdy approach I use for breast augmentation sizing? In plastic surgery, it's pretty common to use a "biodimensional" that measures the rib cage, breast width, skin laxity, and more.
⠀
I tweak this by using my term called the "Goldilocks Pocket." I take more stuff into consideration including the placement of the nipple, the width versus the height of the breast, the amount of breast tissue before augmentation, the thickness of the pectoralis muscle attachments that I can visualize intra-op, desired area of cleavage, and more to ensure proper pocket creation.
⠀
If the pocket is great, then the final breast augmentation is great as well.
⠀
To my knowledge, no one looks at these details on a consistent basis because – well, I really have no idea! This is how I achieve a more natural look with just breast implants.
⠀
Yes, I am quite leery about calling my procedures and techniques a unique name like the "Goldilocks Pocket" because I think it's a bit too self promoting. However, I'm also surprised at how many patients and plastic surgeons have asked me how I achieve my results compared to others. Now you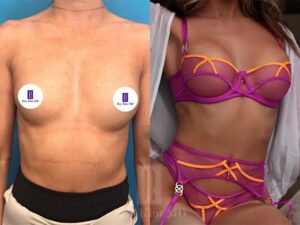 know most of my secret sauce!
⠀
Pictured here is my stunning patient who has 300 cc silicone gel implants, smooth, round, moderate plus profile, dual plane III pocket, with an inframammary incision. Look how great that is!
Have any questions or comments? Comment down below.