I always recommend patients get their dermal filler procedures done when they are okay to have some swelling and possible bruising for around 24-72 hours post-injection.
⠀
This is because no injector can promise that a patient will NOT bruise. It's simply not controllable, as you can see by the extensive web of blood vessels in the graphic.
⠀
It also depends on the area that's being injected, the patient's own body and some other factors stated on the second slide ⬅️
⠀
Of course, injectors can do their best to avoid it and can also take their own steps to lessen the possibility of bruising.
⠀
There are also some steps YOU can take to help avoid the possibility of bruising post-injection!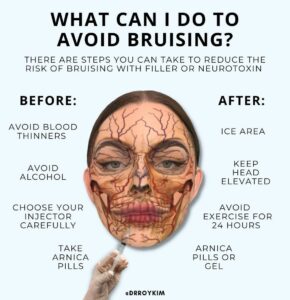 ⠀
If an injector promises no bruising… it might be best to look for a different injector! And always do your research especially when having filler done around the mouth, the nose, glabella, etc. as these areas require an extensive knowledge of anatomy and are much higher risk for occlusions.