Introduction
Plastic Surgery is Fun
Camaraderie is Contagious
It's a Very Visual Profession, Lending Itself to the Internet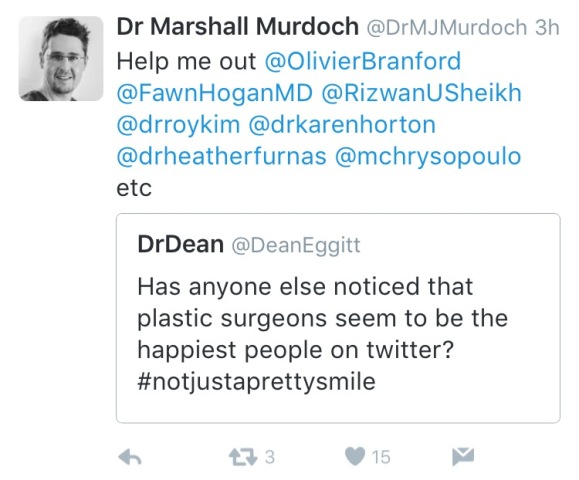 Introduction
Recently, I saw this tweet on Twitter- and was asked to help out with an answer. I don't know if I'm taking this question too seriously, but I thought it would be a great way to answer in long-form why plastic surgeons are so happy on Twitter. Plus, it's hard to babble within a 140 character limit.
Plastic Surgery is Fun
Yes, combining artistry and creativity with science is a lot of fun. As plastic surgeons, we can operate on the young and old, women and men, and all over the body. We can also make body parts more functional and aesthetically pleasing. The field is constantly changing as technology improves, allowing us to do more refined plastic surgery procedures and help more people over time.
In general, plastic surgery is "happy surgery", where we try to restore a person's body and psyche to give them the function and confidence to return to a normal life. We tend not to do unhappy surgery- which is why I think that plastic surgeons are pretty happy in general, compared to other types of medical and surgical specialties.
The enthusiasm to fix things and to help others is real, which translates into happy tweets!
Camaraderie is Contagious
As a plastic surgeon, I am grateful to help patients in the US, and also to have helped patients throughout the world in underserved communities. Because all plastic surgeons speak the "same language"- using our plastic surgery skills to improve lives – this camaraderie amongst the plastic surgeons that use Twitter is contagious.
I am always amazed and impressed by the difficult plastic surgery problems in other areas of the US and the world, and the enthusiasm and innovation to help patients. As a group, we are able to meet at plastic surgery conferences, go over difficult cases, and geek out over the latest technology that's available to us.
The camaraderie is real among all plastic surgeons, so this translates into happy tweets!

It's a Very Visual Profession, Lending Itself to the Internet
As a profession, we can't rely on a blood test to determine if our plastic surgery procedure worked- we rely on photos and videos. Because our field is so visual, this translates well into the world of Twitter and social media.
Our society is increasingly heading towards a very appearance conscious and filtered "face" that we show to the rest of the world. Selfies, always showing life's best moments, and the continued appreciation of beauty are all factors that only increase plastic surgery and curiosity in how it's done.
Does a picture really convey 1000 words? I think that with today's imaging technology and the ability to shout it out to the world immediately, a plastic surgery "Before and After" image may occasionally be a novel!
And posting it on Twitter leads to happy moments, both for my patient as well as for me.
Everyone in life has bad moments, obstacles, a rough patch- but with plastic surgery, we can deliver some hope to patients with certain problems. Whether it's burn reconstruction, breast reconstruction for breast cancer, cleft lip infants, helping an adult look younger and more rejuvenated to gain confidence, fixing a nose after a bad accident or to fit an individual face, curing skin cancer – I'm happy to help out, and I know my other Twitter #plasticsurgery colleagues are as well.
I'm still tweeting at www.twitter.com/drroykim, and I'd be happy to be your new Twitter friend! Of course, this means you'll have to buy me coffee if we ever meet up in real life, right? ;)