Special thanks to Ms. O'Connor of JAM Global Consulting for the life and work lessons during our business meeting! – Ms. O'Connor and JAM Global Consulting – http://jamglobalconsulting.com/
Consultation with Ms. O'Connor
Introduction to Wagyu
Hostess Problems
Wine Selection with Our Waiter- No Explanations Given
Meat Offerings and Side Dishes- No Explanations Given
Requests for Explanations- the 3rd Time's a Charm
A Once In A Lifetime Experience- Because It's Never Going to Happen Again!
Plastic Surgery Learning Points
                  EXCEED EXPECTATIONS
                  BELIEVE THE HYPE
                  REALIZE PLASTIC SURGERY IS A RECURRING BUSINESS
Consultation with Ms. O'Connor
I was excited to meet with Ms. O'Connor, the CEO of JAM Global Consulting, because she has a great track record in elective health and medical practices, especially in Plastic Surgery.
I'm doing well- BUT I WANT TO DO BETTER. I want to exceed all expectations, grow as a business, grow as a person, be brutally honest about my shortcomings, and fix any and all problems in my plastic surgery practice.
Ms. O'Connor and I met over Twitter, and we had literally no other connections socially or in reality. However, a phone conversation made it quickly aware that she was an expert at what a cosmetic plastic surgery patient wants in a plastic surgery practice. Our first physical meeting was in San Francisco at a high end steak restaurant – 5A5 Steak Lounge.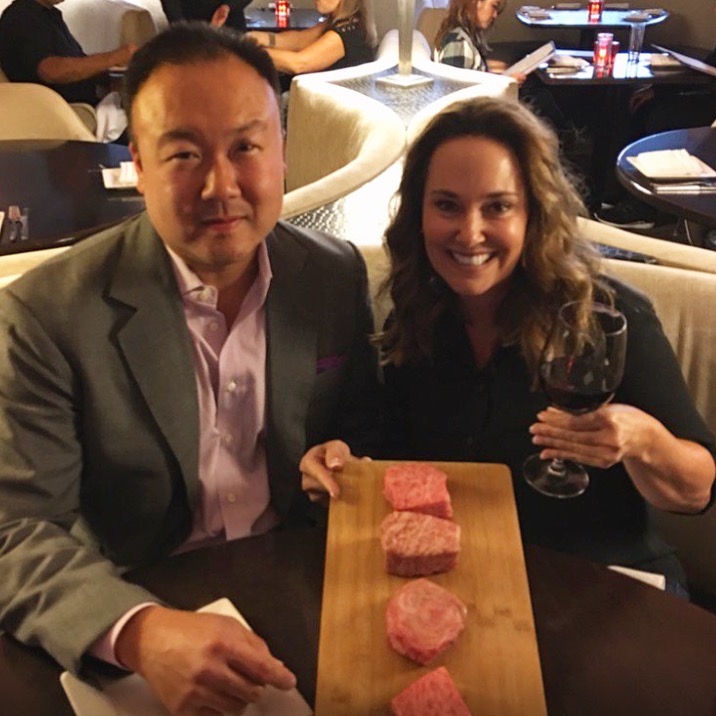 Introduction to Wagyu
We were both eager to try it out, because 5A5 is one of the few places in the US that offers authentic Wagyu meat. We both vaguely knew that it's a rare and expensive type of steak from select cattle in Japan. The cattle are grass fed, allowed to roam around and graze, and are bred for their unique meat that is marbled, tastes better, and is more buttery than other types of meat. Other than that- we didn't know too much.
I'm not a huge meat eater, but I have had great meat before- USDA Prime, dry aged meat, Kobe beef, In-N-Out Burger– so let's just say I've had the bad stuff and the good stuff, and I know what's better than average. I also read about 5A5 Steak Lounge online before I went, and also learned about Japanese Wagyu beef.
I generally do not leave negative reviews online, because I feel that life is already filled with too much negativity. However, this review is a mixed review, and I am no restaurant critic, so please take it with a grain of salt.
Hostess Problems
Ms. O'Connor and I walked in and were greeted warmly by our hostess. We had reservations, so she promptly seated us.
We were not thrilled with the table given to us- it was basically next to the open kitchen and the hallway. We asked the hostess for a different table. The restaurant was pretty empty, with only 2 other tables occupied.
The hostess that the restaurant was "fully booked" but since we arrived on time, she would make a special exception and "allow" us to sit at another table.
5A5 Steak Lounge never filled up that evening- and we stayed for about 2 hours. So, we both felt that the hostess lied to us, or was trying to make us feel that she was doing us a special favor. It didn't leave a good taste in our mouths- and we didn't even have an appetizer yet!
Wagyu and Wine Selection with Our Waiter- No Explanations Given
Then our waiter came. Our waiter showed us a great selection of meats, and we ordered 4 portions, 4 ounces each, of the 4 different cuts of Wagyu beef. That's a total of 16 ounces of beef for the mathematically challenged out there.
At this point, he gave no explanation of Wagyu beef, or choices of sauce, or how it was prepared. Ms. O'Connor then asked me if I knew much about Wagyu beef, and I told her that I didn't know that much. Since she's an expert on customer experience, she quickly noted that the waiter didn't "wow" us about Wagyu beef, the uniqueness of the product, how rare and obscure it is, how it melts like butter in your mouth- I was getting hungry just hearing her describe what the waiter should have told us!
There was no "there" there. With the hostess and the waiter, there was no "wagyu experience" that we were feeling at all.
5A5 Steak Lounge prides itself on offering a unique and amazing product, yet their wait staff doesn't seem to talk to customers about how amazing their Wagyu beef is.
Our waiter came back and asked us if we wanted any wine. I declined and stuck to water, and Ms. O'Connor asked about wine by the glass. Our waiter recommended the house Cabernet Sauvignon, and Ms. O'Connor asked him about it. Our waiter said it was "great" and then asked to confirm her order. She said "Yes", and he went away.
At this point, I knew Ms. O'Connor and I were both on the same wavelength.
I don't drink alcohol at all- but living in San Francisco, usually the waiters give a PhD thesis on their house wines– the aroma, oakiness, mouth feel, bouquet, scent, flavor intensity, who picked the grapes, how long they were gently squeezed to get the juice, if the oak barrels had a good time while aging the wine, if the grapes were allowed to be free range and single estate while growing up– so I commented to her that our waiter didn't do a great job at all.
Ms. O'Connor agreed. She noted that our waiter didn't offer other red wine choices- Pinot Noir, Malbec, 2 Buck Chuck, Welch's grape juice- and made no attempt to describe the house wine. Was it sweet? Bitter? Dry? We had no clue.
Our expectations for just describing the red wine, or giving wine options, were not met.
Meat Offerings and Side Dishes- No Explanations Given
Our side dishes and wagyu came back, and they looked beautiful. The sauces and truffled butter and other condiments were fantastic.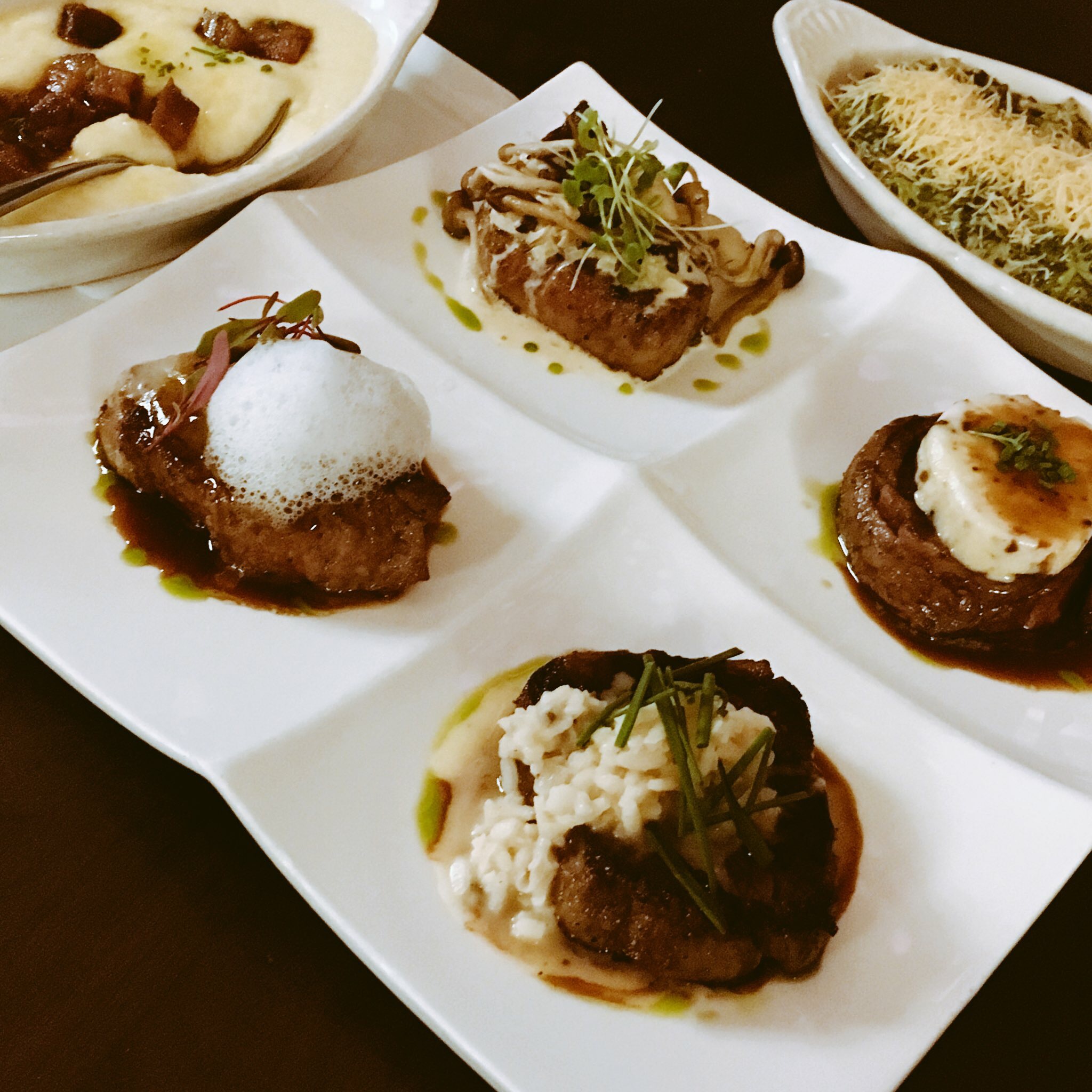 However, we both noted that we were never asked about food allergies, food preferences, spice preferences, and other details which may matter to other diners. Fortunately, neither of us have any food allergies, and we just dug in. Wagyu beef is delicious, more buttery in texture, and less meaty or stringy if you will, compared to most types of steak.
Yes, it would have been nice to know what sauces and other options were available for our Wagyu. We were given no choices and no explanations given at all- just all of the Wagyu steak presented to us as soon as it was ready.
Requests for Explanations- the 3rd Time's a Charm
Since we kept talking about Customer Experience, we decided to run an experiment and ask various people about why the Wagyu at 5A5 Steak Lounge was so special. We asked a busboy about Wagyu- but he deferred to our waiter.
We told our waiter that the Wagyu was delicious and asked him what makes it so special, and what makes 5A5 so special.
Our waiter seemed slightly impatient but did explain to us that our steak was cooked to perfection, that the 5A5 Steak Lounge chefs did not use very hot burners like at other restaurants, that the other places were mere "chop houses" but couldn't exactly explain how that was a derogatory term, and stated that their sauces were special "Asian Fusion" recipes that perfectly complemented the meat, but didn't know what the sauces were made from.
At this point, we were not impressed.
One of the founders stopped by, and asked us how everything was.
We told him the meat was great, and he smiled and walked away. He seemed to give off the air that he was just going through the motions, and not too keen on actually talking to us. I could be wrong about this- maybe we seemed to be thrilled to be munching on Wagyu steak.
We asked a waiter who was refilling my water glass about why Wagyu was special, and why 5A5 Steak Lounge was so special.
Pay dirt! This waiter gave us a lengthy explanation on Wagyu, why 5A5 Steak Lounge was one of the few places in the US to offer authentic Wagyu, how it was prepared, how the "Asian Fusion" sauces complemented the meat since the steak was from Japan, where the prefecture in southern Japan had the perfect grass and climate for the special cattle, the competition with Kobe beef- it was a total and complete explanation on Wagyu and 5A5 Steak Lounge.
A Once In A Lifetime Experience- Because It's Never Going to Happen Again!
After finishing up our meal, I paid for the dinner. Since I'm a gentleman, I did not allow Ms. O'Connor to see the bill. We both kept on talking about how the Customer Experience at 5A5 Steak Lounge was not quite up to par and how it related to Plastic Surgery. We came up with a bunch of conclusions and parallels, and wrote them down for this article.
She then asked me what the bill was. I tried to hide it- since I do try to be a gentleman most of the time- but she insisted, and saw the damage.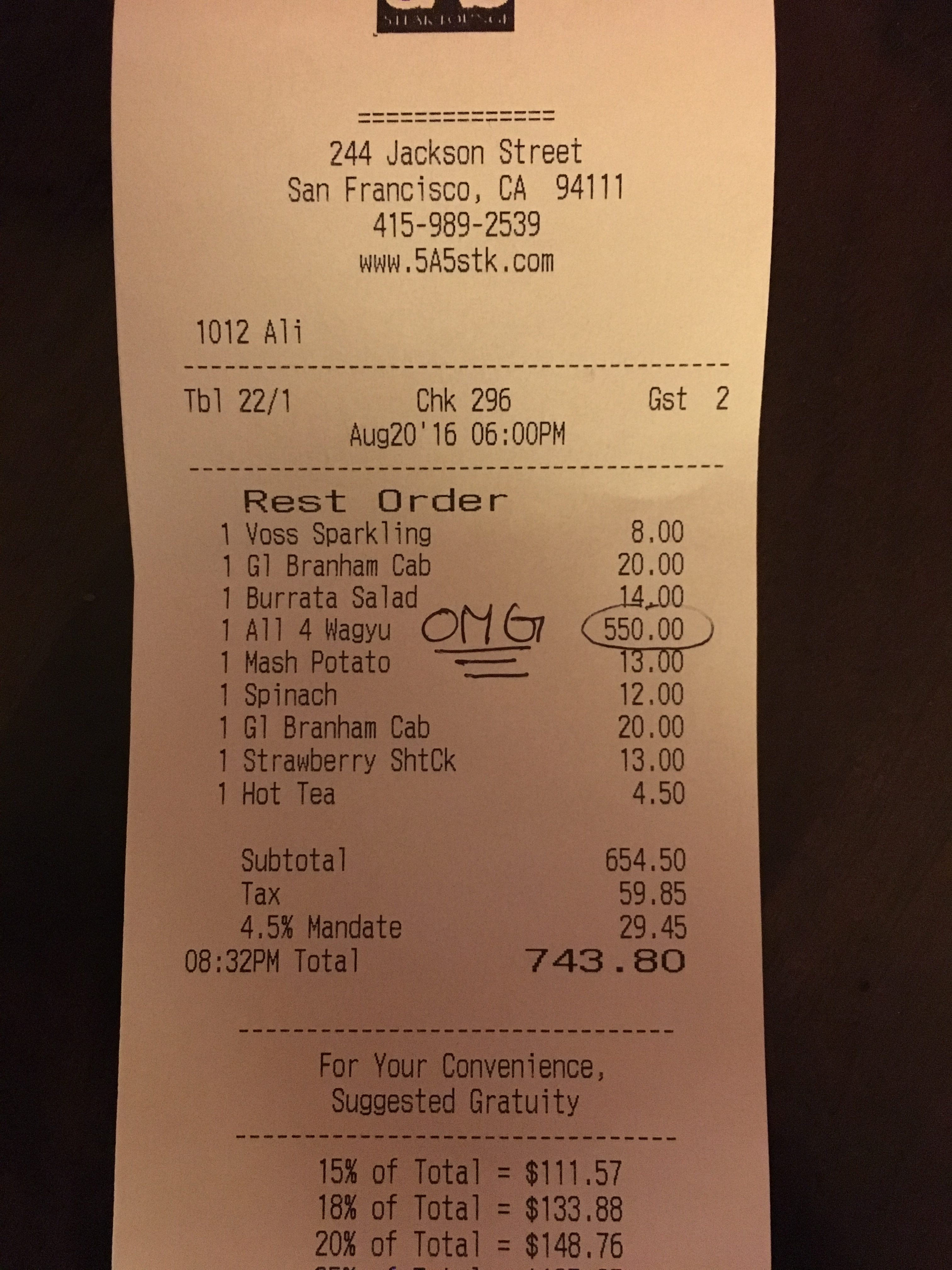 $550 for 16 ounces of Wagyu beef- $34.38 per ounce of meat
$743.80 for the entire bill- WITHOUT TIP
At this point, I had to rush to get a defibrillator and apply it to Ms. O'Connor, because she had passed out and had no pulse.
After shocking Ms. O'Connor several times and placing her in Trendelenberg, she was not impressed. Both of us felt that the very "special" steak was not that special, and that the presentation and overall experience left much to be desired.
After making sure her pulse was consistent and no longer thready, we left 5A5 Steak Lounge and made plans to go to In-N-Out Burger for future business meetings.
Plastic Surgery Learning Points
Plastic Surgery is a unique, expensive, and custom experience. After dining at 5A5 Steak Lounge, here are some things I learned.
1- EXCEED EXPECTATIONS AND DELIVER AN "EXPERIENCE"
Plastic Surgery Patients want to have the Plastic Surgery experience with a Plastic Surgeon- 5A5 did not deliver a special "wagyu" experience.
 Plastic Surgery is bespoke, customized, expensive, and respectful. Even if patients "only" get Botox or a filler, it's hundreds or thousands of dollars. It's important to take your time, listen to your patients, explain things well, explain a custom plan for your patients, and justify your costs of any beautifying procedure.
There are plenty of plastic surgeons- treat your patients like family, exceed expectations, and your happiness and influence will grow.
At 5A5 Steak Lounge, expectations were not met- hostess begrudgingly moved us to another table in a restaurant that was empty, the waiter gave us no explanation of wine choices or descrptions of the wines, and no good explanations of Wagyu meat, sauces. The waiter never told us the incredibly high price per ounce of the Wagyu beef.
It left a bad taste in my mouth after buttery Wagyu steak.
2- BELIEVE THE HYPE
As a plastic surgeon, you have to have the self-confidence in your skills and in your ability to deliver the final beautiful aesthetic result- and be able to talk about it and generate the confidence in the patient.
If you don't believe in yourself- who will?
Ms. O'Connor noted that the wait staff and other employees did an adequate job. However, they have not been trained in the art of believing in the uniqueness of Wagyu and 5A5- and they can't explain to customers why the high prices are justified. So, it's not their fault- the leaders and managers of 5A5 Steak Lounge need to do a better job of having a mission and making sure anyone at that restaurant can explain their mission to the customers.
Having a great explanation of the amazing steak, the high quality of the meat and the chefs, and a careful explanation of why that particular house Cabernet Sauvignon was chosen to pair with the Wagyu steak would have eased the pain of the bill.
Is it hype? Maybe and maybe not. But any explanation is better than NO EXPLANATION.
Ms. O'Connor educated me and told me that many plastic surgery offices seem to have unmotivated and uneducated employees. There's little to no energy or mojo. This is mainly the fault of the leaders- the Plastic Surgeon.
If a Plastic Surgeon is enthusiastic about plastic surgery, conveys and educates his/ her office staff, and empowers them to help patients- well, that's the plastic surgery practice that will do well and give quality results to patients.
3- PLASTIC SURGERY IS A REFERRAL AND RECURRING BUSINESS
In Plastic Surgery, you have to look at your patient as not just a procedure- but as a wonderful friend who may refer other friends and family, and as a possible repeat customer with a future procedure.
If you treat your patients like family- as I do- then your patients will be delighted and shout to everyone about how they need to see you, and only you, as the ONLY choice for plastic surgery.
5A5 Steak Lounge failed to deliver on this completely. I am NOT interested in ever eating Wagyu steak there, even if the prices were lower. I did not have any special experience with Wagyu beef – and frankly, they did not bother explaining why their meat and their chefs and their wine choices were that special.
Ms. O'Connor and JAM Global Consulting – http://jamglobalconsulting.com/
I would love to hide Ms. O'Connor's website and business presence and keep her expertise all to myself. However, I think she is very astute and amazing customer service expert, so please feel free to check out her website, check out her social media feeds, and contact her if your business needs help.
FYI, I am not paid for this (NOTE THAT I PAID FOR DINNER) and I am not getting a discount for her consulting services. I just wanted to write this article for my memories and to remind me that work and life lessons can be learned anywhere – even in experiences that seem to have nothing to do with Plastic Surgery.
See you at In-N-Out Burger for our next restaurant review! ;P
Roy Kim, MD
Plastic Surgeon Extraordinaire (thanks to Ms. Fanny Jane O'Connor)
www.drkim-com.drroykim.staging.wpengine.com