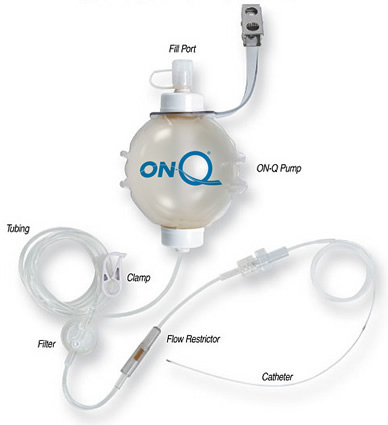 A pain pump is a simple device that has a pain medicine reservoir, and a way to deliver it to an area of surgery. The delivery system is usually very narrow tube, or catheter, that the surgeon places into the area of surgery in the operating room. It comes out of the body, and then is attached to the pump portion.
The photo above is the On-Q pain pump system, and there are several other manufacturers as well. The ball is filled with numbing medicine, and it slowly pumps numbing medicine into the catheter for several days.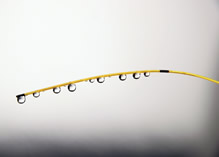 The photo above is a close up of the catheter ending. This is what is placed into the area of surgery, and you can see the liquid numbing medicine coming out of the end of the catheter.
The pain pump can be automatic, or patient controlled. You have slow, consistent delivery of numbing medicine directly to the area of surgery. This numbing medicine has the advantage of being delivered right to the area of surgical dissection, giving maximal pain relief. Numbing medicine also has the advantage of working only in the area of surgery, so it has no systemic effects, such as causing constipation, nausea, or feelings of drowsiness.
The disadvantage of narcotic pain medications are that they tend to have a global effect. Narcotics are absorbed into the bloodstream and can make you feel queasy, sleepy, constipated, nauseated, or a combination of all of these. Even though you're in pain, you may feel these other symptoms as well. If you can avoid taking narcotics, but still be in less pain, such as with use of a pain pump, then you will recover faster and feel better.
Occasionally, some patients are very motivated to return to work as soon as possible, or have a limited amount of time off for surgery recovery. Using a pain pump allows you to ensure the fact that you don't have that much pain after surgery yet still recover in a less painful fashion. If you want to work from home, or you're the owner of a small business, you may be able to work for several hours over the phone or on the computer the next day after surgery if you get a pain pump.
Before pain pumps were invented, patients would typically require IV pain medicine or pain pills by mouth every 4-6 hours. With the pain pump, you will probably need fewer pain pills by mouth, and hopefully for a shorter period of time.
Pain pump removal is fairly simple, and depending on the type of pump and surgical procedure, it may be possible for you to remove the device by yourself. Your plastic surgeon may wish to remove it in the office. Generally, it is a fairly quick, pain-free procedure to remove the pain pump device.
Pain pumps are becoming increasingly common in breast surgery, tummy tuck surgery, and other kinds of operations where a surgical pocket needs to be created.
Should you desire more information about my available services, or want to schedule an appointment, please contact my Patient Care Coordinator at info@drkim.com, or call our office at 415-362-1846. 
NOTE-  this pain pump product is from On-Q.  The website is here-  http://www.iflo.com/prod_onq_classic.php