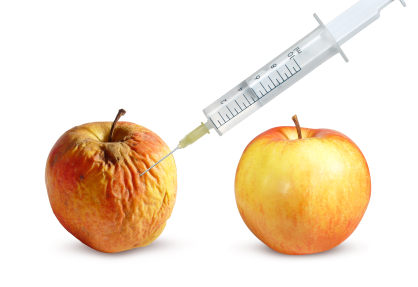 A liquid facelift is a non-medical term that several non-plastic surgeons have been talking about recently.  Essentially, it seems that if you can inject various areas of the face to fill in lines and wrinkles, plump up certain areas that are thinned out, and then do a facial resurfacing procedure, then you can do a liquid facelift.
Typically, the injectables are Juvederm or Restylane.  Both of them are HA fillers/ hyaluronic acid fillers, and last anywhere from 6-12 months.  You can use other dermal fillers as well, including Radiesse, Sculptra, or Artefill.  These other fillers last longer, but may not be able to be injected into every facial area, since they may be more hard or rigid.
The dermal fillers are injected into the typical areas of lines or wrinkles, as well as areas that need to be filled and plumped up.  The wrinkles include
–  the vertical lines between your eyebrows
–  the nasolabial folds, or the parentheses lines around your mouth
–  the vertical lines that go from the edge of your mouth down towards your chin, also known as the marionette lines
The areas that need to be filled or plumped up include
–  the cheeks
– the nasojuggal groove, or the horizontal line that may be underneath each eye just below the lower eyelids
–  your lips
Optional areas can include your nose, especially the bridge or tip of your nose.
After the dermal fillers are done, then you may undergo some type of facial resurfacing procedure, usually a chemical peel, laser peel, or IPL treatment.
Most patients will need some type of local anesthesia for these injections, and some patients would benefit from medicine by mouth that would reduce anxiety.  Since this is done in an office setting, you will probably want to have it done at the end of the workday, and then use ice liberally to help reduce swelling and bruising.
So, is this really a viable option for a facelift? In my opinion, no.  A so-called liquid facelift can't hope to achieve the large amount of sculpture and reshaping that tightening the SMAS can do.   The skin can't be tightened with a liquid facelift.  Fat grafting is a more permanent solution to filling lines and wrinkles, as well as filling in and plumping up flatter areas, but fat grafting usually needs to be done in an operating room setting.  A liquid facelift is limited by how long your dermal fillers will last.
If you have relatively tight skin and just need very small amounts of filling, and if you need to recover as quickly as possible, then a liquid facelift may be for you.  Only after a consultation with a plastic surgeon will you know if you're a candidate or not.
Should you desire more information about my available services, or want to schedule an appointment, please contact my Patient Care Coordinator at info@drkim.com, or call our office at 415-362-1846.
Did you find this article interesting?  Please share via Twitter, Facebook or Google Plus below.