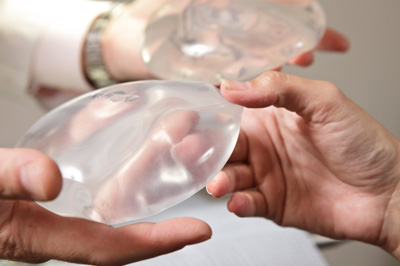 Most of you probably now that a breast implant comes in different volumes. However, a more subtle measurement, but just as important, is the profile of your breast implant.
Once you have figured out the optimal volume for you, the next step is to choose which profile is best for your frame. You have to be measured, because the breast width is difficult to measure unless someone is sitting in front of you. Also, other measurement may need to be done to assure symmetry and proportion.
Generally, the breast implant profile chosen is one that fits the base width of your current breast. Both Allergan and Mentor breast implant companies offer 3 different widths or profiles.
If the profile chosen is too wide, then you may end up with breasts that touch in the middle. This is called synmastia, and is actually abnormal.
If the profile chosen is too narrow, then the breast implants will fit the width of your breasts, but the space between your right and left breast will be too large, resulting in possible lack of cleavage.
The width of your breast implant needs to be "just right", which completely depends on your personal measurements.
The picture to the left of your screen shows 300 cc implants. The implant on the left is a moderate profile implant, and the one on the right is a high profile implant. Even though they have the identical volume, they look different, because the profiles are different.
There is no right or wrong profile, in my opinion- the profile selected for your body is dependent on how much breast implant volume you want, as well as the width of your breast. Breast augmentation surgery can be completely customized to you and your body, provided that you are properly measured and given your options beforehand.
Should you desire more information about my available services, or want to schedule an appointment, please contact my Patient Care Coordinator at info@drkim.com, or call our office at 415-362-1846.
Another blog post that discusses breast implant profile is here-
http://blog.drkim-com.drroykim.staging.wpengine.com/2010/04/what-size-of-breast-implant-is-right-for-you-you-need-to-know-volume-and-profile/