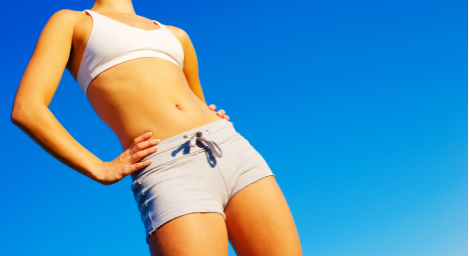 As always, any plastic surgery procedure will have possible risks or complications.  What are the unique risks for a tummy tuck, and what are the general risks?  I will explain most of them in this article.
Of course, every patient is different, and the internet is less like a medical exam than you might think.  It's impossible to tell you here what all your risks truly are.
You should definitely NOT rely on just my article, but rather, set up a consultation with a plastic surgeon and personally find out your real risks and benefits.  Even in this digital age, every individual patient and plastic surgeon is different, so real answers will require a physical, non-virtual visit to your local doctor!
Scar Not Quite Up To Snuff
The biggest concern I hear from my patients is "What will my tummy scar look like?"  As you know, since you've been avidly reading my tummy tuck articles, you know that a tummy tuck scar is long, low, and should eventually form a nice thin white scar.
However, your body may have other ideas.  Even when the scar is closed beautifully, and you take great care of your incision, your tummy tuck scar may want to turn red, wider, thicker, or the evil trifecta of all three things at once.  Bad scar!
What to do?  Remember, scars mature and change over 6-12 months.  There are several non-surgical options that are effective right after surgery.  Communicate with your plastic surgeon about any concerns and he or she will get you on the right track to the best possible scar outcome.
Lumpiness in Areas of Liposuction
Liposuction in the "love handle" or flank areas is a very common add-on procedure to a tummy tuck.  Sometimes any area of liposuction will want to form "lumps" or feel hard several days to weeks after surgery.
Don't panic-  because vigorous massage will usually help these areas of hardness feel better over time.
Another possibility is that you need to alter how you're wearing your compression garment, because this may be causing unsightly ridges or wrinkles in the areas of liposuction.  Alternatively, you may need a more or less snug fit of your compression garment, because swelling goes away quickly after your procedure.
Belly Button Blues
Nobody's tossing out your belly button.  We save your existing belly button with a tummy tuck procedure and stitch it back in place even more beautifully than we found it.  However, the healing may take extra time for several reasons:
* less than optimal blood flow in general to the belly button, because of stiffness, stretching, and post-surgery        swelling
* the need to clean the belly button as well as possible to avoid infection post-surgery
* how the belly button was repaired, and the affect that repair has on your overall appearance
* other medical conditions that slow down wound healing, including smoking/ diabetes/ etc.
Make sure you really cleanse and dress your belly button properly after your tummy tuck.  Again, if you have any issues with the appearance, then the best source of care is the plastic surgeon that did your procedure.  And just like the primary scar, there are several non-surgical options to make the scar appear better over time.
Continued Muffin Top
Hey, why is there still a "muffin top" after my tummy tuck?
Well, your main problem is: it's still very soon after surgery!  Your swelling will continue to go down.  Good things come to those who wait, and your patience will be rewarded as you watch the flank area smooth into a graceful shape.
However, if you chose NOT to get liposuction after your tummy tuck, or you were not given that option, some of the muffin top is probably remaining fat and soft tissue.  Although this will not go away quickly or easily, once you're cleared to resume exercise, get after it!
Maintain a healthy diet and exercise plan to keep your newly lost pounds off and whittle down the flank area.  Rarely, I have seen patients post-tummy tuck return to my office with a muffin top.  When it does happen, I weigh them… and they weigh more AFTER surgery than BEFORE surgery.  Don't be one of those people!  A surgeon has no control over your own daily habits and choices.
Finally, if it's been several months since your tummy tuck, you have maintained or even lost weight, and you STILL have excess in your flanks, you may need some liposuction or skin tightening in those areas.  As with all procedures, only your plastic surgeon can make that determination, and the best course of action is to see the doctor with whom you've bonded and developed a patient-physician relationship.
Generic Risks
There are always general risks with any kind of surgery, and a tummy tuck is no exception.  I often tell my patients that temporary bleeding, infection, stiffness, numbness, and other generic risks exist with a tummy tuck, just like they exist for breast surgery, open heart surgery, hernia repair, and all other types of surgery.
A tummy tuck should not necessarily increase your risks of very broad, general surgical risks, but hey, a tummy tuck is "real" surgery, and these are the known risks.
Benefits of a Tummy Tuck
Of course, the biggest risk with a tummy tuck is that you will look FANTASTIC.  Here are some articles about tummy tuck, and how you may benefit from this life-changing procedure.
Am I a good candidate?
What about scars?
How's Recovery?
Tummy Tuck Options
Are there any risks that you're concerned about that I have not discussed?  Any other questions?  Or you are ready to have a consultation?
Contact me at info@drkim.com or 415 362 1846, and I'll be happy to actually meet you non-virtually, and figure out the best strategy, individualized for you!