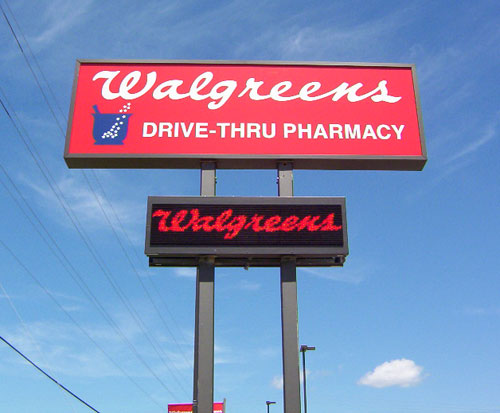 Walgreens and Express Scripts have finally kissed and made up.  Starting on September 15, 2012, supposedly, in San Francisco and the rest of the USA, you should be able to get your prescriptions filled at Walgreen's if your pharmacy benefit manager is Express Scripts.
The Wall Street Journal is reporting that the rift between Walgreen's and Express Scripts is over. It began when Express Scripts accused Walgreen's of charging too much. Walgreen's accused Express Scripts of throwing its weight around and trying to get unfairly low prices. Eventually, they just stopped working together, which might have been a bad idea since Express Scripts accounted for about 88 million of Walgreen's 819 million filled prescriptions. Walgreen's stock, WAG, went way down last year.
Before you fall asleep or go somewhere else on the Internet, I'll try to keep your attention.
Your health insurance company may not be actually managing your prescription drug benefits.  They typically outsource it to a PBM – pharmacy benefit manager.  Express Scripts is one of the gigantic ones in the USA.

After the break up, Express Scripts twisted the knife by telling affected patients they could go to another pharmacy.  In San Francisco, that's CVS.  Surprisingly, there are no 24 hour pharmacies in San Francisco, and the closest ones are in the suburbs, 11 and 15 miles away by highways or bridges.  Sort of inconvenient in the middle of the night.  I wrote an article about this headache in December.
CVS is actually building pharmacies in San Francisco, with an eventual one that will be open 24 hours a day, maybe.
With this new agreement, Walgreen's stock shot up from about $31 yesterday to just above $34 today-  a 10% pop, with the stock gapping, overnight.  I suggested buying "call options" in December for speculation, which would have been a great investment if you had picked the correct expiration month by sheer chance, luck, and speculation, for June 2012.
However, will Walgreen's be able to get all those lost customers back? Probably not. It's a hassle to switch your insurance, answer new questions, etc.
CVS CEO Larry Merlo told reporters last month after a business luncheon that, "A pharmacy customer is the hardest person to lose, but once you lose them it's the hardest person to win back."  Do I detect a bit of gloating in that quote?
Anyway, so what does this reunion mean?
Will Walgreen's stock continue to increase for the rest of the year?
Will anything happen to Express Scripts stock?
Will CVS stock go up or down?
Will all of the current CVS pharmacies undergo continued pressure to make quick profits?
Will a single CVS pharmacy in San Francisco actually be open 24 hours a day?
We shall see over the next couple of months!