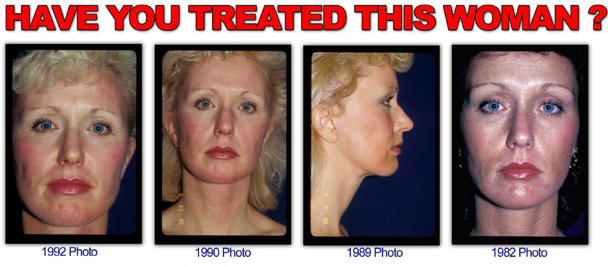 FBI agents spent a large portion of last week patting themselves on the back for finally nabbing Boston mob rat James J. "Whitey" Bulger after 16 embarrassing years of having no idea where he was.
Nevermind that a couple of dirty FBI agents helped Bulger escape in the first place by tipping him off that he was about to be arrested in 1995, and nevermind that he was living in an apartment in Santa Monica less than 4 miles from an FBI office. But, yeah, great job guys.
The grab came after a renewed campaign was launched earlier this year to find Bulger by focusing on his longtime girlfriend, Catherine Greig. Rather than posting pictures of the aging gangster on billboards, the FBI took a new approach by placing an ad in the April/May issue of Plastic Surgery News featuring several photos of Greig and the headline "HAVE YOU TREATED THIS WOMAN?"
Apparently, Bulger's moll was a big fan of plastic surgery and had undergone breast augmentation, liposuction, a facelift and an eyelid lift over the years. The FBI hoped to garner a solid lead by appealing for help to the more than 6,000 international surgeons who read Plastic Surgery News.
The ad showed before and after pictures of Greig and noted that she was sensitive to valium and erythromycin. It is still unclear if the unusual ad campaign aided in the arrest of Bulger and Greig.
While Greig most likely turned to plastic surgery to maintain a youthful appearance and not as a means to avoid capture, there are plenty of other examples of criminals using plastic surgery as a disguise.
In the 1930s, bank robber John Dillinger always stayed a few steps ahead of the police despite numerous capture attempts. He reportedly burned the skin off the tips of his fingers to eliminate fingerprints. Dillinger went even further when he met a sketchy doctor who had been previously jailed on drug charges by convincing him to perform a nose job, get rid of the cleft on his chin and remove a scar and three facial moles. Hopefully the surgeon received payment up front because Dillinger was shot dead outside a theater only 25 days after the surgery.
Tony Giordano was a major player in a drug trafficking ring that was busted up in 2006. Giordano was one of the last of the group to be caught because he allegedly used plastic surgery, massive weight loss and new facial hair to evade capture for several years before finally being apprehended. Police had to use fingerprints to identify him, and some law enforcement officers noted that he looked 10 years younger. I guess if you're going to be bad, you might as well look good doing it.
Even more recently, a woman from the Dominican Republic attempted to evade immigration officials in Baton Rouge, LA by paying a plastic surgeon several thousand dollars to cut and overlap the skin on her fingertips. Yissel Sosa Nunez said she was desperate to stay with her child who was born in the United States.
Marc Terrance George, a Jamaican man facing money laundering charges, was taken in for questioning in 2006 at a border crossing station in New Mexico. When authorities inquired about his damaged fingertips, he admitted that he was still healing from a $20,000 surgery that replaced the skin on his fingers with skin from his feet. He was sentenced to 13 months in prison. Meanwhile, the American plastic surgeon, Dr. Jose L. Covarrubias, pleaded guilty in Harrisburg, PA to federal charges of harboring and concealing a fugitive.
Ismael Zambada Garcia, the head of Mexico's powerful Sinaloa drug cartel, is widely reported to have undergone dozens of plastic surgery procedures over the last 34 years, allowing him to move freely throughout Mexico, Columbia and even Arizona as he monitors his multi-national business. Garcia has been designated as a Tier I drug kingpin since 2002 and on the DEA's Most Wanted list for more than 10 years. There have been billboards along Interstate 10 in Arizona that bear Garcia's photo, but nobody knows if the image is even correct. Perhaps the DEA should follow the FBI's lead and take an ad out in Plastic Surgery News? There remains a $5 million dollar reward for any information that leads to Garcia's arrest.
Join me again next week as I continue to track the decline of civilized society as told through the strange and varied tales of plastic surgery.