Temporary Enhancement
Some people just can't handle commitment; they want to both have and eat their cake.  And by cake, I mean large breasts.  (obviously.)  I'm talking about temporary breast enhancement.
Some doctors decry the procedure, but others are actually injecting saline into the breasts of patients for some temporary enhancement.  It's not affordable, at $3500 per session, and the results only last about 24 hours.  But for some, this choice seems to be the right fit for an event or short weekend getaway.
I have to say:  I don't get it.  Sure, there's no down time, but the cost benefit ratio seems foolish.  You're stretching your skin for a very few hours of reward.  Want enhancement? I say just GO FOR IT, get an augmentation and live every day like it's a special occasion.   #callme
Charity Boob Squeeze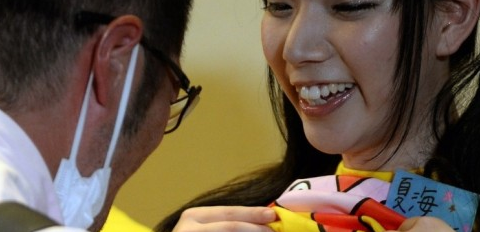 Photo Credit: Getty Images
As you know, Japan enjoys a different cultural flair than we know here in the USA.  But charity is a human desire which transcends international proclivities.  When you think "fund raiser," you may envision a bake sale, maybe a car wash or even a swanky dinner.  But you are not a porn star in Japan, so you probably didn't think to offer up your naked boobs for a squeeze in exchange for donations.
The named event translates to "Boob Aid," benefits the Stop! AIDS charity, and is exactly as I just described.  I want to judge this with moral harshness, but the more I think about it, the more resourceful and harmless it seems.
Relax, lots of things are awkward in Japan, but its citizens remain unfazed.  For goodness sakes, they have banana vending machines.  We can't handle these things.  That's our problem, not theirs.  Perhaps we are the ones with a weird culture.
Depraved Heart Murder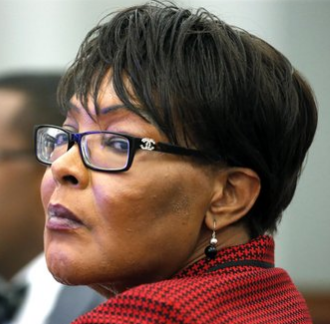 Photo Credit: Associated Press
Sometimes news is both wacky AND sad.  Such is the case with Tracey Lynn (originally "Morris") Garner, a man-turned-woman, whose tragic behavior I have remarked upon before.  She pretended to be a nurse, and gave bargain mystery butt enhancing injections to a woman, Karima Gordon, in Mississippi, causing her painful horrific death in 2012.
The trial has now concluded. Tracey Lynn got a life sentence, but still faces ongoing charges in Alabama regarding another dead patient from 2010.  Maybe future proceedings will explain why this woman continued administering her injections when at least one person had died from them.  You know what, never mind, we already get that Tracey Lynn suffers from extreme, dare I say sociopathic, denial.
Implant shortage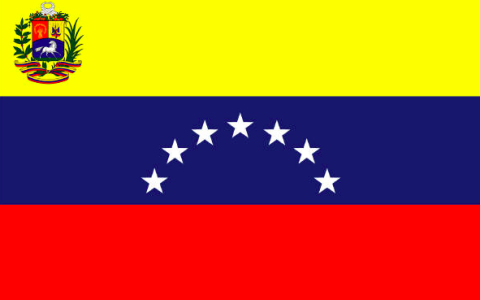 In Venezuela, you might stand in line over an hour to buy butter and toilet paper, due to government corruption, scarce goods and "bolivarian socialism."  But never mind that.  The real hardship is being felt by those trying to get some decent breast implants.  No can do in Venezuela.
The problem lies in unreasonable currency controls imposed by the government.  Doctors and patients used to be able to purchase USFDA approved implants for breast augmentation.  During that golden age, augmentation in Venezuela became a cultural must-have.  I'm talking mandatory.  Venezuela's appetite for augmentation is like the plastic surgery love child of South Korea and Hollywood.
There are no available statistics, but social commentators don't need statistics, they say, because they have eyes.  And those eyes are noticing a lot of augmentation in Venezuela.  Parents purportedly give the gift of enhancement to daughters at age 15, and consider it absolutely essential.  So much so, that even families who struggle to find adequate food may well contain several augmented women.
What's a flat chested Venezuelan woman to do?  I mean, not only is she embarrassed about her figure, but she's friggin' hungry from the food shortage.  Naturally, she turns to Chinese implants, according to ABC News.  These aren't the safest choice and doctors everywhere prefer the FDA approved models.  Some women are even buying them online on sites similar to Craigslist, from sellers who photograph the implants in baggies on a kitchen table.  "They're sterile, we swear it."  Often women can only get implants of the wrong size or shape and opt to use them anyway.
Desperation is a powerful force and an ever-present theme on Wacky Wednesday.  But lest not we judge those who have no butter and toilet paper from surgically implanting black market artificial Chinese breasts.  Who's to say what we would do to feel better in those circumstances?
Join me again next week as I continue to track the decline of civilized society as told through the strange and varied tales of plastic surgery.
Did you find this article interesting?  Please share via Twitter, Facebook or Google Plus below.