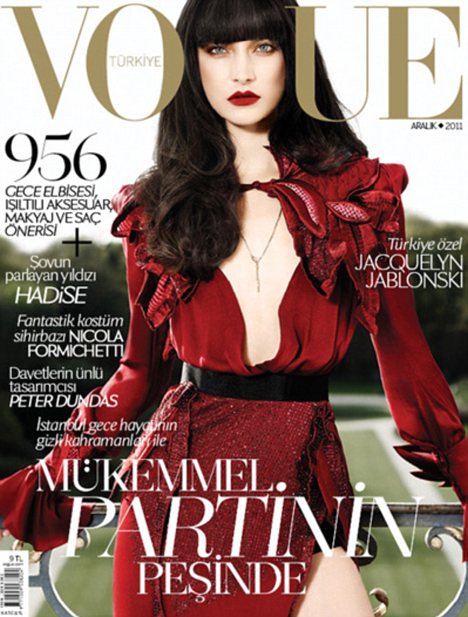 Where'd Me Boobs Go?
Okay so maybe supermodels aren't known as being the "chestiest" women around, but when you take the little that they've got away, well, it gets downright creepy.  Or comical.  I can't decide.
Anyway, we all can agree that airbrushing is officially out of control.  It looks like this is especially true for model Jacquelyn Jablonski who recently graced the cover of Vogue Turkey – without her breasts.
Gorgeous girl, gorgeous dress, so why would the editors do this?  I know the androgynous look is "in," but this is getting ridiculous. I could build a house of cards on that chest.  I could rest a tall glass of cabernet on that chest.  I could … well, you get the idea.
Victoria's Secret Photoshop Fails
Victoria's Secret is notorious for being a little too loose with the airbrush.  From deformed legs and missing arms to shrunken heads and beefed-up shoulders, sometimes flipping through that glossy catalog can cause thoughts like, "Why am I vaguely repulsed by this sexy angel?"
Here are a few of Vicky's most epic failures.
And here is this year's advertisement for the Victoria's Secret Fashion Show.  This poor model's right knee cap is dangerously low.  Otherwise known as a "knankle."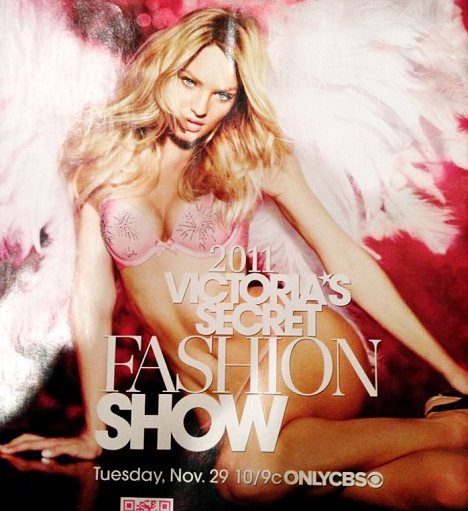 Things That Make You Say … WTF?
And you thought YOUR Thanksgiving was full of family disfunction?  Check this out.
Jason Good, 40, has an misleading last name.  Because if he did what he is accused of doing, he is anything but good.
Jason's wife called the cops last weekend when she was flipping through her husband's cell phone and found photographs of a woman undressing in the bathroom of their home.
Upon closer investigation, she found a tiny hole had been made between the bathroom and the garage. AND … wait for it … the women being secretly photographed was her own mother.  Jason was secretly taking pictures of his 57-year-old mother-in-law.
Police say the mother-in-law does not live at the home and did not know she was being photographed.  Looks like Jason is out of this year's family gift drawing and exchange.
First, Paralyzed.  Then, Really Paralyzed.  Now, Not Paralyzed Anymore
Whoa.  This is some kind of Christmas miracle story.  Or maybe destiny is just messing with this woman.
When Monique van der Vorst was 13 years old, she underwent ankle surgery that left her left leg paralyzed from the hip down.  Always an athletic girl, she took up competitive hand cycling where she eventually won six European and three world championship titles.
After being confined to a wheelchair for 10 years, she was hit by a car in 2008 while training and was left completely paralyzed from the waist down.  But she hardly missed a beat, winning two silver medals at the Beijing Paralympic Games that same year.
But wait.  She's not done.  Last year, she got into another accident, this time with another cyclist.  Her body went into spasm and then started to tingle.  By the end of the year, she was walking for the first time in 13 years.
This March, she ran in the Rome Marathon Short Distance race.  Okay, wait, now she's just making the rest of us look bad.  I actually used the excuse of "too much turkey" to skip my run last week.  But I've also used excuses like, it's too cold, too hot, too windy, too hilly and, "I need new socks."
Ms. Van der Vorst, you my dear, are an inspiration.
Can't get enough weird plastic surgery news?  Check out the archives.
Join me again next week as I continue to track the decline of civilized society as told through the strange and varied tales of plastic surgery.