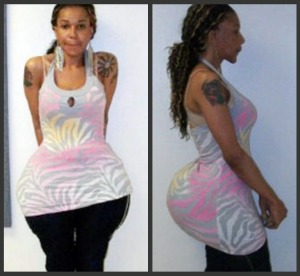 C'mon People.  Wake Up!
Nary a week goes by without another headline about a "fake doctor" being arrested for injecting women with some dangerous butt-lifting concoction of industrial silicone and Scotch tape.
This time, though, we have a photo.  But this is not a photo of the victim PATIENT.  These photos are of the "doctor," who is a transgender man named Oneal Ron Morris.
I gotta ask, if this fake doctor is the walking billboard for butt injections, why are people giving her $700 to inject their butt when they should be running the other way?  And I also gotta ask, are those custom-made jeans?
I've got to give this injector points for originality though.  She didn't just use silicone from Home Depot.  Oh no.  This wo(man) used cement, Fix-A-Flat tire sealant, mineral oil and Super Glue.  Yes, she closed the injection point with Super Glue.
Shockingly, the patient developed "complications" and a MRSA infection at the wound site and pneumonia.  But she didn't die.  So overall, it was her lucky day.
Morris was arrested in Florida and awaits trial.  I'm sure I'll have another story just like this one – next week.
Your Mama's So Fat . . .
Remember that old playground joke?  Your mama's so fat, when she sits around the house, she sits around the house.
Well, one British woman made sure that joke would never apply to her because she is no longer fat, and she no longer has a house.  Jayne Fenney, 50, sold her home to pay for cosmetic surgery.
At her heaviest, Fenney weighed 295 pounds.  She dieted and lost 60 pounds before undergoing a gastric band operation.  At 140 pounds, she had met her weight loss goals but had tons of excess skin hanging off of her.
"With clothes on I looked fine, but I had the body of a 90-year-old woman underneath," said Fenney.  "My skin had stretched so much that I just looked like a deflated balloon."
She wanted a full body lift ($18,000), plus a breast lift, thigh lift and arm lift (another $21,000).
And that's when she decided to sell her three-bedroom home for $159,000 and move into a mobile home that cost $99,000.  She says she has never been happier.  Plus, she still has money left over to shop for bikinis and lingerie.
Gloria Steinem Has Had Plastic Surgery – But Says You Definitely Shouldn't
Ah yes, here we go again.  Yet another celebrity admits to a tiny bit of cosmetic surgery, but then blasts aesthetic medicine and tells everyone else they should never do it.  Whatevs.
This time, it's none other than feminist champion Ms. Gloria Steinem.  In a recent interview, she told The Observer:
"A few years ago, during a brief stint hosting the Today show on NBC, she had a little fat removed from around her eyes so, as she once put it, 'I didn't look like Mao Tse-tung and I could wear my contacts.' But she looked worse afterwards. 'And what I care about is the message, and I realise that if I had plastic surgery, it would just distract people. It would be like having a bad toupee; they wouldn't listen.' She is appalled by America's obsession with cosmetic surgery – 'I keep thinking: Georgia O'Keeffe wouldn't have had Botox' – and would like to mount some kind of campaign against it: a warning, perhaps, of its side effects."
Side effects of Botox … such as … ?  She doesn't say.  But y'know, she was on TV, hosting a show, so it's okay that she tried cosmetic surgery.  But for you average women who don't have any hosting duties, Gloria says you shouldn't be so shallow.
Can't get enough weird plastic surgery news?  Check out the archives.
Join me again next week as I continue to track the decline of civilized society as told through the strange and varied tales of plastic surgery.