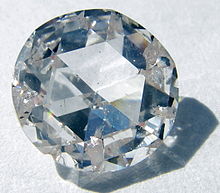 Waiting to Pass
A Canadian man was arrested and charged with attempting to steal a diamond worth $20,000 from Precision Jewellers in Ontario after a clerk witnessed him fumbling with a fake stone.
When the crook tried to give the clerk the fake stone back in place of the real diamond, she wrote a note and passed it to a colleague that said, "Call the police."
Sensing his imminent "busting," the would-be robber was seen swallowing the valuable sparkler before the cops arrived. The jewelry employees locked the man inside the store where a short time later he was arrested and taken to jail where he was put inside a cell with no toilet. Now, it's just a waiting game.
Sgt. Brett Corey said, "We are monitoring his bowel movements, if you will. Our forensic identification people are the lucky ones who have to go through the waste to obtain the diamond once it passes."
These unfortunate "forensic identification people," would certainly be right up there with having the dirtiest of jobs in Mike Rowe's hit television show "Dirty Jobs." Obviously they wear gloves, but still, I'd be washing my hands with a combo of undiluted Clorox, Purell and Dial every hour on the hour.
Unionized Strip Club in Danger of Closing
Speaking of bad jobs, strippers at San Francisco's Lusty Lady strip club are making an average of only $11 an hour and are in danger of the club closing. This is perhaps because of its unique business structure of becoming the only employee-owned cooperative strip club after the dancers voted to unionize in 1997.
Most strip club dancers are "independent contractors" who earn money dancing for tips. Often they have to pay the clubs for stage time, a system that can make the dancers vulnerable to exploitative business practices.
When the Lusty Lady's dancers voted to unionize, they wanted to protect themselves from such practices. In 2003, the workers bought the business for $400,000. The club's employees receive hourly salaries and those who are part of the co-op also share in its revenue (when there is revenue).
Dancer Sandy Bottoms said, "It's a sh***y feeling," she said, "to be walking away from a shift with as much money as if I have a barista job."
The gals are now trying to sell the club for $25,000.
How to Die Happy
And speaking of strippers, a 67-year-old Texas man died after receiving a series of lap dances at a nude club in El Paso. When it came time to pay, he was unresponsive. His cause of death has not been released but the coroner has said it was due to "natural causes."
If polled, I would imagine most men would vote this a not terrible way to die.
Read more:
Can't get enough weird plastic surgery news? Check out the archives.
Join me again next week as I continue to track the decline of civilized society as told through the strange and varied tales of plastic surgery.