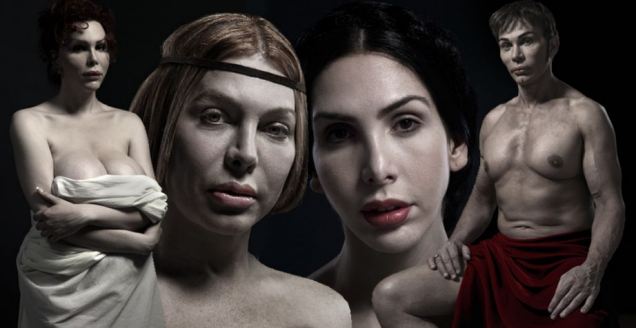 Photo: Daily Mail Online
Portraits of Plastic Surgery
"Beauty has always been a currency, and now that we finally have the technological means to mint our own, what choices do we make?"
This is the question asked by Phillip Toledano, an author and photographer whose book A New Kind of Beauty (NSFW) features men and women posing for portraits who have undergone extensive plastic surgery in the pursuit of beauty.
Shot in a chiaroscuro style (Italian for "light andd dark") and dubbed "The Botox Botticelli's," the photographs are at once captivating and repulsive. But then again, this is often the goal of many great artists.
Toledano notes that as patients have their noses reshaped, lips plumped, breasts filled and bodies contoured, a striking similarity or uniformity starts to emerge. Is this our future version of true beauty? And as growing numbers of people start to look alike, will repulsion turn into acceptance?
Unfortunately, I think a book like this just fuels the false fire that people who undergo plastic surgery always look freakish.  On the contrary. Good plastic surgery and the subtle hand of a conservative surgeon leaves no evidence.
Extremes in any arena will always draw attention, especially when one of the models looks like Fergie from the Black Eyed Peas. Seriously, look at the second woman from the left.  Fergie, is that you?
Plastic Surgeon Performs His Teen Daughter's Breast Augmentation
It's just a common after-school conversation between a dad and his teen daughter. "C'mon sweetie.  Finish up your homework and then pick out which breast implants you want."  Only in California, right?
A Newport Beach plastic surgeon, Dr. Michael Niccole, was recently featured on ABC's 20/20 for performing plastic surgery on his daughters.
He gave his daughter Brittani a breast augmentation when she was 18 and has also performed rhinoplasty (nose job) on Brittani. His other daughter, Charm, had her outtie turned into an innie.  And both young women, now 23, get routine Botox injections from dad.
I guess some kids have dads who own Mercedes dealerships and some kids have plastic surgeons for dads.  Each can come with unique … benefits.
Study Finds One Third of Young Women Would Trade Brains for Breasts
As if the previous story wasn't stressful enough for me (both as a plastic surgeon AND a dad to a daughter) – now this.
A recent U.K. study found that almost 30 percent of 1,100 women ages 18-25 would trade their IQs for bigger breasts. Forty one percent of the same women said they would prefer bigger breasts to a bigger IQ if given the choice, and a huge 79 percent said they felt they were more often judged on their appearance than on their intelligence.
Sigh.  Although, I guess I can't really judge them. Other studies have found that more attractive women and thinner woman make more money and advance further in their careers than average-looking and overweight women. So maybe it's the men that need an intervention?
Mama Needs a Pedicure!
Have you had a chance to catch the TLC show "My Strange Addiction?"  From a woman who bathes in bleach to a wife who can't stop eating her dead husband's ashes, it's a like a modern-day circus sideshow. You feel bad for staring … but you just can't stop staring.
Here's a video of Ayanna, who has been growing out her toenails for five years.  Yup.  Five years. Sure, she can barely walk and the exercise she needs to treat her diabetes is impossible, but hey, that's a small price to pay for her "babies" (a.k.a. her hammertoes).
You're welcome.

Can't get enough weird plastic surgery news? Check out the archives.
Join me again next week as I continue to track the decline of civilized society as told through the strange and varied tales of plastic surgery.