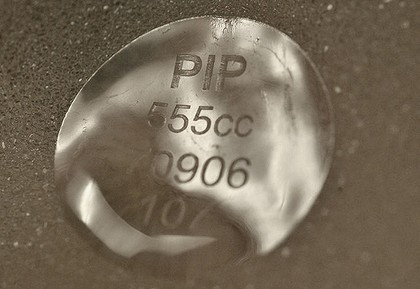 PIP Scandal Spreads to Men's Chest and Testicle Implants
Youch. The European PIP implant scandal seemingly has no end.
After an estimated 400,000 women received breast implants made from the same cheap industrial silicone as is used in fuel additives and rubber tubing, it has been revealed that men who underwent chest implants and testicle implants may have also been unknown recipients.
Ex-employees of the now defunct French company known as PIP have stated that the male products were only used outside of Europe, but tracking may be nearly impossible. I suppose men could check for that rubber tubing smell?
Man Sues Hospital for Ignoring His Painful Erection
A bus driver is seeking $2 million in damages after he says that doctors and nurses at Yale-New Haven Hospital in Connecticut ignored his complaints of a painful erection while they watched a baseball game on TV.
Darren Scott was driving customers in a private bus from Boston to New York when he says he experienced a persistent and disabling erection. After dropping off his passengers, he checked into the hospital's emergency room. But they told him to first go move his bus – because it was parked illegally.
Then they allegedly made him wait for several hours, during which time he complained repeatedly but saw on-duty nurses and physicians continuing to watch the game on TV.
The lawsuit says that the eventual surgery was unsuccessful and he continued to have pain for months. Man, Bostonians sure do love their Red Sox, eh?
80-Year-Old Grandma Recalls Being First to Receive Silicone Implants
She's a living museum – for breast implants.
Great grandma Timmie Jean Lindsey of Texas was the first woman to receive silicone breast implants in 1962. Lindsey says she wasn't seeking a fuller bust. She just wanted to get rid of a few rose tattoos on her chest. The doctor, told her she would be the perfect candidate for his new invention of self-contained spheres.
Her case was written up by Dr. Frank Gerow for medical journals, leading the way for what is today's most popular cosmetic surgery. Lindsey says she went from a B cup to a C cup and never regretted getting them. She experienced no side effects, just a little more attention from men.
"They would whistle at me," she says.
Obesity Problems Continue Even After Death
We all know the problems associated with living an obese life. Well, now it seems that the worries don't end even after death.
Some European officials are calling for a corpse weight limit after a 450-pound woman's body caused the cremation oven to catch fire. Her body fat was blamed for causing the fire to rage out of control, which resulted in a fire in the air filter.
Firefighters had to be called in and were photographed leaving the building covered in a black layer of greasy soot. Ew.
Can't get enough weird plastic surgery news? Check out the archives.
Join me again next week as I continue to track the decline of civilized society as told through the strange and varied tales of plastic surgery.