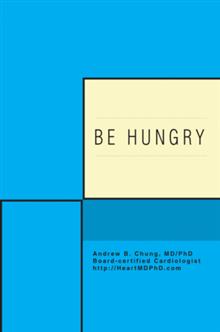 When Doctors Go Rogue
An Atlanta mother was arrested and charged with murder and child abuse last week after her 16-year-old mentally disabled daughter was found dead weighing just 40 pounds.
But this week, new details in the case have surfaced. According to reports, the girl's mother, Ebony Berry is a follower of Dr. Andrew Chung, who advocates hunger as a way of life.
Dr. Chung is a cardiologist with a degree from Emory University who has written a book called "Be Hungry" and who mixes scripture with medical advice. He says that being "wonderfully hungry" makes food taste better and that being hungry will bring you closer to God.
Dr. Chung was seen visiting Ebony Berry in jail after her arrest. Neither of them looked malnourished. Creeps.
Shopping List: Toothpaste, Vitamins … HIV Test?
A Walgreens near you may now offer an HIV test along with your flu shot and blood pressure check.
The CDC is conducting a trial program in select pharmacies in 23 cities, which will allow drug store shoppers to take an HIV test via mouth swab. Results are 99 percent accurate and available in 20 minutes.
An estimated 1.1 million Americans are infected with HIV, but up to 20 percent don't know it. Symptoms can take up to 10 years to develop.
If your test comes back positive, you are referred to a local health agency for blood testing and counseling. And you get a $10 off coupon toward your next shopping trip.
Old Person Smell Exists. Duh.
Now, why this is being studied, I can't say. But a new study says that there is such a thing as "old person smell." Glad we figured that out!
Three groups of people (20-30 year olds, 45-55 year olds, 75-95 year olds) were asked to wear the same t-shirt to bed for five nights and provided with unscented bath products. Each of the shirts contained underarm pads, which were then collected and put into glass jars.
A lucky group of 41 people (probably undergrads) were then assembled to smell the arm pads inside the jars and guess the age of the person. They did pretty well with their guesses, better than chance.
But when they were asked to group together all the jars that smelled like old people, they had a very high rate of accuracy. So it's not just moth balls and boiled cabbage?
Topless in Seattle
A breast cancer survivor who underwent a double mastectomy has been granted permission to swim topless at a Seattle city pool.
Joedi Jaecks, 47, wanted to exercise in the pool to regain her strength after enduring two surgeries and rounds of chemotherapy. But swimsuits caused pain to her chest and sensitive nerve endings.
She petitioned the city for the right to swim topless and after an initial denial, her request was eventually granted. She can swim during restricted "adult only" hours, even though she has no nipples and a completely flat chest.
She is now working on getting the same treatment extended to all breast cancer survivors.
Can't get enough weird plastic surgery news? Check out the archives.
Join me again next week as I continue to track the decline of civilized society as told through the strange and varied tales of plastic surgery.