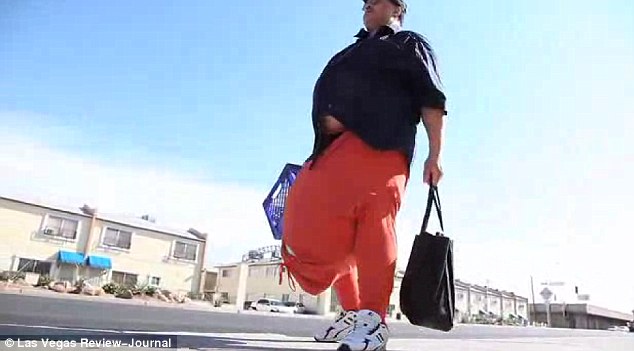 If Only What Happens in Vegas Would Stay in Vegas
From the dancing fountain at the Bellagio and the contortionists of Cirque to Soleil to a perpetually unwrinkled Wayne Newton, I've seen some pretty unbelievable sights in Las Vegas.  But this wacky story even trumps the tale of a white tiger going rogue on its sequin-covered handler.
Las Vegas resident Wesley Warren Jr., 47, is an average-sized man – with a 100 pound scrotum. A rare condition has caused Warren's genitals to grow out of control. They are so big that he must wear an upside down hoodie to conceal his business when he ventures out in public.
Okay, so that's pretty unusual. But wait. It gets crazier.
Obviously, this condition is debilitating and awful for this man. He can hardly walk, and he can't urinate normally or have sexual relations. His pain is constant and going out in public causes him to be a spectacle.
But the draw of fame in America is a mighty powerful thing, because several doctors have offered to operate on Warren for free. And yet, he has turned them down or not responded. Why? Because he has made numerous appearances on The Howard Stern Show and Tosh. O, along with being featured on TLC. And he isn't ready to give that up yet.
Dr. Oz's show offered to foot the bill for the $1 million surgery at a top-notch hospital in exchange for exclusive rights to his story. But then the Howard Stern show called to book him again, and well, he decided to haul himself and his 100 pound scrotum back to New York.
As David Bowie says, "Fame. It's not your brain, it's just the flame that burns your change to keep you insane. Fame."
Conspicuous Consumption Meets Face Cream
The world's most expensive face cream will debut in September. Encased in twelve layers of crystal and topped with a lid of three platinum rings, two ounces of Cle de Peau Beaute's La Creme can be yours for the bargain price of $13,000. If you're broke, you can buy the same cream at Barney's in a less fancy bottle for $775.
Either way, you'll likely still be wrinkled. Over-the-counter face creams just don't work, no matter how many layers of crystal surround them.
Teen Survives Three-Foot Spear to the Head
Maybe teenagers really don't have anything of substance between their ears.
A 16-year-old Miami boy survived a nearly fatal injury last week when his friend accidentally misfired a Cressi Sub SL spear gun while trying to load it during a fishing trip.
It pierced through the boy's skull about two inches above his left eye and went through his brain. The point of the three-foot spear came out of the back of his head. It took a lot of power tools and finesse for doctors to safely remove it.
After sawing it off and leaving about six inches sticking out, they were faced with a dilemma. Push the spear out of the back of his head and have 10 inches of steel sliding through his brain? Or pull it out the front, which would cause the barbs on the tip to likely deploy like a harpoon?
The family told doctors that the tip of the spear was removable, so they cut holes in the skull at the entry and exit point to allow for a little wiggle room. Then they used vice-like grips to prevent the barbs from deploying. They detached the two pieces and pulled half of the spear out of the front and half out of the back of the kid's head. Whoa.
Amazingly, the boy is fine and will live to tell this whopper of a fishing tale for years to come.
Man Catches Fire After Applying Sunscreen
It's gonna be a hot summer. It's only June and temps are already scorching across the country.
It could be especially hot if you do what one man did and catch yourself on fire by grilling and applying sunscreen.
A Massachusetts man applied Banana Boat spray-on sunscreen and then walked over to his charcoal grill. The vapors from the spray caught fire and traveled up his arms, chest, neck and ears. He received second degree burns.
So be careful out there. Try not to grill yourself, and have a great summer!
Can't get enough weird plastic surgery news? Check out the archives.
Join me again next week as I continue to track the decline of civilized society as told through the strange and varied tales of plastic surgery. – See more at: https://drkim.com/2012/06/20/wacky-wednesday-weird-and-strange-plastic-surgery-news-june-20-2012/#sthash.bYvJLaUY.dpuf