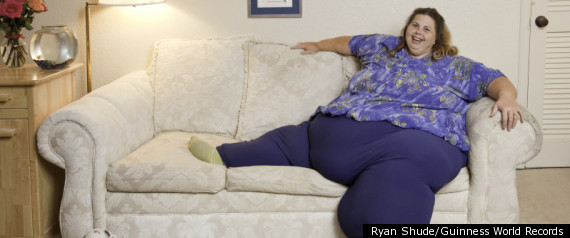 Well, It's More Fun Than Liposuction
At 643 pounds, Pauline Potter officially entered the record books as the world's heaviest woman last year. But shortly after making her debut in the Guiness Book, her ex-husband reached out to her and their passion was rekindled.
Now they have marathon sex sessions several times a day, which Potter credits with her recent weight loss of 98 pounds even though her 140-pound ex-husband is the one doing most of the work.
"I can't move much in bed, but I burn 500 calories a session – it's great exercise just jiggling around," Potter told Closer magazine.
Alex Potter weighs less than one of his wife's legs and recently told the Sun tabloid, "It's really dangerous for us to have sex because at any moment the bed could collapse and one or both of us could be seriously injured or even killed from the impact."
That's hot.
Alligator Appetizer
The folks down in Florida are just a different breed. While I would be too terrified to ever set foot in a pond, lake or river in the reptile state, Floridians seem to routinely go for swims in the murky waters. Well, it IS hot down there. Maybe the high temps and humidity burn away your common sense?
But the cavalier and joking attitude that one Florida teen has after losing his right arm to a 10-foot gator should really come as no surprise. Florida teens are accustomed to risking their lives while taking a dip.
Kaleb Langdale was swimming with friends in Moore Haven, Fla., on Monday when one boy shouted, "There's a gator!"
But it was too late for Kaleb who was face to face with the giant lizard. It attacked and took him under water twice before he was able to scramble free with his life but without his arm.
He underwent a successful surgery to close his wounds, and the alligator was found, killed and dissected. The arm was in the gator's belly but not able to be saved.
Kaleb later joked with his sister than she no longer can enjoy special status as the only left-handed kid in the family. Wow,
Wait, That's Not Quite Right
Woops. A famous Russian illusionist famous for his "hook in eye" trick was rushed to the hospital after accidentally swallowing the razor sharp hook.
Ilya Safronov was performing on Ukranian television when the trick went wrong. The illusion is supposed to appear as if he eats the sharp hook and then pulls it out of his eye. But this time, he did actually eat the hook.
His brothers, who are part of the act, realized something was not quite right (probably due to Safronov looking like he just swallowed a sharp hook), and they were going to attempt to remove it themselves but thought better of it and headed to the hospital.
It must have been too early in the day for vodka-induced home surgery. Lucky for Safronov.
Can't get enough weird plastic surgery news? Check out the archives.
Join me again next week as I continue to track the decline of civilized society as told through the strange and varied tales of plastic surgery.