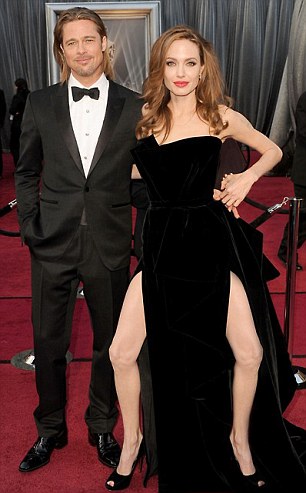 Before we get into this week's news, we just had to pause for a moment to discuss Angelina.  We all know she has made some questionable choices throughout her life.  There was the public makeout session with her brother, the marriage to Billy Bob, the vial of Billy Bob's blood around her neck, etc. etc.  But her latest antic during Sunday night's Academy Awards ceremony had me scratching my head yet again. What was with that leg pose? So … awkward.  But who am I to say? I've thoroughly enjoyed the parody photos now blanketing the Internet, and I'm sure the "Angelina leg" will soon follow the "Angelina pout" as the next big thing in plastic surgery.  A little lipo to the thigh, a knee lift and voila – red carpet ready.
Wives Wonder if Every Husband Could Use This Surgery
A 36-year-old British man recently underwent surgery that removed fat from his stomach to fill the hole in his head.  It is reported that wives from all corners of the globe are seeking a consultation with the man's surgeon.
No, but seriously.  They also wanted to know if the fat could be transplanted in other places, as well  No, stop it.  Seriously.
Okay, really.  Here's what happened.  Tim Barter was locked out of his house and climbed up a 25-foot drainpipe to try to gain access.  The pipe collapsed under his weight and he fell like someone in a Chevy Chase movie.  But being that it was real life and not a "Hollywood fall," Barter was seriously hurt when his head hit a brick wall on the way down.
He shattered his skull, eye socket and cheekbone and was left in a coma for 10 days.  Doctors removed nearly the entire right side of Barter's skull, which left his head severely deformed.  But it was eventually rebuilt using titanium and fat from his own stomach for a very natural appearance.  In fact today, he is a good looking guy.  Go ahead, see for yourself.  Sheesh.  Some guys get all the luck.  He shatters his head and still comes out looking like a model.
Are Metal-on-Metal Hip Implants America's "PIP" Nightmare?
As I've been reporting on my blog, Europe is currently embroiled in a breast implant tragedy that involved tens of thousands of breast implant patients receiving faulty silicone breast implants made by French company, PIP.  The sub standard implants were exported to 66 countries, but thankfully, the U.S. was not once of those thanks to the FDA.
But now, the FDA may have a equally big problem on its hands.  Synthetic hips used during hip replacement surgery that are known as "metal-on-metal" hip implants are coming under major scrutiny after complaints have quadrupled in just the last year.
As the metal rubs together, chromium and cobalt ions can leach into the surrounding muscle and tissue, causing problems as mild as pain to more severe issues such as mobile disability and even possible chromosome damage.
Most doctors have abandoned metal on metal hip implants and are choosing models that incorporate metal and plastic.  Hmmmm, if only I could invent a WD40 drip for these devices?
Holy Crap – Did That Just Happen?
A couple was relaxing in their backyard in Long Island, NY, when it suddenly began to rain.  Wait.  That's not rain.
At first the husband thought the slick, black stuff was oil or hydraulic fluid from an airplane from nearby JFK Airport.  When he and his equally soaked wife called the police, the stinky truth was discovered.  After a few calls, the officer was able to confirm that there had been an "incident," which caused lavatory waste to leak from a plane overhead.
Incident?  An incident is when you accidentally pick up someone else's briefcase or your kid breaks your neighbor's window.  Crap raining down from the heavens?  That's a you-know-what storm.
Can't get enough weird plastic surgery news? Check out the archives.
Join me again next week as I continue to track the decline of civilized society as told through the strange and varied tales of plastic surgery.