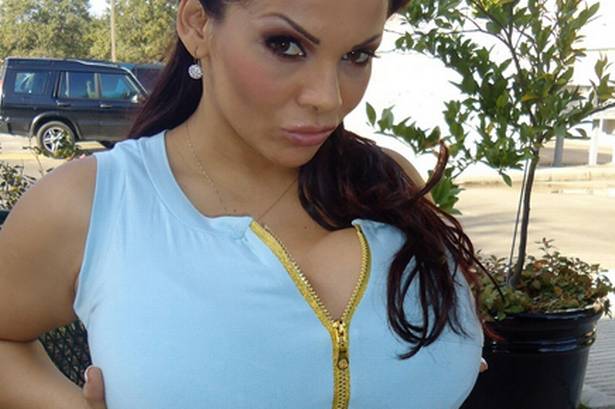 Oh Geez. This Lady Again?
'Memba that rather (allegedly) crazy eccentric woman we told you about a few weeks ago who had loads of breast surgeries in an effort to maintain her status in the Guinness Book of World Records for the world's largest breasts?
Well, anyway, she's back in the news. Imagine that.
Apparently she wrapped her car around a tree on her way home from a Superbowl party and is claiming that her size 38KKK breast implants saved her from certain death.
"I'm so lucky to be alive right now," Sheyla Hershey told a Houston news station.
Actually, it's the other drivers in Houston who are lucky to be alive. Police charged Hershey with driving while intoxicated.
Scapels for Hire
In the continuing saga of PIP implants in Europe, a consulting plastic surgeon told British health officials that women are in even more potential danger because of surgeons from other countries who did short surgical stints in the U.K. before returning to their home countries. Tracking those surgeons and their patients down to ensure that the faulty PIP implants are removed is gonna be a nightmare.
Huh? I've never heard of this. I would imagine if you're a plastic surgeon from Greece or Eastern Europe and you need to make some extra cash, you could fly to the U.K. and operate for a few weeks and then fly back home. And you would never have any complications from any cosmetic surgery cases- because you wouldn't be around! Woo hoo! (My tongue is planted firmly in my cheek).
Didn't Win Powerball Last Weekend?  Here's an Idea.
If you were like everyone else in America (except for one lucky person in Rhode Island), you didn't become a multi-millionaire in last weekend's Powerball.
But one man has a Plan B. He's suing the pants off of Allergan, the makers of Botox, for $60.5 million.
He claims that getting Botox injections in for back pain caused him to contract Guillain-Barre Syndrome, a crippling auto immune disease. The case is undecided to date. Here are the painful details.
Man, I Just Love Photoshop Fails
Seriously. I love 'em.
We all know that Photoshop and airbrushing is heavily used to make models and celebrities look freakishly perfect. But sometimes, when we're really lucky, the results are just plain freakish.
An otherwise beautiful girl modeling an orange dress for Simply Be recently startled shoppers with her mutant, six fingered, claw-like hand. To top it all off, her thumb was stumped and attached to her wrist. So. Awesome.
I know you're dying to see it.  Go on.  Get clickin.
Can't get enough weird plastic surgery news? Check out the archives.
Join me again next week as I continue to track the decline of civilized society as told through the strange and varied tales of plastic surgery.