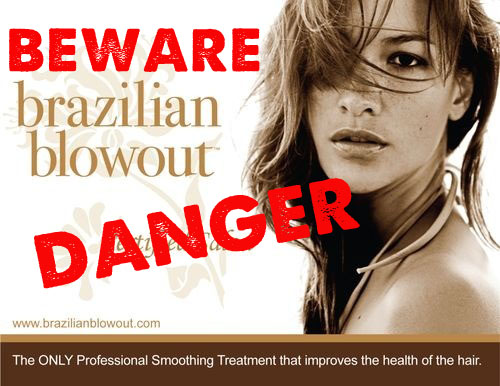 Brazilian Blowout = Silky Locks and a Possible Side of Cancer
Getting perfectly straight hair has been a challenge for generations of curly-headed women.  But in recent years, a new chemical treatment known as the Brazilian Blowout has become hugely popular among celebrities and mere mortals alike
The Brazilian Blowout treatment costs about $350 and relaxes natural curl and eliminates frizz while leaving hair easy to manage and quicker to blow dry.  But best of all, the treatment was marketed as "completely safe" with NO formaldehyde, a known carcinogen.
But thanks to some persistent complaints, the U.S. Attorney General's office and researchers in Oregon, we now know that those claims were a total lie.
In short, for a product to be considered "formaldehyde free," it must contain no more than .1 percent formaldehyde.  Oregon researchers tested 37 samples of Brazilian Blowout, and guess what?  They averaged 8.68 percent formaldehyde.  Yikes.
GIB, LLC., the makers of Brazilian Blowout, agreed in a settlement to pay $600,000 in fees and to stop advertising their product as safe and "formaldehyde free."
What's the point of beautiful hair if it's just going to fall out during chemo treatments anyway?
Woman Loses Arm and Breast to Flesh Eating Disease Caused By "Bath Salts"
A 34-year-old Louisiana woman went to the emergency room with purple, blistering skin on her arm and several small puncture wounds.  She admitted to doctors that she had been injecting drugs known as "bath salts," a powder made of amphetamine chemicals.
Doctors decided to operate and found a ravaged arm full of dead tissue and muscle.  The bacteria was moving so quickly that the woman's tissues and skin were visibly dying during surgery.  Eventually, the doctors were forced to amputate her arm and breast just to get ahead of the game.
It is unclear if the woman contracted the flesh-eating bacteria from a needle or from the drugs themselves.  But with a name like "bath salts," you'd think the high would be a little more … relaxing.
Sex Change Surgeries Turning Girls into Boys in India
Ugh.  This is so wrong.  Hundreds of little girls age 1-5 have apparently undergone sex change operations in Indore, India.  
Families value boys over girls for a multitude of reasons in India, including the high cost of marriages and dowrys for the parents of girls.  The gender balance has been unequal for some time with about 866 girls born for every 1,000 boys due to sex-specific abortions.
But now some parents are traveling from larger metro areas to a team of surgeons in the city of Indore to have penises created from female genital tissue and to start male hormone treatments on kids as young as 18 months old.  The procedure costs about $3,200 U.S. dollars.
In another disgusting, related story: It was reported yesterday that a 22-year-old Afghan woman was strangled by her husband for having a baby girl instead of the boy he wanted.  He had told his wife after the birth of their first child, a girl, that he would kill her if she did not produce a boy.  Does anyone think it would have mattered or resonated with him to be informed that it is actually the MAN that determines the gender of a baby?  Probably not.
Liposuction for a 12-Year-Old Girl (and a Lap Band at 13)
We came upon a news story this week that is several years old, but it is right out of our Wacky Wednesday playbook, so we're going to talk about it anyway.
A 12-year-old girl who has struggled her whole (short) life with her weight underwent a $25,000 tummy tuck and liposuction procedure.  She lost about 40 pounds.  Within a year, she had gained 35 of those pounds back because she found it "difficult to stick to a diet and exercise regime."  Uhhhh….yeah.  We all do.
Naturally her mother was undeterred, and against the advice of their family doctor traveled to Mexico to get her 13-year-old daughter a gastric lap band.  They had to head south because U.S. doctors consider it too dangerous for patients younger than 18.  But I'm sure mom would rather risk it than hear a bunch of whining from her daughter about eating broccoli and playing outside.
Can't get enough weird plastic surgery news?  Check out the archives.
Join me again next week as I continue to track the decline of civilized society as told through the strange and varied tales of plastic surgery.