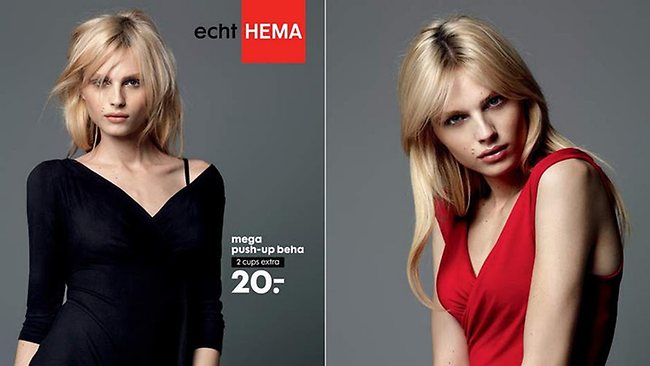 Dude. That's Amazing.
Dutch department store HEMA has just released a lingerie ad campaign featuring a push-up bra that promises to add two cup sizes to any bustline. And the sexy model in the ads?
She's a dude.Victoria's Secret thinks IT has a Miracle Bra? This is a bonofide VS beat down!
Male supermodel Andrej Pejic, 20, is well-known on European catwalks for starring in both men's and women's fashion shows. But this latest ad campaign proves that for even a "no cup" chest, this bra adds some serious curves.
No if only those men out there with "moobs" would take some interest in actually wearing some support…
Actress is Really, REALLY Committed to Her Role
We've all heard of stars going on diet binges to either plump up or trim down for their blockbuster roles. Christian Bale anyone? These types of "sacrifices" get a lot of media coverage, but I've never seen body transformations for movie roles as something to marvel at. What, we're supposed to feel sorry for you that you had to work out and eat right for 8 whole weeks before you got paid like $20 million? Puh leeze.
But the media is going absolutely gaga over the news that gorgeous actress Rooney Mara, who plays the lead in the upcoming mega hit "Girl With the Dragon Tatoo," got her nipple pierced for the role. Sure, it's a "tit"illating story, but c'mon! For several million dollars (which I'm sure she'll be paid) I would gain or lose 80 pounds, shave my head, pluck out my eyelashes, have my toenails removed and pierce anything. Literally, anything at all. Yo Hollywood, call me.
Tony Bennett is Just a Creepy Grandpa
A naked portrait of Lady Gaga sketched last month by Tony Bennett is going up on eBay to be auctioned off for charity.
Um. Why? Seriously, for so many reasons, I want to know …why?
Why did Bennett sketch Gaga in the nude? They were filming a Thanksgiving special together, so…naturally…
Why is this an auction item to benefit Exploring the Arts, a non-profit founded by Bennett and his wife Susan which campaigns for the arts to remain strong in public high school curriculum? Maybe because Bennett's WIFE has no problem with him saying things like this about Lady Gaga:
"She is the most beautiful person I ever met. There is something very special about her.'
I guess when you and your husband are 108 years old, things like that don't bother you much anymore. But, I dunno, the whole thing seems kinda creepy.
Can't get enough weird plastic surgery news? Check out the archives.
Join me again next week as I continue to track the decline of civilized society as told through the strange and varied tales of plastic surgery.