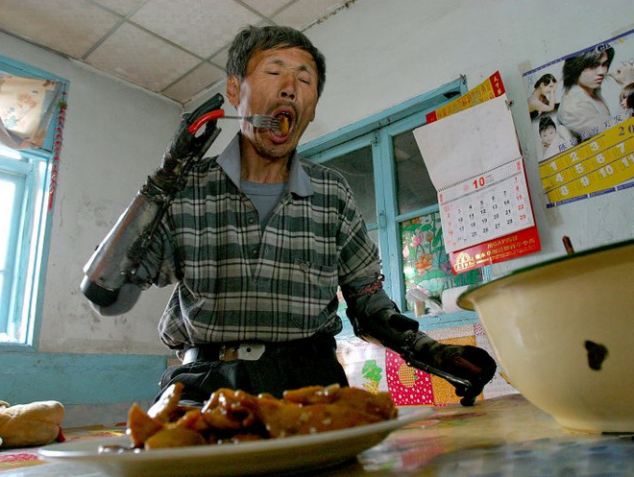 Who Needs Medical School?
DIY projects are all the rage these days. From a dedicated DIY cable channel to the never-ending wormhole known as Pinterest, ambitious types all over the world are sharing their projects with the world.
But a fisherman in China just might take home the big trophy for "Most Amazing DIY Project." He made his own prosthetic arms.
Sun Jifa, 51, lost both of his arms below the elbows when a bomb he created for blast fishing (a DIY gone wrong) exploded prematurely. He couldn't afford the prosthetic arms at the hospital, so he spent the next eight years designing his own.
The hands can grip things by using a system of wires and pulleys inside the shell that Sun controls with his elbows. He says the main disadvantage is that they are made of steel so they are heavy and tiring to wear. They also get very hot in summer and freeze in winter.
This real-life Tony Stark says that he hopes to provide the same design for other poor amputees. "'I made this from scrap metal for virtually nothing. There is no need to pay hospitals a fortune,' he said.
Perhaps the Obamacare program should hold a contest for the cheapest medical device replacement? I might be able to make a new hip out of a muffin tin and a broom stick.
Cardiac Surgery Technician a Little, Um, Distracted
This story is enough to stop any heart.
A cardiovascular technician at New York's famed Mount Sinai hospital is accused of regularly watching porn on his cell phone while patients lay unconscious on the operating table.
Ahmet Cercioglu is a supervising perfusionist, which is the person in charge of operating the heart and lung machines that keep people alive during open heart surgery. A woman who worked for Cercioglu is suing him and the hospital for creating a "hostile environment." She reports that his porn watching was so commonplace that the entire staff used to joke about it.
When the hospital posted a sign that said cell phones would no longer be allowed inside operating rooms, someone crossed out the word "phones" and replaced it with the word "porn."
Mount Sinai had no comment. Yet. It's only a matter of time before a patient files his or her own lawsuit, dontcha think?
Physician Accused of 'Waterboarding' His Own Stepdaughter
A prominent pediatrician who has made appearances on "Larry King" and "The Oprah Winfrey Show" for his research into children's near-death experiences is accused of waterboarding his 11-year-old stepdaughter and punishment as possibly as research for his next book.
Dr. Melvin Morse was repeatedly named one of the best pediatricians in the country beginning in 1995 by Seattle Magazine, but by 2007, he had retired to Delaware after contracting Hepatitis C. He has reportedly struggled with his health and finances ever since. In the peak of his career, he was writing best-selling books about the spiritual experiences of children who nearly drowned.
In July, Morse was accused of grabbing his stepdaughter by the ankle and dragging her across a gravel driveway. In a follow-up interview by police last week, the girl told them that her stepfather held her face under running water at least four times. She is quoted as saying that he told her that children could withstand up to five minutes of waterboarding before experiencing brain damage.
Morse once told the Associated Press, "These children made it clear that consciousness persists despite having dying, dysfunctional brains." The theory is that brains are linked to "a non-local consciousness and a timeless, spaceless reality," which Morse calls the "God Spot."
If these allegations are true, then Dr. Morse needs to begin working on finding his own spot with God.
Can't get enough weird plastic surgery news? Check out the archives.
Join me again next week as I continue to track the decline of civilized society as told through the strange and varied tales of plastic surgery.