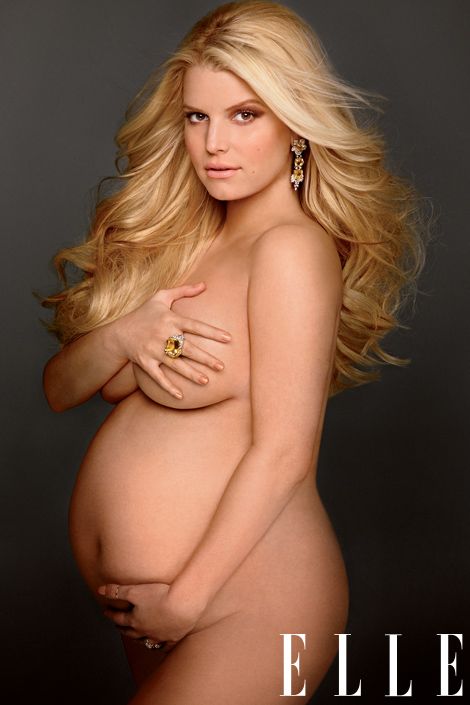 In or Out? I'm in Doubt.
Jessica Simpson is pregnant – super duper pregnant. She has taken a bashing in the media lately for putting on too much weight, but I think she is a beautiful young woman who started out as very thin and probably needed to put on quite a few pounds for a healthy pregnancy. Plus, criticizing any woman for pregnancy weight gain is just mean.
I will, however, pose a question regarding Ms. Simpson's pregnancy belly button. Jessica followed in the steps of Demi Moore and Britney Spears by posing nude for the cover of Elle magazine. No doubt there was some heavy air brushing in use, but that doesn't really surprise any of us these days, right? What got my attention was her navel. It's a definite "innie" in the photo, and she's eight months pregnant. Plus, it seems a little off center. What do you think? Does the possibility exist for an innie belly button in late-stage pregnancy or is this a Photoshop creation? Feel free to comment below.
The Curious Case of Elizabeth's Button
Speaking of belly buttons, Elizabeth Hasselbeck, co-host of ABC's The View, recently lost her navel. But only briefly.
She was hawking her Ab Glider Pro on a television infomercial when a strange case of technological video air brushing caused her navel to temporarily disappear only to reappear in the next scene. But not to worry – operators were standing by. (ba ba bum – ching!) Here's the freakish pictures.
Tax Deductions for Your Twins?
Itemized tax deductions – mortgage insurance (check), charitable donations (check), silicone double Ds (wha?)
Well, if you live in Brazil, this is your new tax benefit. Last week I told you that Brazil is offering free plastic surgery to the poor, and now they've decided to make most cosmetic surgeries tax deductible, too. And get this – they've made it retroactive to all procedures dating back to 2004!
All this AND and booming economy AND a beach full of perfect Brazilian back sides? Please. Somebody. Remind me why don't we all live there?
Twins Get Sex Change Surgery
Speaking of twins … (gosh, these stories are setting themselves up today)
A pair of 22-year-old female twins in China recently underwent the first phase of sex change surgery in Shanghai to transition from females to males.
By Chinese law, they will remain classified as females until all of their surgeries are complete. They have returned to their home province to "work hard and save up for their next operations."
The twins' parents were very much against the idea of the surgeries, but the girls told them that it was the only way they would ever marry. I guess it is worse to be single than to be a transvestite in China.
Plastic Surgery Leftovers
Ever wondered what happens to all the fleshy leftovers after a breast reduction or tummy tuck? Most are disposed of as medical waste.
But an increasing amount of human fat and tissue is being packaged and sold to researchers, scientists and even cosmetic companies. Fat is being used to study everything from the impact of exercise (do they put the pieces on a treadmill?) to how to produce stem cells.
The sources in this article say that most patients are happy to donate it. It's better than taking it home in a doggy bag, for sure.
Can't get enough weird plastic surgery news? Check out the archives.
Join me again next week as I continue to track the decline of civilized society as told through the strange and varied tales of plastic surgery.