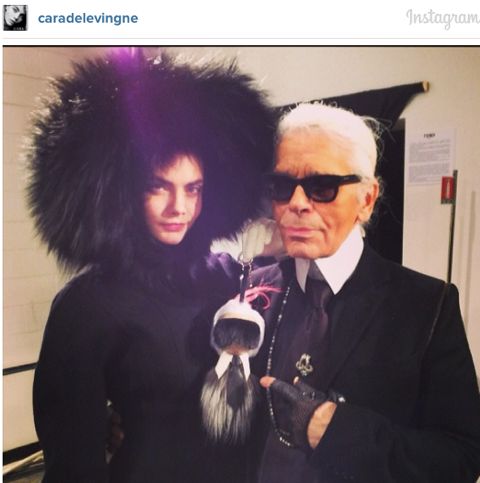 I'm a lover, not a hater.  But even the most even-keeled of us, sometimes awakens on the wrong side of the bed.  It just so happens I did so on a Wednesday chock full of annoyingly wacky news.
Opinions Are Like Karl Lagerfeld
Photo Credit: Cara Delevingne / Instagram
"Nothing makes you look older than attempting to look young. You can fool anyone, apart from the young. The worst are the lip operations. There are people who have it done and I don't recognise them afterwards. They look like they flew through the windscreen during a car accident and were patched up badly afterwards."
Riiiiight, Karl.  By "people", you really mean "women".  Because (a.) you seem pretty satisfied with yourself, as you prance your 80 year old carcass all over the globe wearing pleather pants, fingerless gloves and sunglasses 24/7/365.  Nope. Not sad at all.  (Does he take them off to eat?  I can find no evidence that he does), and (b.) apparently you just hate all old women.  I mean we got it that you recoil from those "attempting to look young", but it's not as though you embrace any "gracefully aging" natural beauties of your own generation, either.  To the contrary, you're hobbling around with a 22 year old model who could be your great granddaughter.  COUGH**hypocrite**COUGH.  Mr. Lagerfeld may be an international fashion crypt keeper to some, but to everyone over the age of 25, he's just another ignorant loudmouth, judging others while he himself is guilty of far more ridiculous vanity.
More Skincare To Make Your Eyes Roll
Ooooh, you guys! Shhh. Don't tell!  Burberry is coming out with a skincare line, and they don't want anyone to know because it's a super huge secret, except for the press released part where their brand is amazing, so just trust them and don't inquire as to the ingredients or science behind the products.
As with every other skin care line that won't reveal a THING about it's product composition – you'll overspend, and they'll under-deliver.  Call me, call a dermatologist, call Walgreens before you call Burberry to care for your skin.
What's The Deal With Jeans?
I know, it's not exactly surgery, but jeans do as much to shape our self image as liposuction, am I right?  And the jeans walking around these days are uuber wacky. The skinny jean has been the staple for while, so clearly it's time to shake things up.  I'm no industry pro, but it seems like there's a fashion battle of the jeans, bubbling right below the mainstream consciousness.  Lotta mom-jeans out there; lotta pleats, acid wash, overalls….even gauchos and girlfriend jeans (cropped tapered mom jeans that will eliminate your muffin top with a high waist, but shorten your leg line like a carnival mirror).  Here's hoping that society has evolved to accept all people and the jeans best for them.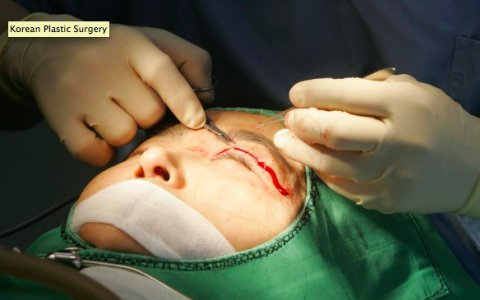 You Might Need to Tone it Down When…
Photo Credit: Reuters
In South Korea plastic surgery is often so bold, it renders the patient unrecognizable when compared to a passport.  (Bond Villain much?)  There, some traveling patients have actually needed a doctor's note verifying their altered visual identity, to return to their home countries.  Contrast this with our own culture of surgery denial, subtle procedures, and the endless online celebrity speculation.  Even though I know it's culturally murky to promote widespread extreme facial surgeries as it seems they do in South Korea, there's something about this story that makes me also feel disgusted by a society who simultaneously lauds and condemns the recipients of cosmetic procedures, based solely upon denial or admission.  At least in Korea they don't shame women for personal aesthetic decisions.  Who's shallow now?
Join me again next week as I continue to track the decline of civilized society as told through the strange and varied tales of plastic surgery.
Did you find this article interesting?  Please share via Twitter, Facebook or Google Plus below.