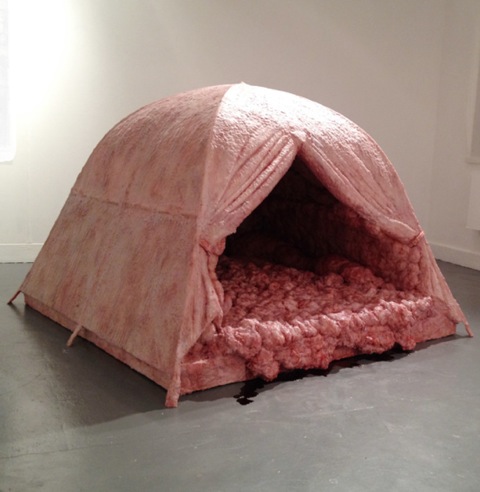 With Spring on the horizon, you're going to want be aware of all the hot new trends in crazy.
An Artist in The Flesh
Photo Credit: Huffington Post
As a plastic surgeon, there is an element of art in what I do.  There is also a great deal of grotesque body tissue and fluids.  So I'm uniquely familiar with the subject matter of artist Andrea Hasler, who sculpts wax into bloody organ tissue adorned with luxury fashion apparel to make a statement on needs versus wants.  She also has a series of sculptures (including this fleshy skin tent, dripping with blood) that she claims make a statement on historical anti-nuclear protests.
I like my artwork better.
Ignore These Jerks
According to a new study, a facelift doesn't make you more beautiful.  But the study didn't ask you.  Or anyone who knows you.  And it didn't compare your before and after pics either.  It just had participants rate anonymous photos, some of which were of post-op facelift patients.  This is one of those studies that does not help anyone reach any conclusions about anything.  So, strangers might think you're equally beautiful with a facelift than another completely different and unique individual that hasn't had one.  Then again, they might not, because you weren't a part of  the study.  What a huge waste of time.  Thanks for nothing, internet.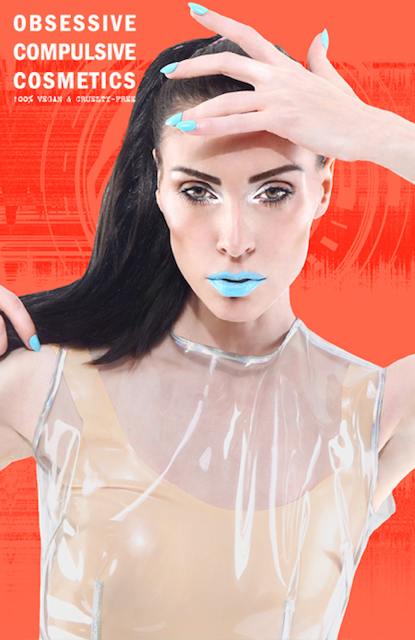 Regrettable Makeup Trend
Photo Credit: Obsessive Compulsive Cosmetics
Speaking of Individuality, sometimes you really want your look to tell the world: "Screw you!"  And that's when you whip out "Obsessive Compulsive" brand lip tar.  Yep, "tar."  In matte aquatic blue.  It's the lipstick equivalent of a punch in the face of whoever you're talking to.  Supposedly the bright opaque hues are big for this spring; like the novelty nail colors that are so much less visually hostile.  Hashtag… less is more.
Denim Me Crazy
Photo Credit: AP/ Mark J. Terrill
If you're 22, you might think the new mom-jean trend is edgy, but you're wrong.  Denim on denim is back (aka: the Canadian Tuxedo), and so are overalls.  Pleated ones.  If you could see me right now, I'm shaking my fists.  "Why God?!"  The only silver lining I see, is a bump in my Botox business from all the brow furrowing and cringing.
The Barbiest
Like Elvis Impersonators, aspiring human Barbies are always trying to outdo each other.  This one, Blondie Bennet, started with the usual 32JJ bra size, but she's not your average unemployed internet nudist with jaw dropping implants.  She's all in.  The quest to be Barbie inside and out has led Bennett into hypnotherapy, to become more confused and ditzy.  "I want people to see me as a plastic sex doll, and being brainless is a big part of that."
Join me again next week as I continue to track the decline of civilized society as told through the strange and varied tales of plastic surgery.
Did you find this article interesting?  Please share via Twitter, Facebook or Google Plus below.