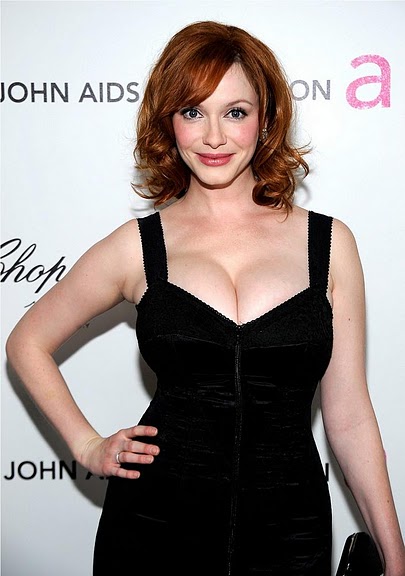 Just Sayin . . .
We're starting the week off with a simple question.  Christina Hendricks of Mad Men fame has always received plenty of attention for her ultra curvy figure.  But at her recent appearance on the red carpet for the premiere of her new movie with Sarah Jessica Parker, I Don't Know How She Does It, the girls were really poppin.  So what do you think?  Too cute or too much?
Déjà vu.  Again.
Yup.   It's happened again.  Yet another person masquerading as a doctor has been sentenced to prison for subjecting patients to bogus procedures and even more bogus bills totaling more than $150,000.
The 67-year-old San Francisco man preyed mostly on the south Asian community by claiming to be a dermatologist who worked at The University of California at San Francisco and Stanford University.  He was arrested in 2010 after repeatedly drawing blood from women's legs to treat varicose veins, injecting patients with mystery substances, and GET THIS – for falsely diagnosing a 2-year-old child with cancer.  He was sentenced to six years, but hopefully, they'll lose the key to his cell.
You Might Want to Sit Down
Disclaimer: If you are at all squeamish, look away now.  Even if you're not particularly weak in the knees, this story may push your gag reflex to its limits.
Okay, here goes.  Breathe.  A Chinese man had to go into emergency surgery to remove a 6-inch eel that entered his bladder via his urethra via his penis during a spa treatment that utilizes a hot tub full of eels to eat away at dead skin cells.  Are you still with us?  Here are more unwanted details:
"I climbed into the bath, and I could feel the eels nibbling my body. But then suddenly I felt a severe pain and realized a small eel had gone into the end of my penis," the 56-year-old from Honghu, Hubei province said. "I tried to hold it and take it out, but the eel was too slippery to be held and it disappeared up my penis."
Cringe. Cringe. Cringe.
Can't get enough weird plastic surgery news?  Check out the archives.
Join me again next week as I continue to track the decline of civilized society as told through the strange and varied tales of plastic surgery.
Photo credit to Ken Hart at Picasa.com