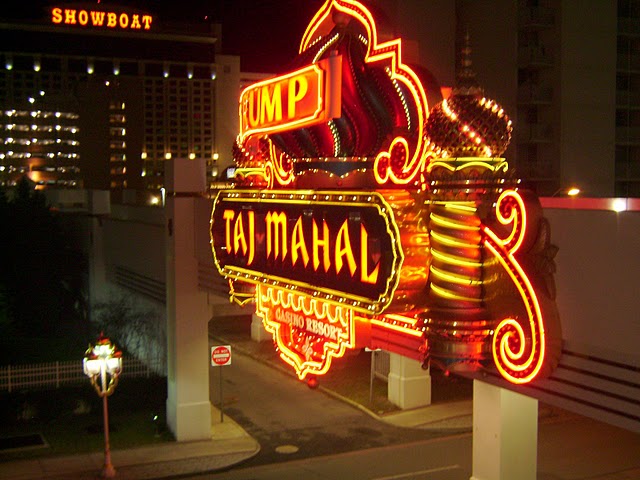 Trump's Casino Offers $25,000 Plastic Surgery Jackpot
The stereotypical casino character of a chain-smoking grandma sitting next to her oxygen tank at the penny slot machines might start to look a whole lot better thanks to one New Jersey casino.
Donald Trump's Taj Mahal Casino in Atlantic City began a new promotion this week that allows casino players to rack up credits through October 29 for a grand prize drawing of $25,000 in plastic surgery.
The casino is offering a full menu of services such as:
Facelift: $7,000 to $9,000
Nose job: $5,000 to $6,000
Eyelid tucks (upper and lower included): $4,000 to $5,500
Arm lift: $5,000 to $6,500
Botox: $200 to $400 per area
Breast augmentation surgery: $5,000 to $8,000
Chin or cheek implants: $3,000 to $4,500
Liposuction: $2,500 to $10,000
For those players who have already achieved physical perfection, they can choose to take the prize as $25,000 in cash.
Love Handles Saved Her Life?
And now for another story from Atlantic City, New Jersey.  Before you run out to the casino for a chance at free liposuction – read this.
A woman who was shot as an innocent bystander during a drive-by shooting credits her ample love handles with saving her life.
Samantha Lynn Frazier, 35, said she heard two pops, felt pain and found blood on her hand when she grabbed her muffin top.  Frazier told The Press of Atlantic City that 'I could have been dead. They said my love handles saved my life." Frazier also told the newspaper that she had been "hollering" that she wanted to lose weight. She now said "I want to be as big as I can if it's going to stop a bullet."
Yeah, that seems logical.  Stray bullets are way more common than heart disease.  Not.
Two Uteruses = Twins for Florida Woman
A Florida woman delivered twins on September 15, 2011 – one from each of her two uteruses.
Andreea Barbosa was diagnosed with a rare medical condition four years ago called uterus didelphys, which simply means that she was born with two uteruses.  Her ovaries each released an egg into each uterus, and both were fertilized at the same time by two different sperm (from the same dad … just to be clear).
Barbosa's physician puts the odds of something like this happening at 1 in 5 million.  The pregnancy was normal, and Nathan and Natalie Barbosa were delivered via C-section at 36 weeks.
Well … That's Embarassing
This story has nothing to do with plastic surgery.  It's just a good old fashioned tale of over-reaction followed by extreme embarrassment on all sides.  We just can't get enough of that kind of thing!
Two Frontier Airlines passengers were falsely detained last month when their plane landed in Detroit.  Apparently two men were spending an "extraordinarily long time" in the bathroom, and the flight crew assumed they were having sex.  Naturally.
It turns out that they weren't in the same air stall at all.  One man was ill in one restroom while the other was just "using the bathroom" for a long time.  But none of this was figured out before NORAD sent an F-16 fighter jet to escort the plane to Detroit and the pilots taxied to a secure area so that authorities could board the plane and detain the men for questioning.
Ooops!  "Sorry about accusing you of having sex with a stranger on the plane.  Please accept these free drink coupons for your next flight with Frontier."
Can't get enough weird plastic surgery news?  Check out the archives.
Join me again next week as I continue to track the decline of civilized society as told through the strange and varied tales of plastic surgery.
Photo credit to Aditya Uppu at Picasa.com.