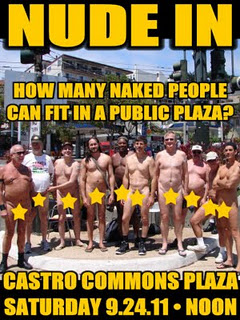 Only in San Francisco
A public "Nude In" was scheduled to take place in San Francisco last weekend.  The point of the group is unclear – although unfortunately it seems most of them are NOT recipients of plastic surgery – but their blog site read:
Just how many naked people can fit in the CASTRO COMMONS PLAZA? How long can we hang out before the COPS show up? What will you say if someone challenges your right to be NAKED? Make a statement for body freedom and acceptance, come get buck naked in public with us!  Remember your camera! Forget your inhibitions!
… and then there is this …
From Definitely NOT in San Francisco
On the opposite end of the spectrum, officials in Savannah, Ga., are banning bras from being displayed in public.  And they don't even have breasts in them.
"Bras Across Broughton" is a group raising funds for Breast Cancer Awareness Month.  They wanted to string as many bras as possible across all four streets of a major intersection.  A local car dealership had agreed to donate $1 for every bra displayed.
City officials thought the campaign was in "poor taste" and denied the group the proper permits.
Ummm…What The?
Here is a real-life opening sentence from a real-life news story last week:
"The infamous Arkansas 'Toe Suck Fairy,' who went to prison for a series of assaults in the 1990s, is behind bars again after a new series of bizarre incidents."
For reals?  There is an infamous Toe Suck Fairy?  Anywho, here's what this bonafide weirdo has been up to since being released from prison for sucking women's toes against their wills.
Police think Michael Robert Wyatt of Arkansas (a.k.a. TSF) is the person who approached two different women in a store asking to suck their toes and also the person who ripped the shoes off an 83-year-old woman who was sitting on her porch and then sucking her toes.  Uh, ya think?
Back in the 1991, he told a store clerk that he wanted to cut off her feet and suck her toes while she bled to death.  In 1999, he asked a woman in Wal-Mart if she wanted her toes amputated and then showed her pictures of women with no feet.
Is this guy for real or just another character development exercise for CSI Miami?
Yes!  It's Happened Again!
We keep telling you people how various cosmetic implants might someday save your life. (Unless you get surgery from some fake doctor in a hotel room – that almost never works out as evidenced in numerous other Wacky Wednesday stories).
Shark attacks, bullets, swords, teeth – you name it, a breast implant has stopped it at one point or another.
This time, a Russian woman claims that her size D breast implants saved her from being stabbed to death by her husband.  He asked her to get the super-sized implants five years ago.  Bet he regrets that now.  She lived to tell and will probably testify in court.
The Man of Steel Might Have BDD
It's a bird … it's a plane …. it's … Herbert Chavez?
A Filipino named Herbert Chavez, 35, has undergone numerous plastic surgery procedures since 1995 to look like his hero, Superman.
Chavez now has a thinner nose, plumper lips, thigh implants, and of course, the infamous cleft chin.  A shot of his bedroom shows he has a Superman shrine with life-size figures, photos and pillows.
A news report on Chavez recently suggested that he may suffer from body dismorphic disorder, which is defined as an obsession with changing one's physical appearance to reach an unattainable ideal of perfection.
Nooooo, really?  Maybe he is just a 7-year-old boy in a 35-year-old man's body – with lots of money to burn.
Can't get enough weird plastic surgery news?  Check out the archives.
Join me again next week as I continue to track the decline of civilized society as told through the strange and varied tales of plastic surgery.