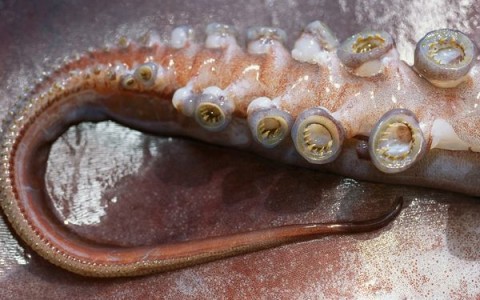 Time marches on, and the only thing that doesn't change, is change itself.  Isn't that what they say?  Well, they're right.
Sucker Rings
Remember a while back when I told you about how plastic surgeons are beginning to use certain types of silk to mold and create structure in certain surgeries?  Well, the lowly silk worm has some competition now.  Seems that squid tentacles hold even more promise for creating desired shapes in the human body.
Squid tentacles have hundreds of suction cup-like suckers, each with a ring of "teeth," created entirely out of proteins.  Their structure (think cartilage) and simplicity make researchers think they may be more easily reproduced in a lab than silk, eliminating the need for all the worms.  This might be one more step on the scientific frontier of growing replacement body parts.
Un-Surgery
South Korea leads the earth in per-capita cosmetic surgery, so its not surprising that they're also on the forefront of plastic surgery backlash.  There (as here), television viewers have been watching surgical makeover game shows for a while now.  But a new one has emerged, in which cosmetically obsessed contestants are encouraged to get more plastic surgery, this time to restore their pre-surgical appearance (which they disliked to begin with).  Geeeze.  Victimize much?  These poor, perpetual patients felt unhappy with their appearance to the point of undergoing surgery and the attendant recovery.  Now, a game show publicly urges them to get more surgery (and endure more recovery) out of shame and regret for the original procedures?  How about just accepting each other, Korea?!  Maybe that's the real problem.  Plastic surgery should be positive, and really doesn't require all the pressure.  I promise.
Invite a Lawsuit
We plastic surgeons love a good before and after portfolio.  Not only are we proud of our work, but these photo galleries communicate our skill in a way that words can never achieve.  Posting a naked or sensitive picture online should be handled with great care.  And usually is.  The photos are typically anonymous and partially blurred for a reason. And mostly that reason is legal liability.  In addition to the sensitivity measures that are taken for decency, we always get permission before using a patient's image.
A doctor in Chicago has bucked the legally prudent standards of reasonableness, as well as the basic Golden Rule.  He not only posted (without permission) a picture of a woman's before and after rhinoplasty, but he included identifying angles with her whole face.  Then, adding literal insult to injury, he labeled the picture:  "COCAINE NOSE".  The only way he could have made it worse, would have been to write a limerick, mocking her addiction and include her name and home address.
She sued, he lost, lesson learned the hard way.
Weight loss News
Weight loss and cosmetic surgery often go hand in hand.  Both improve appearance and confidence for many patients.  I have even had patients who reward themselves with surgery after reaching a predetermined weight loss goal.  I love the idea of combining health with beauty.
But in Dubai?  The government is combining health with wealth.  They literally paid over $762,000, in GOLD no less, to adults last year for losing weight.  This year, Dubai is offering children 2 grams of gold for every 2.2 pounds of weight lost.  Hmm.  No word yet, on how skinny kids feel about this program.
Join me again next week as I continue to track the decline of civilized society as told through the strange and varied tales of plastic surgery.
Did you find this article interesting?  Please share via Twitter, Facebook or Google Plus below.