Who isn't discouraged or held back by something in life?  Whether it's an unavoidable circumstance, or just your bad attitude, take heart:  getting over the obstacles is possible for everyone, and may launch your confidence as well as your looks into the 'Amazing' category.
DIY Plastic Surgery; Professional Amputations
Photo Credit: CNN
Her name is Apryl Brown, and she has no hands or feet, thanks to amateur butt injections.  You see, Apryl wanted to save some money and enhance her shape, so she paid another woman who claimed to be some kind of at-home silicone injector professional, to inject a substance later determined to be bathroom sealant-type caulk, into her rear.  When her body started hurting, Apryl, now a quadruple amputee, began her quest for real medical treatment.  She ultimately landed in the hospital with severe infections that resulted in 27 surgeries.  Bless her heart, Apryl is now dedicated to teaching others to steer clear of dangerous black market cosmetic procedures.  She's not bitter or attention seeking either, but rather remains positive as she learns to use prosthetics, radiating beauty, even after a tragedy.  Says Brown, "We are enough, and we were made to be enough."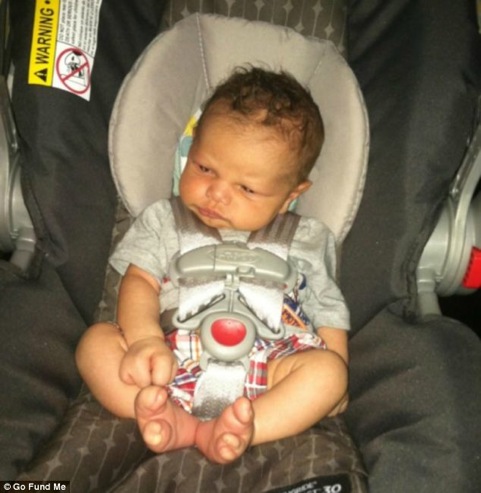 One In a Million, Baby
Photo Credit:  Mail Online / GoFundMe.com
DeSean was born with deformities in both hands and feet, similar to webbing, but also involving missing and excess bones.  Instead of lamenting his condition, his loving momma rejoiced and agreed with the doctors who told her that her son was one in a million.  DeSean's family thinks he's perfect and sees only his charming baby qualities.  Nevertheless they are cheerfully raising money and anticipating the long road ahead, which will require multiple surgeries over the course of his childhood.  You can check out the family's fundraising page if you want to contribute.  My favorite part of this story is the bright future this baby has, thanks to his surgical team, determined family and all their eager sacrifices.  They don't see what DeSean isn't, they see what he is.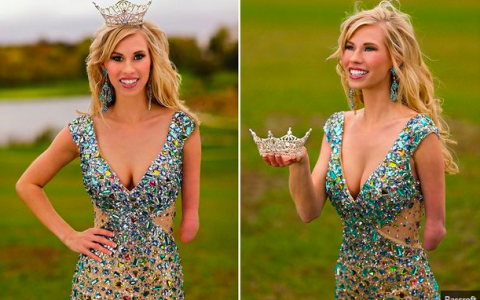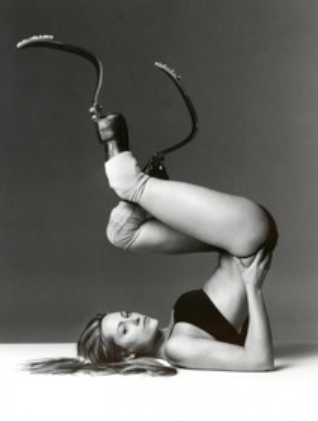 Confidence & Beauty, Regardless
Photo Credit:  Barcroft / mirror.co.uk
Photo Credit:  lipmag.com
Here at the medical offices of Roy Kim, MD, we love empowering our unique, confident, beautiful patients.  We can give products, services and advice, but man oh MAN, we do not even hold a candle to the message lived out daily by beauty queen Nicole Kelly, Miss Iowa, 2014.  At 23, she has spent her life counter-balancing her 'differently-abledness' with an adventurous spirit and outgoing personality.  She wants kids with disabilities to know they don't have to sit on the sidelines.  She may have been born missing part of an arm, but she was clearly blessed with extra beauty and moxie.
Ditto for model, Aimee Mullins.  In a documentary, she explains how unfortunate it is that society doesn't look for beauty in all forms of people, and fixates on flawlessness.  This isn't to say Aimee is a bitter, resentful hag.  To the contrary, she's smoking hot and graceful to boot.  The big mistake people make, according to her, is failing to recognize that all people have the capacity to be (really knock-dead gorgeously) beautiful.  Reading her interview, one doesn't come away thinking she wants to lower the bar for disabled women, she wants disabled women to know that full strength glamour and sex appeal is available to them, just the same as anyone else.
Says Aimee, "It's our humanity and all the potential within it, that makes us beautiful."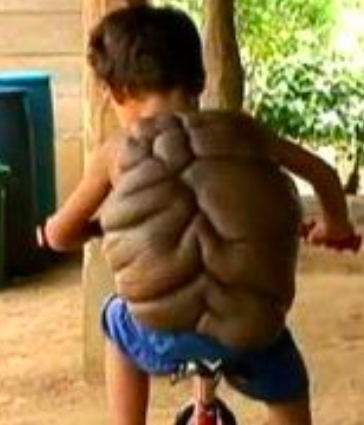 'Turtle Boy' Overcomes
Photo Credit:  Huffington Post
Congenital Melanocytic Nevus, is the diagnosis.  It's a rare mole condition, and this young boy (now 8) , amazingly had the giant mole removed from his back without sustaining debilitating damage, despite the mole comprising 20% of his total body weight.  Now he has the chance to attend school and play like a regular kid his age.  But he doesn't stop there.  He travels from his home in Columbia, to the UK to work with a charity, called 'Caring Matter,' to encourage and support other kids with the condition.  His mom said he hated being called 'turtle boy,' and who can blame him?  But now he's thriving and doesn't want kids in his position to feel alone, like he did.
Join me again next week as I continue to track the decline of civilized society as told through the strange and varied tales of plastic surgery.
Did you find this article interesting?  Please share via Twitter, Facebook or Google Plus below.