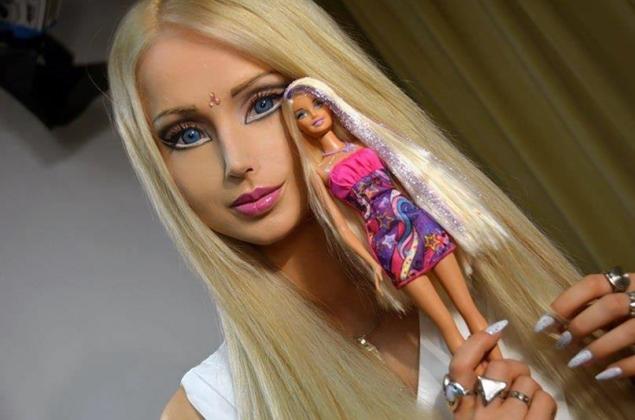 Did you know that current events can actually be made LESS terrifying by finding the plastic surgery undercurrent that touches all news stories?
Ukraine in Turmoil: Barbie Stops Eating
Photo Credit:  Valeria Lukyanova / Facebook
Remember Ukranian 'human Barbie' Valeria Lukyanova?  Well, the 28 year old model with the 20 inch waist is back in the news.  How did she get there?  By being weird of course.  It's not that unusual for a woman to become obsess with her appearance and develop an eating disorder.  Therefore, Lukyanova had to crank it up a notch and claim that she is living without food and water, sustained only by light and air.  But would that be enough?  I mean, she's not interested in the attention of just a few more pervs online, she's going for international media attention, which is hard to come by, I don't care how hot or synthetic you are. It takes more than a starvation diet.  Now presenting:  New and improved Ukranian Barbie, now with time travel and ability to communicate with aliens.    Yep, that ought to do it.
Oscars Prep
You can enjoy the spectacle of the Oscars in your sweats.  The stars cannot.  Looking that good, from that many angles, for that long, in high definition?  Difficult.  But not impossible with the right team and the right tactics.  (I have a theory that the Oscars are overtaking the Super Bowl in cultural television viewership, but that's a whole 'nuther blog.)
Here's what its going to take to get you on that red carpet.  (*plus talent, opportunity and/or luck based celebrity)  Pro tip: get a jump start, because it can't happen over night.
A perfect body:  Get your diet and exercise game together, and supplement with whatever surgeries, thermal liposuction or spa treatments are necessary to get the junk in your trunk firm and shapely.
Vitamin B12 shots and even IV drips:  These provide the kind of ZINGGGG!!! necessary for a 48 hour party without publicly crashing on a sofa.
Teeth whitening: No teeth will never be white enough for the Oscars.  Ever.
Laser hair removal:  Arm hair in high-def could ruin a career.
Facials and peels:  These must be done a few days in advance to allow for healing.  Without perfect skin, you won't have perfect makeup.  Without perfect makeup, you're going to look like a troll next to the ageless contoured angels floating around you on the red carpet.  It takes about 2 seconds to pick out the stars who neglect their skin in protest to the whole paradigm.  I have nothing against their personal choice, I'm just reporting the fact that they suffer by comparison.
Botox and fillers:  Same deal.  Stars get this cosmetic work done weeks in advance so that they can deliver a smooth and relaxed youthful look on the big night.
It just sounds exhausting.  I had to recuperate just thinking about it, with another bowl of ice cream.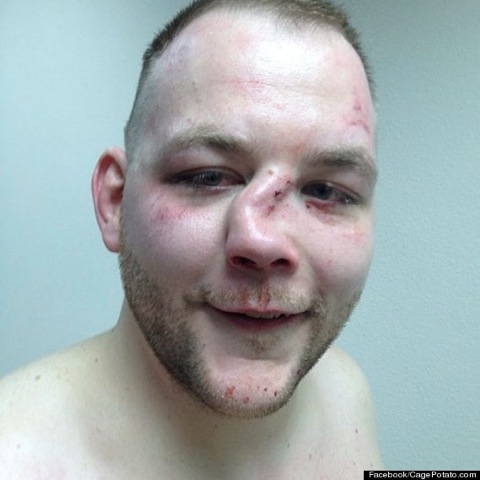 His Big Break
Photo Credit: Facebook / CagePotato.com
Andy Eicholz is an MMA fighter.  But I know him only for the medical case he has become.  God knows this dude (1.) can take a punch and (2.) needs a good plastic surgeon.  Despite my burning curiosity, I have not been able to find a picture of him after it was (presumably?) repaired.  Let me know if you see him.
Join me again next week as I continue to track the decline of civilized society as told through the strange and varied tales of plastic surgery.
Did you find this article interesting?  Please share via Twitter, Facebook or Google Plus below.