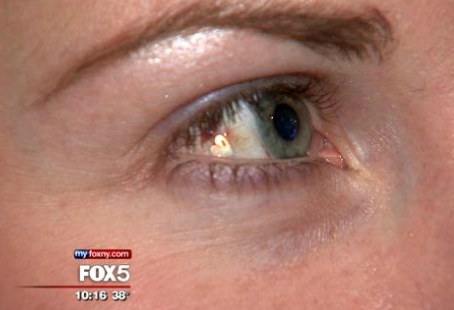 ust because it's wacky, doesn't mean it's unique.  The wackiness out there bears repeating, apparently, and I just can't resist.  Holidays are for sharing.
Eye candy?  No.  Now it's eye jewelry. 
photo: myfoxny.com
Ever feel like something is missing?  Sometimes I wish for a super square jaw, or a little extra height.  It's true.  But never have I just been kicking it by the mirror on date night and thought:  "I would look so much hotter with a decorative metal eye implant."  It just never seems that crucial.
But to some, 'eye jewelry' is desirable enough to part with $3000, and undergo surgery for a theme-shaped metal disk (hearts! stars!) to be implanted just beneath the surface of the eye-ball.  Ahh.  Now that's better.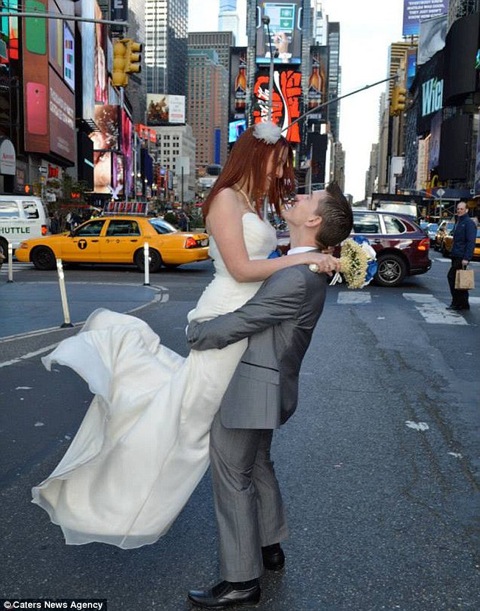 Bizarre Botox: as versatile as your scarf and boots.
Photo: Caters News Agency
Often do I refer to Botox as a miracle.  But usually, I mean it in the cosmetic sense.  Of course Botox has a myriad of other functional uses, which can lead to even more dramatic miracles than the elimination of wrinkles.  For James Taylor, 23, the miracle of Botox allowed him to walk again after an accident.  A fall down some stairs left Taylor with Snapping Hip Syndrome, and enslaved him to the use of crutches for walking.  After all other options failed him, he agreed to try 4 experimental Botox injections in his buttock and upper thigh.  Within a week?  He walked down the aisle at his wedding and is looking forward to getting on with life.
Botox has also been used recently to shrink prostate cancer, alleviate pelvic nerve pain in women, including relief from persistent genital arousal disorder (PGAD), which causes unending arousal (unrelated to sexual activity) in sufferers.  The agony, humiliation and frustration of this condition affects more than 1% of women, and even led to the suicide of one woman who couldn't take it any more after 16 years.  Botox has been used to dull the relevant inflamed nerve, and provide more relief even, than if it turned water into wine.
Some tumors are worse than others.
photo: Richard Grange/Barcroft India
No tumor is good.  If you have a tumor, you're going to want that thing removed.    Lucky for you, surgeons are getting pretty good at the job, and lives have been saved.  But when a tumor can't be removed, and it's taking over your face, your family life, and even your ability to sleep apart from the family buffaloes in their fly-infested shed…..that tumor has REALLY got to go.  Crippling loneliness and difficulty eating and drinking were unbearable for Lalit Ram, whose tumor was the result of neurofibromatosis.  The hope of a better life outweighed the significant risks of the pioneering surgery given to him by a benevolent team of doctors.  Even though his tumor hasn't been completely removed the improvement has been life changing.  Doctors faced five times the acceptable blood loss during his 6 hour surgery, yet, successfully reduced the tumor and have a positive outlook for his future.  Sure, there is a smidge of irony in that Lalit now wants to find a wife who is "beautiful", but I'm going to let that slide.  I think we can all agree he's due for a win.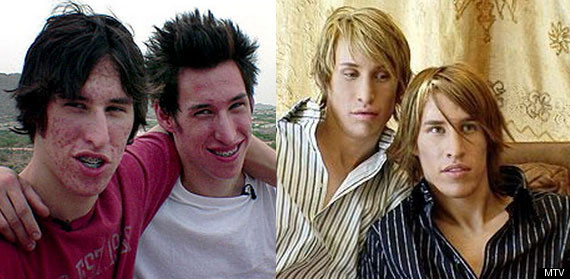 Brad Pitt On The Double
Photo: MTV
The gold standard for Wacky Wednesday, is the person who undergoes extreme surgery to look like a celebrity.  Bored by the concept?  Fair.  But you all want to see the photos.  Admit it.  You're not fooling anyone; aloof blog reader.  Besides, you're safe here. It's Wacky Wednesday.  And I'm not just serving up another oddly feminine man or heiress with enough time, emptiness and money to become a siliclone.  (<– Write that down.  That's a good one.)  Nope, today I present twin Brad Pitts, just to double your fun.  Mike and Matt are twins from Arizona, with a common dream:  to look nothing like themselves, but still identical to each other.  They had cosmetic work on their chins, noses, and teeth to achieve the new look, the goal of which was to duplicate (triplicate?) Brad Pitt.  If you ask me, they also had some skin procedures.  And that's the story of how they now look exactly like MacCaulay Culkin.
Join me again next week as I continue to track the decline of civilized society as told through the strange and varied tales of plastic surgery.
Did you find this article interesting?  Please share via Twitter, Facebook or Google Plus below.