Ever wonder about the brave souls willing to try plastic surgery when it wasn't yet a real thing?  Those pioneering surgeons and patients were more than a bit wacky, and will here be recognized for trail blazing some weird and brilliant paths.
The First Pair
Photo Credit: RadarOnline / NYDailyNews
Timmie Jean Lindsey.  Remember that name;  it is bound to appear on a Trivial Pursuit card.  Timmie Jean is part of history, because she was the first women to get silicone breast implants.
It was 1962 and a doctor offered the experimental procedure to her when she went in for tattoo removal.  Even after having six children, of course she didn't go in to the doctor's office asking for breast implants; they didn't exist yet.  She wasn't unhappy with her breasts, or even particularly keen on the doctor's offer, until he told her he would also correct her ears for free.  Now in her eighties, Timmie Jean still has the original implants inside her body.
In 2010, the United States saw 318,123 breast implant procedures performed.  But then again, enhancement now carries a much different level of risk.  Early procedures in the 1890's were mostly just injections of various substances (animal fat, silicone, paraffin).  Yikes.  However to me, these surgical attempts spanning THREE CENTURIES, offer opposing insight to the conventional idea that pressure to be buxom is a new phenomenon, born of MTV and Victoria's Secret.  I say, it's the other way around.  If our great grandmothers had the safe access we now have, even without the internet or skimpy clothes, I bet many more would have gone the way of Timmie Jean.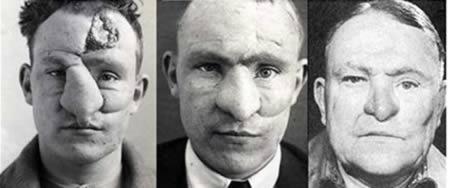 Early Nose Work
Photo Credit:  oddee.com
Noses have always been extra vulnerable to damage, what with sticking off the front side of faces.  For this reason, surgeons have been striving for hundreds of years to repair them.  Like all surgery, times were hard for nose jobs before the introduction of antibiotics.  In order to maintain blood supply and fight infection, skin grafts were unlikely to succeed, and noses were recreated with (still attached) flaps of skin from the forehead.  Here we see William M. Spreckley, his forehead skin flap, and his nose recreation as it healed over time.
Liposuction Used To Be Sci-Fi
Although war and other deformities hastened the progress in several areas of plastic surgery, removing fat was not one of them.  There were no emergencies involving life or death fat thighs.   This is not to say that patients and doctors alike didn't dream of the day when fat could be removed from the body with a tiny vacuum.  In fact, in the 1920's, vanity got the best of a French model who died from the experimental procedure.  (And BTW, there's nothing like an accidental death during the first and only cosmetic procedure of its kind to really scare people back into diet and exercise.) But the prospect was so seductive, that surgeons continued to study and innovate until finally, modern liposuction was born in 1982.
Since then, doctors have been refining the technique to improve results and reduce recovery time.  Today, patients can choose from wet, super wet, ultrasound and thermal varieties of the procedure.  Often no general anesthesia is required and surgeons can easily use a patient's own removed body fat as an injectable filler for face wrinkles.  Liposuction is only 32 years old; just imagine the possibilities in another 30 years.  I, for one, can't wait.  The future looks like a fitness model, and tastes like cake.
Join me again next week as I continue to track the decline of civilized society as told through the strange and varied tales of plastic surgery.
Did you find this article interesting?  Please share via Twitter, Facebook or Google Plus below.