You be you, blog reader and cosmetic surgery enthusiast.  If you want to laser off that beard?  Do it.  If you want to condition it and brush it to a shiny lustre?  It's your prerogative.  You alone are the master of your cosmetic destiny.
Your Weird Mole Not Looking So Bad Now
Not Judy.  Not Deborah.
Yeah, Yeah, I Know…Empty The Trash
Praise God!  2014 Dubbed "Year of the boob"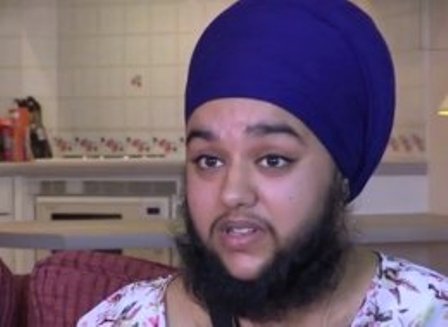 (Photo Credit: Barcroft / Huffington Post)
Your Weird Mole Not Looking So Bad Now
Harnaam Kaur is a young lady (age 23) with a very full beard, the likes of which a lumberjack might envy.  But that is not what's most unusual about Harnaam.  No, what's truly jaw dropping, is that she claims to love her beard, and feel more sexy and feminine with it, than without.  (It is not immediately clear that she understands the term "feminine.") The beard is a byproduct of polycystic ovary syndrome.  Although she used to remove the hair by all means possible, she has vowed never to shave it off again for religious reasons, and because it is a part of who she naturally is. Hers is a story of self-acceptance and although age 23 is quite young to be ruling out any cosmetic choices permanently, who among us doesn't have our own equivalent of a lady-beard, which we ought to be embracing?
Not Judy.  Not Deborah. 
You might change your clothes to be sexy, or augment your shape to be sexy.  But until you have changed your name to sexy, you'll never be as sexy, as Sexy.  Sexy Crabtree, that is.  (Am I the only one wondering why she left the last name intact there?  Seems like, I don't know, while you're there changing your name to "Sexy", you might as well pick yourself a complimentary last name too.  "Haunches," perhaps.)
Sexy used to be "Sheila," but she abhorred that name and never used it.  A self-described "free spirit", Sexy's husband and teen kids approved of the change, and so did the Judge who allowed it.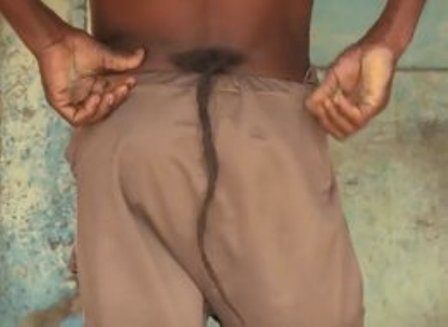 (Photo Credit: Barcroft / Huffington Post)
Yeah, Yeah, I Know…Empty The Trash
Although he is not the first person to have a vestigial tail, Chandre Oraon is worshipped as an incarnation of the Hindu monkey God, and that (plus his poor socio economic status) might explain why he has not sought surgery to remove the tail.  My favorite part about this story is not that he swings through trees picking tea leaves.  It's not the part where people claim his tail has cured the sick.  I most enjoy that his wife is OVER THE TAIL.  She bluntly shared how it doesn't look good, and she had to compromise when marrying him because her parents were deceased.  She settled for this guy, and ladies, tell me you wouldn't grind your teeth down to nubs if your husband had a hairy tail that he thought made him god.
Praise God!  2014 Dubbed "Year of the boob"
The UK Mirror has declared the leg bomb and side boob "over."  Aaaand we're back to traditional cleavage.  I can't be the only one who's grateful, even relieved.
Sure, cleavage is my business, and business is good, but it goes beyond that.  Cleavage can be semi-accidental, it's demure.
Side boob?  It just looks like so much effort, with the T-shirt chopping, and the leaning to the side.
Same with the leg bombs.  There's no effortless, classy, non-swimwear way to show your extreme upper thigh.
But standard cleavage?  It's great on every woman, of every size.  It occurs in casual settings and yet is entirely appropriate in even the most formal context. Cleavage is ideal for women of all ages and can be subtle or dramatic.  A deep V-neck is universally loved by men and women alike.  There's no downside.  I'd like to thank the Academy, and Kim Kardashian (Enjoy that.  I'm unlikely to give you credit for anything else.)
And thank you 2014.  No whammies now, let's bid farewell to the geriatric floral prints and boxy blazers while we're on a roll.
Join me again next week as I continue to track the decline of civilized society as told through the strange and varied tales of plastic surgery.
Did you find this article interesting?  Please share via Twitter, Facebook or Google Plus below.