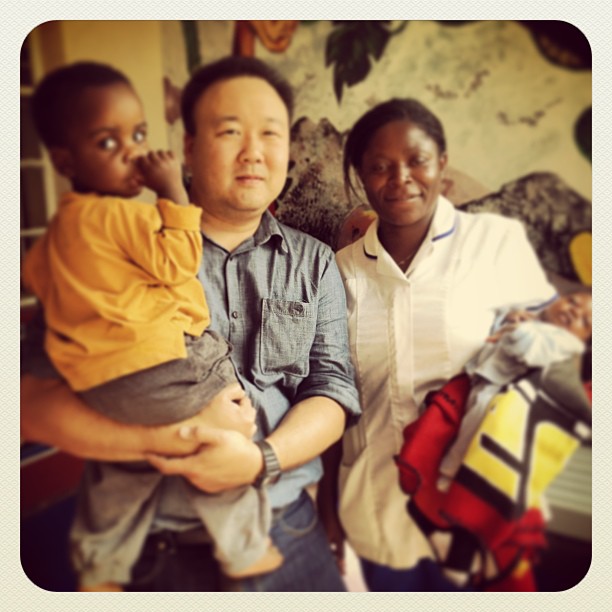 Introduction
Instead of torturing you with even MORE standard cleft lip and palate surgeries, I will instead regale you with the details of a couple of select cases, and the fun I've had with UK medical students and orthopaedic residents.  I will let you speculate for yourself, how my surgical team puts up with me.  (Here's a hint:  I pack fancy chocolates with me wherever I go.)
Case 2-  Christina
The 2nd case of the day was Christina E., a 9 year old girl with a right cleft lip.  As I have previously explained, it's unusual to operate on older children, so this case required more planning and thought than operating on an infant.
Christina is a sweet girl, and her smile lights up the room.  You can tell that her father is willing to do anything for his cute daughter.  I expect more swelling than usual, since she's older than 3-4 months, but probably less than a repair in an adult.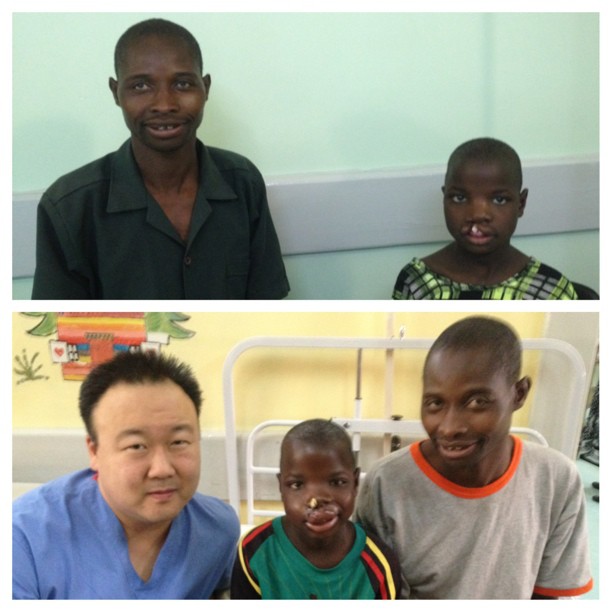 Case 4-  Mathias
Mathias has a rare craniofacial defect, known as a Tessier Cleft 2-11 deformity.  Dr. Tessier was a French plastic surgeon that was the originator of many difficult operations to fix complex skull defects.  The patient, Mathias, is completely normal, except that his skull was formed unusually in the womb, and continues to grow in an abnormal way.
I'm unable to do his major craniofacial case.  I don't have the proper plastic surgery training, AND his case will require a hospital with a pediatric ICU, blood banking, and post-surgery care that doesn't exist in Blantyre.  His case will cost 6 figures, and will require a trip to Johannesburg or San Francisco.
In the meantime, Mathias just wants his nose to look more normal.  He has apparently suffered much indignity in his community, on the basis of his appearance.  I did a short "stop gap" procedure on this nose, which gave him more symmetry.  He touched my heart, because after his operation, he revealed to me that he was grateful that I treated him normally.  Mathias said that everyone in his village treats him as an outsider, and only at BEIT-Cure Hospital do people on the hospital staff and with Operation of Hope treat him like a regular person.
Your outward appearance can affect the way others treat you.  It doesn't matter whether you need major craniofacial surgery, or you come in for a facelift;  your appearance matters, and changing it can make a very positive impact on your life.
Case 5-  Oweni
Oweni originally came in because he had "itching in his nose".  I quickly diagnosed him with a nasal septal perforation, which is a hole between the right and left nostril, inside of the nose.  This requires some local flap within the nose, but is usually an out patient procedure.
Of greater interest to us was Oweni's right arm.  Basically, he was unable to extend or straighten out his right elbow, and his right middle finger and right ring finger was curled up, and unable to fully flex.  After talking to Oweni, he admitted that he sustained burn injuries to his right arm about 1 year ago, but that his main concern was a 3 x 5 mm hole in his nose that caused some itching.
It's an interesting case of BDD/ Body Dysmorphic Disorder, because for the average person, you would probably notice your inability to use your right elbow and fingers before the itchiness in your nose.  Nevertheless, we were there to help with both.
I was happy to operate with Dr. Beasley, a great British orthopaedic surgeon in training, and Dr. Damant, a promising 4th year British medical student.  It's fun to trash talk teach future surgeons, and I hope that my knowledge of burn surgery and hand surgery helped them learn a little from the case.  Basically. Dr. Beasley and Dr. Damant were able to release the right elbow burn scar, right middle finger and right ring finger burn scars, harvest full thickness skin grafts from the right groin, and put them onto the right elbow and fingers.
After that, an obligatory massive skin graft dressing was applied, and the case was done.  It was fun to review hand anatomy on this case, including volar plate, extensor apparatus, closed manipulation of joints under anesthesia, and other nerdy fascinations with hand and plastic surgical factoids.
Hey, are you still awake?
Stay with me.  I know the "after" pictures are sort of dull, because the skin graft has not healed up yet, but you can see in the picture that Oweni's right elbow is straight.  He will need post-surgery physical therapy to get the best permanent results, and we were able to work with the fantastic hospital staff in arranging post op care and therapy closer to his home.
I'll be back with more surgery and fun filled adventures tomorrow.  I'm getting physically tired of operating 9-10 hours per day.  Even my robust youth and yogalates ultra spin cross-fit training can't prepare me for the intense endurance required on a medical mission.  Have you seen Rocky?  Iron Man Kona?  It's a lot like that, but harder.  So I'm off to eat Fauchon bon bons and sleep!