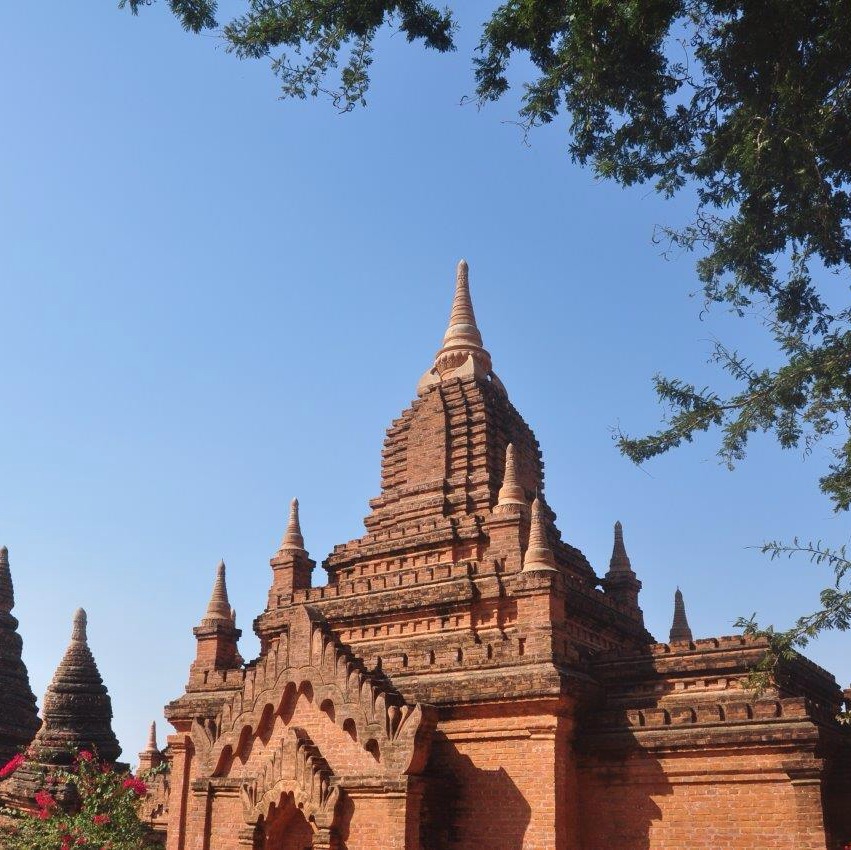 Buddhist Temple Warehouse
Khay Min Gha Temple-  Why It Was So Magical
The "Secret" Monastery
San San and Her Family
Small Window of Opportunity
Bagan, the Buddhist Temple Warehouse
As you know, I was recently in Myanmar with Mission Restore doing cleft lip, burn, and other reconstructive plastic surgery procedures for fun in February 2014.  Yes, I know that my version of fun may be different than yours, but that's another story.
I went to Bagan, a wonderful small city filled with about 2000 Buddhist temples in about 40 square miles.  The structures are stunning.  However, after several hours, I was getting a bit of "déjà vu" while touring there.  The Buddhist temples are amazing, and the people and the handicrafts were interesting-  but many of the smaller temples and pagodas were starting to look very similar and create blur.
However, travel and meeting people can be very random.  One of these conversations took me to the most magical temple in Bagan-  Khay Min Gha Temple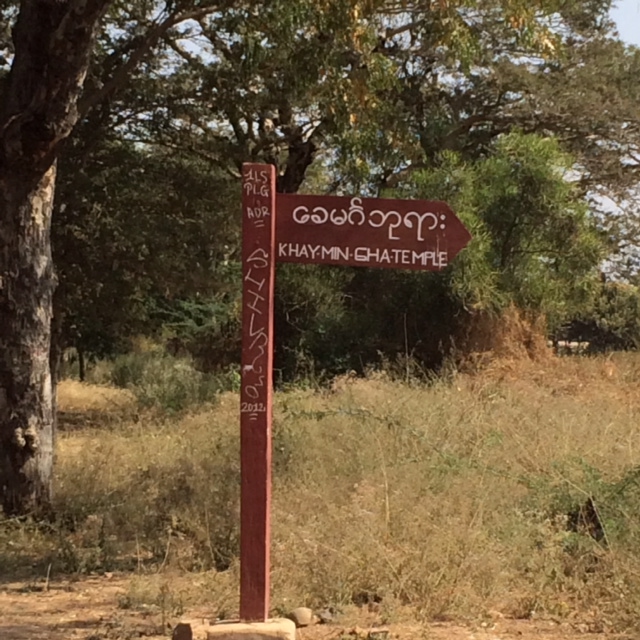 Khay Min Gha Temple-  Why It Was So Magical
So why did I like Khay Min Gha Temple the most?    Simple-  I met San San there!
The larger and more significant Buddhist temples in Bagan are filled with vendors and concession stands.  We're talking 20-100 vendors, and sometimes more, filling the hallways and the surrounding land of the temple.
Khay Min Gha Temple is different-  there's only 1 concession stand, run by San San.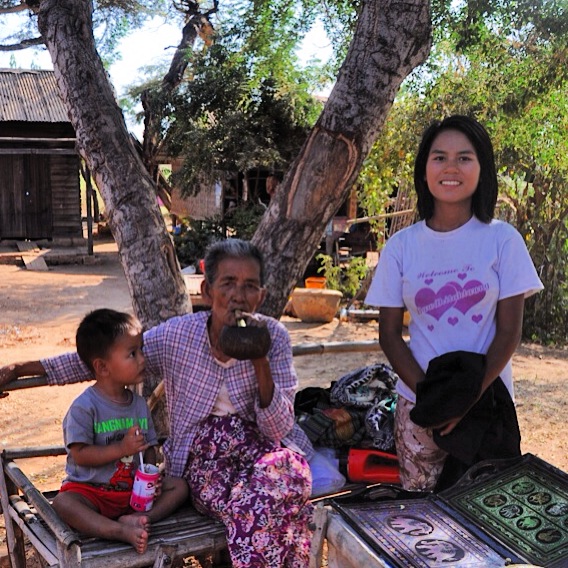 When I arrived there, I wasn't impressed by the temple.  It seemed smaller, and not that interesting.  Since I'm a (relatively) friendly guy, I struck up a conversation with San San.  She did try to sell me stuff-  like everything that she had- but I told her that I would come back after looking at Khay Min Gha Temple.
After my quick tour of the area, I kept my promise and talked to San San.  I told her I noticed that the side door was locked, and that I couldn't see the Buddha too well in the dark, so I told her I was disappointed I would not be able to see it.
Magically and serendipitously, she asked me, "Roy, do you want to see what's inside?  I have the key."
I thought to myself-  Geez, how many residents around a US National Park have a key to the secret buildings of local national park?  (Probably none.)
Of course, I blurted out "SURE, LET'S GO!" probably too loudly and scaring her son, but she did get the key and magically unlocked the door.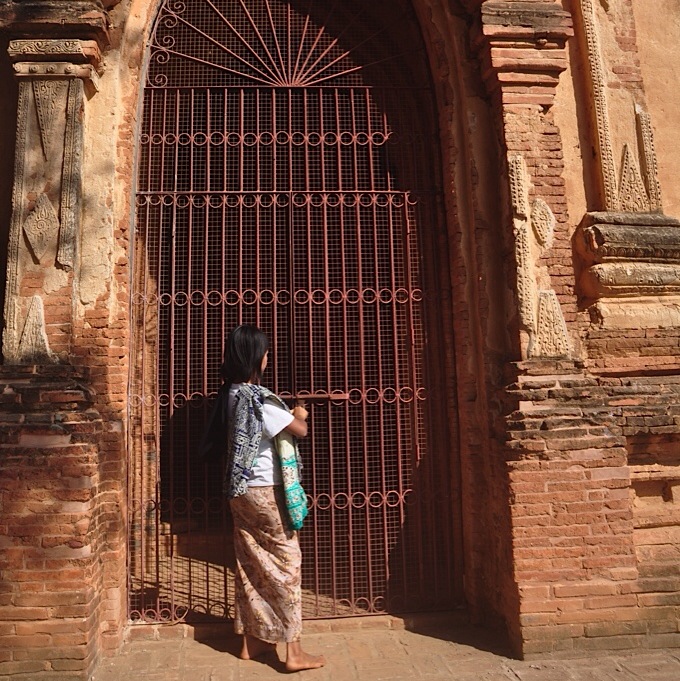 Sure enough, it was fascinating.  Here's a photo of the Buddha behind the locked door.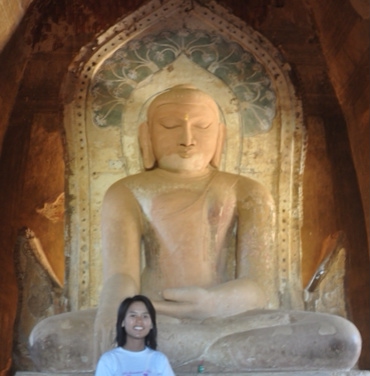 This Buddha is in a darkened room, so many of the wall murals are still visible and you can see the original colors.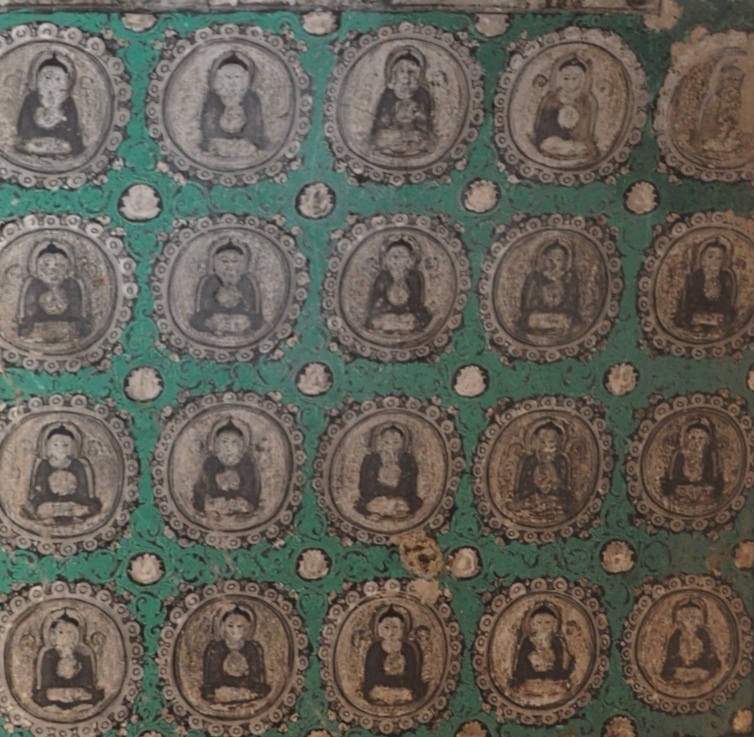 The original Buddha head fell off in the 1975 earthquake, and if you look closely at the previous picture, you can see a Buddha head but with a color that changes at the neck level.  The Buddha head on the body is from 1976.  The picture below shows the original Buddha head, that's about 1000 years old and fell off the body.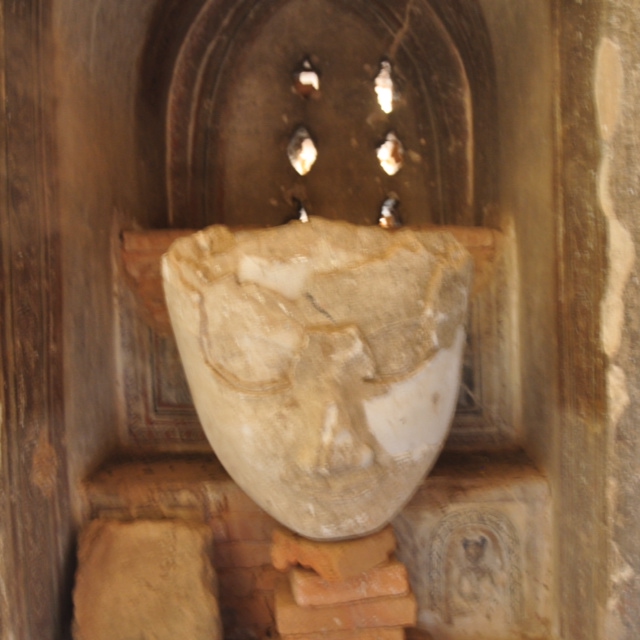 San San was kind enough to actually take me back the main area of Khay Min Gha Temple, and educated me even more.  You can see the Buddha behind a small metal protective fence.  However, if you look closely enough, you can see a blue hand painted border.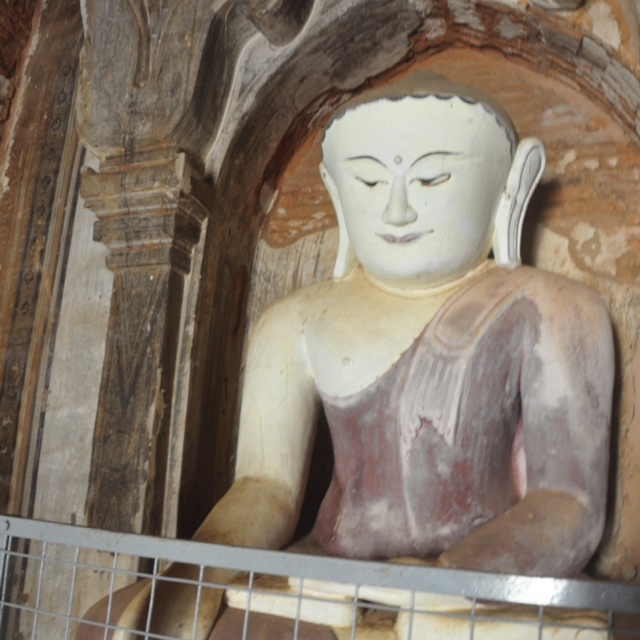 San San told me that the archaeologists in Bagan believe that this blue border is very unique.  Many walls and decorative elements were cotton sheets carefully placed on wet plaster, and hand painted while wet, so that the colors would "pop" off of the cotton on the wall-  sort of like early wallpaper.  Obviously, cotton probably will not last for 1000 years, and the natural paints they used 1000 years ago also will fade with time.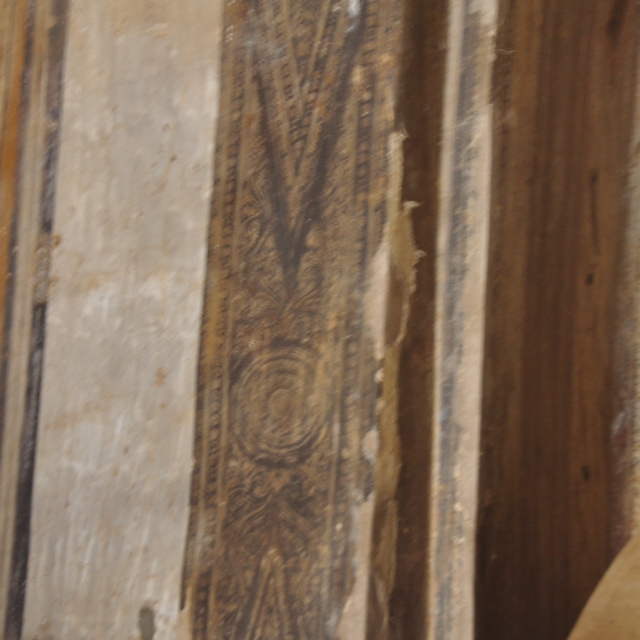 Khay Min Gha Temple is unique because the cotton is still preserved, and you can still the original blue color and the hand painted design.  I did look around at many other temples in Bagan, and I never saw remnants of cloth still attached to the walls of any temple I went to.
The "Secret" Monastery
San San then asked me, "Do you want to see an elevated view of Khay Min Gha Temple and the surrounding area that tourists rarely see?"
"Of course!", I replied-  and she led the way.
San San told me that there was always a monastery near a Buddhist temple so that the monks could live somewhere, preach, and take care of the temple on a daily basis.  There are innumerable monasteries scattered throughout Bagan.  However, since the monasteries are pretty plain, and have no valuables inside, they are often left open, and anyone can usually walk into them.
The stairs inside are very steep and narrow, and occasionally, they are dangerously falling apart.  The monasteries are definitely not that well guarded in Bagan, although frankly, I don't know why you'd want to go into too many of them-  they are relatively dull, square buildings with not much to offer.
San San led me on a 10 – 15 minute walk to the monastery closest to Khay Min Gha Temple.  Even if you're one of the many tourists with a bike or scooter, it's doubtful you would find this winding foot path.  It's narrow, so it's not used much.  There are no large temples in the immediate area.  You have to do through several farm fields to get to it.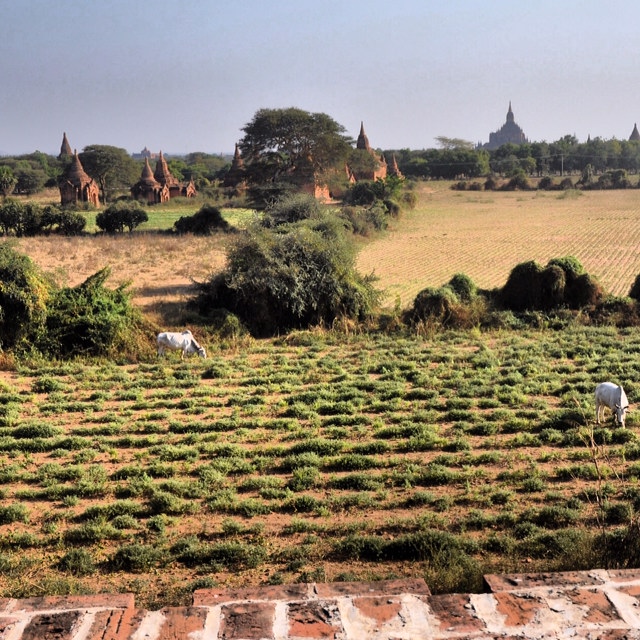 Here's a view of the monastery itself.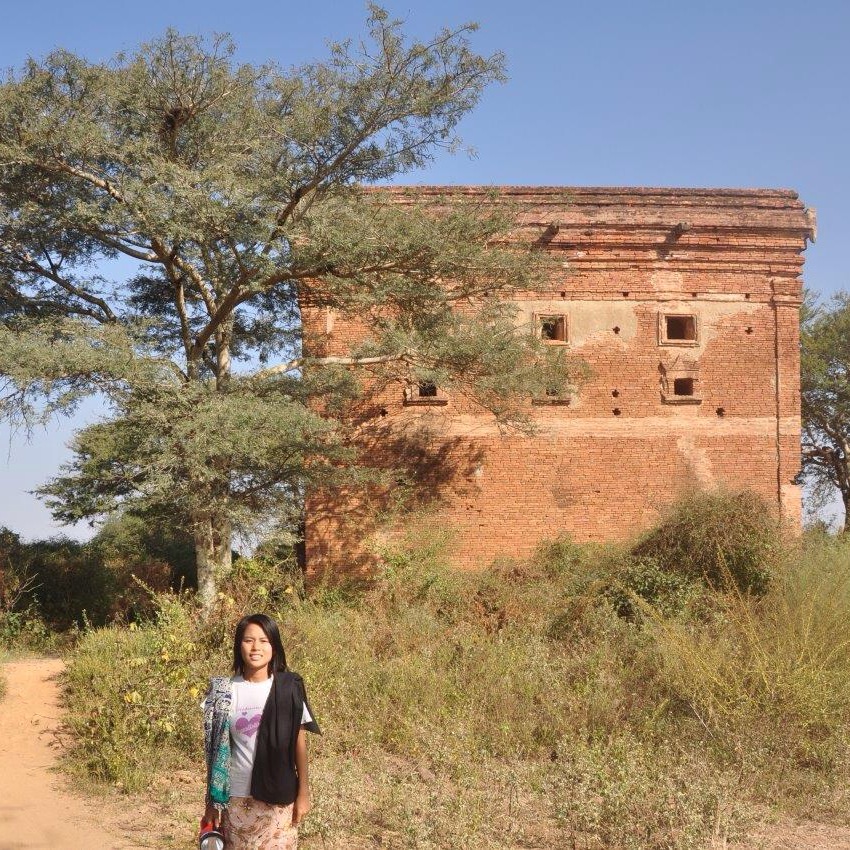 You just have to be friendly with the locals-  and that's when the magic happens.  Here's a view from the monastery roof.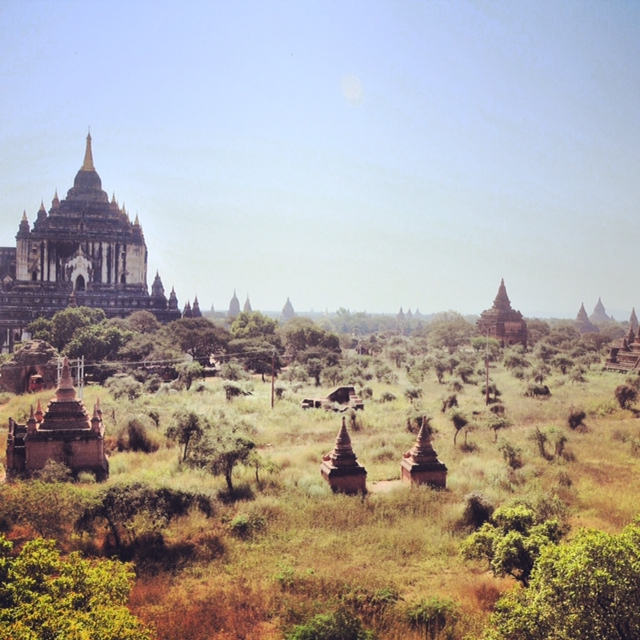 San San and Her Family
San San showed me around, and was patient when I took about 50 photos and a video and just looked around.  Time seemed to stand still-  and San San was probably bored out of her mind, since she probably goes to that monastery a couple of times a day, befriending tourists and honing her English and her tour guide skills.
She brought me back to the main temple, and I got to meet her husband.  San San has a baby boy, was kind enough to let me take a picture of her family.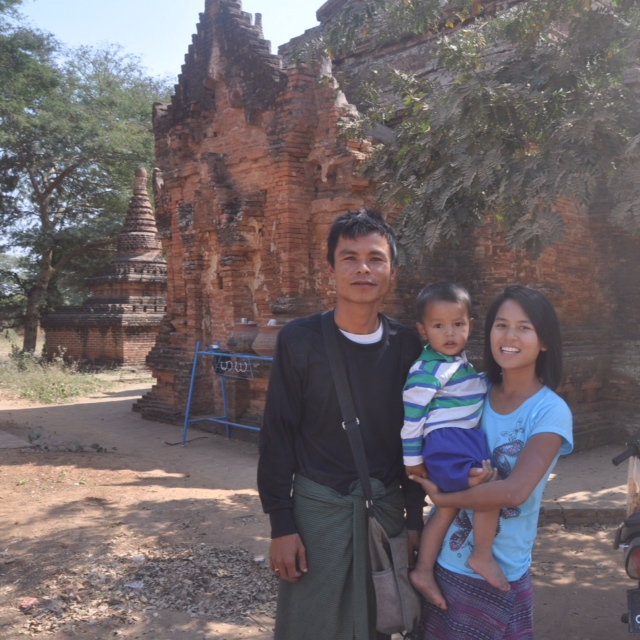 I didn't buy anything from her, but I did give her a very big tip for being my tour guide at Khay Min Gha Temple.
Small Window of Opportunity
I know, based on my previous posts, you're probably sick of hearing about me raving about Myanmar and Bagan.  I know I've already told you to go to Myanmar now, while the country's tourism infrastructure is still growing and the people don't take your tourism dollars and interest for granted.
Honestly, I've been in very few places where just being friendly and striking up a conversation leads you to see things that are amazingly unique.  Go ahead and do a Google search on this temple.  I dare you to find much information on the hidden secrets of Khay Min Gha Temple. 
I'm confident that this article will be one of the few articles on how amazing Khay Min Gha Temple is, the 1000 year old cloth with the original blue hand painted decorative design, and the "hidden" monastery offering a fabulous view of the area.  Archaeologists and even the Bagan tour guides may not know as much about this temple as San San, since she works there and sees it every day.
When you're at Khay Min Gha Temple, please tell San San I said "Hi", and please give her a massive amount of money, so that she can save it and go to tour guide school.  I'm sure she'll be able to show you around the temple as well.
Curious about my time in Myanmar, doing plastic surgery with Mission Restore?  Read more here-  
https://drkim.com/2014/03/03/plastic-surgery-yangon-myanmar-mission-restore/
Read more about my time in Bagan, Myanmar-
https://drkim.com/2014/03/13/bagan-one-most-magical-places-world/
Why go to Myanmar now?  
https://drkim.com/2014/03/04/why-you-need-go-yangon-myanmar-next-week/
Yes, you can buy jewelry, and lots of it, in Myanmar-
https://drkim.com/2014/03/10/jewelry-myanmar/
Thanakha was one of the biggest surprises of Myanmar.  Read more about this interesting facial cosmetic-
https://drkim.com/2014/03/11/thanakha-one-biggest-surprises-myanmar/
Please feel free to share this post be clicking the buttons below.  Have any questions?  Let me know at info@drkim.com.
– See more at: https://drkim.com/2014/03/21/most-magical-temple-bagan-khay-min-gha-temple/#sthash.CjiQg3nN.dpuf