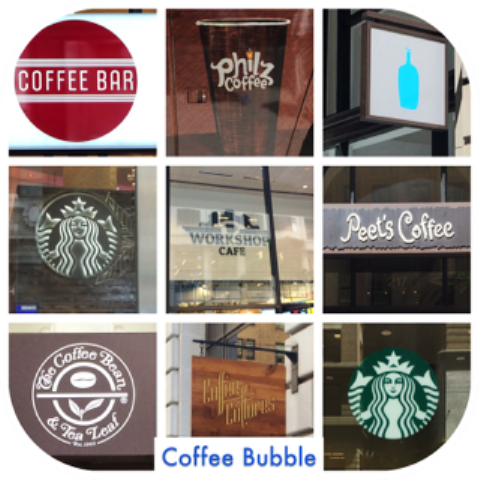 Coffee- I Don't Love It, I Like It
Coffee in San Francisco- a COFFEE BUBBLE
Too Much Coffee = The Apocalypse is Nigh
Coffee- I Don't Love It, I Like It
Coffee is a wonderful, natural high. The buzz of a good cup of coffee is one of the nice little daily pleasures of life, and trying to stop drinking coffee causes headaches, grumpiness, and a certain ennui of why you even thought about stop drinking the stuff.
As a plastic surgeon in San Francisco, it's always nice to drink really early in the morning, and get ready to exercise or operate or go to the office and get some work done. However, I must admit regarding coffee- I don't love it, I like it. I also like tea, kompot, and good old water. Of course, because I live in San Francisco, everything that I consume must be organic, natural, sustainable, free range, antibiotic free, hormone free, and single estate- but it's still possible to enjoy beverages OTHER than coffee.
Coffee in San Francisco- a COFFEE BUBBLE
I'm pretty busy with work in my office and at the surgery center, but recently, I have noticed a huge number of coffee shops around my office. This photo collage captures most, BUT NOT ALL, of the coffee shops available to me on each of the 4 blocks surrounding my building. Yes, there are 8/ eight coffee shops or coffee trucks within 1 block of my office.
(Note that I did NOT include any restaurants or café's that serve yummy coffee, and I actually excluded 1 out of the 3 Starbucks close to me, in this 9 coffee shop photo collage.)
This is when I started to realize that we are in a "Coffee Bubble". There is only so much coffee that I can drink before my heart develops arrhythmia, my teeth look as brown as my leather shoes, and I can't sleep at night. There are simply too many espresso drinks and pour-overs and cold brew recipes that I can try over the next 2,000 years.
And to be honest- I think that if most coffee shops around me are serving fresh roasted coffee selections from their uniquely roasted products, is there really much of a taste difference? It's sort of like deciding which 20,000 thread count sheet feels softer- all of these awesome coffee choices made for me by baristas with more graduate degrees than I possess are pretty tasty.
Too Much Coffee = The Apocalypse is Nigh
I have also read in the tech websites, that some coffee shops have VC/ Venture Capital money investments. No, it's not Google or Facebook- the techies and investors love their coffee shop so much, they are using OPM/ Other People's Money to invest in selling warm water poured over carefully selected and roasted coffee beans. Or an espresso drink. Or whatevs.
So, it is my thesis that we are about to hit the largest financial crisis since the 2008 Lehman crisis/ subprime loan crisis- because San Francisco has TOO MANY COFFEE SHOPS. If we could actually afford all of these expensive cups of coffee, we would have achieved a median income of about $100,000 PER INDIVIDUAL in the USA by now.
There is simply NO NEED to have this much expensive, high end coffee within 45 seconds of my office. I believe that during tough times, more people might actually consider making coffee for themselves, or possibly even putting coffee in an insulated Thermos and sip from it occasionally.
Natually, no one in San Francisco would ever consider a corporate brand name coffee, or even worse— freeze dried coffee. (Of course, these options exist for all of the bridge-and-tunnel people, or possibly campers at Burning Man.)
Even in my office, I have an espresso machine that I love, and use every time I'm in the office. It's actually faster than walking outside and running to my 10 choices of coffee shops, and it's cheaper. And yes, my coffee is still organic, artisan crafted, and sustainable- but less expensive.
So, you heard it here first- I believe that in the next 6 months, there will be the start of the apocalypse in the USA, aka the "Coffee-Pocalypse". Except for all of the customers who can afford high end coffee.
Any thoughts? Questions? Please feel free to share this article, discuss, or comment below.
PS- Here are the websites and addresses of all of the coffee shops in my photo collage. I am not kidding about how close they are to my office!
Coffee Bar – www.coffeebarsf.com
101 Montgomery St., SF, CA
Philz Coffee Truck – http://www.philzcoffee.com/
155 Sansome St., SF, CA
(NOTE- there is a Philz coffee shop very close by as well, and not just a Philz coffee truck – but you have to walk an extra 10 seconds to get to 1 Front St., SF, CA. That's 10 seconds without coffee- much too long to wait.)
Blue Bottle Coffee – https://bluebottlecoffee.com/
115 Sansome St., SF, CA
Starbucks – http://www.starbucks.com/store/16781/us/44-montgomery-market-st/44-montgomery-street-san-francisco-ca-941044602
44 Montgomery St., SF, CA
Workshop Café – http://www.workshopcafe.com/
180 Montgomery St., SF, CA
Peet's Coffee – http://www.peets.com/
217 Montgomery St., SF, CA
The Coffee Bean & Tea Leaf – http://www.coffeebeanbayarea.com/
155 Montgomery St., SF, CA
Coffee Cultures – http://coffee-cultures.com/
225 Bush St., SF, CA
Starbucks within Target Express- www.target.com
225 Bush St., San Francisco, CA
Some articles on VC money in Overpriced Artisan Hand Crafted Coffee
Philz Cofeee- http://techcrunch.com/2015/02/18/philz-coffee-funding/#.k9pset:E489
High Tech Investors and High End Coffee- http://qz.com/172468/why-high-flying-tech-investors-are-putting-their-money-in-a-coffee-shop/