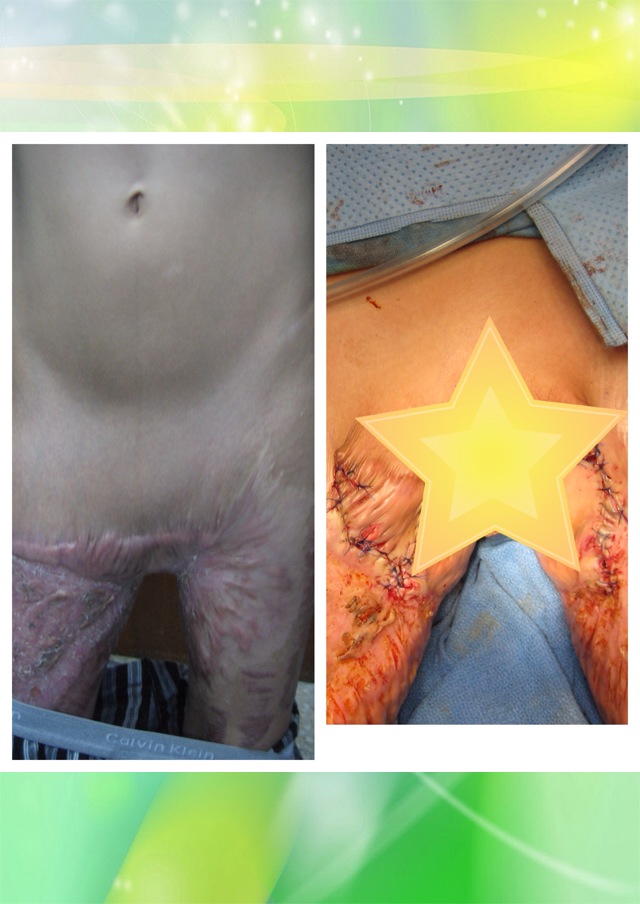 (NOTE-  Due to its graphic nature, this is quite possibly a blog post that's unsuitable for reading at work.  If you're easily offended, please move along to my other, gentler blog posts.)
Now that I have your attention,  I would like to share this real story about a patient of mine in Guatemala.  I was honored to help him out when I did a medical mission there a couple of years ago.
"Jose" (not his real first name) is a cheerful, happy boy who was 12 years old at the time.  I saw him in the clinic, and he shuffled in, all smiles.  His family told me that Jose was a great son, always helping around the house and taking care of his younger brothers and sisters.  While helping his Mom about a year before I met him, he accidentally spilled a large pot of boiling water on his shorts.
Fortunately, he was wearing both underwear and shorts.  This may seem trivial, but was crucially important to limit the damage on Jose.  The extra layer of clothing protected his penis and the inner groin area from too much burn damage.  Unfortunately, he sustained deep burn wounds to his outer groin and leg areas.
Burn Wounds in Plastic Surgery
As you probably know, plastic surgery is a wide and diverse field.  Burn wound care and reconstruction are one of the many sub-specialties within plastic surgery.  Time spent as a doctor in the burn unit can be very challenging and stressful, but the training there is valuable, and has allowed me to help those in need.
The deeper the damage to the skin, the more likely burn reconstruction surgery will be necessary.  For example, if hot water touches your skin for a second or two, your skin may turn red or even blister, but you probably won't need to see a plastic surgeon.  However, if you have boiling water or something higher in temperature that hits large areas of skin and stays in contact for a longer period of time, your skin can be so damaged that the dead skin will have to be removed, and replaced with a skin graft from somewhere else on your body.
In the case of Jose, his area of skin damage was so large that it affected his ability to flex his upper leg and pelvic areas.  Wound care, wearing special leg braces, and getting physical therapy can help a lot with burn wounds, but Jose was unable to get this type of specialized care in the remote villages of the Guatemala Highlands.
The Boy Who Couldn't See His Penis
Jose's burned skin responded like all severe burn wounds do-  a huge amount of scar tissue formed in the areas of worst thermal damage.  The scar tissue was so strong that it extended over his penis, and in the areas on his pants that were not protected by his underwear.  Fortunately, the water only spilled on the front of this body, and not the sides or back.
Unfortunately, the scar tissue formed an "apron" over his front groin. Jose was only able to go to the bathroom standing up, and couldn't see his penis!  This was quite concerning and embarrassing for him, and his family vowed to bring him to a local hospital when any visiting plastic surgeon would be able to fix it.
The Burn Reconstruction Surgery
When I met Jose in the clinic at Hospital de la Familia, I was immediately struck by how happy, cheerful, and optimistic he was.  His smile was truly infectious.
I am often stunned and bewildered by how happy people are when I travel in some of the poorest places on Earth.  Jose and his family were some of those people-  just being poor and not having all of things in life we take for granted, did NOT affect his happiness, his outlook on life, or his hopes for the future.  It's a profound lesson.
After assessing him, I decided that he needed burn scar release, with skin grafting from his posterior thighs and buttocks.  I had to "borrow" skin from the unburned part of his legs to cover the burn wounds that I was about to surgically release.
My goal was to help Jose use the bathroom normally, move naturally, and see his penis again.
Afterwards-  a Better Life
Jose's surgery was uneventful, and he had a great recovery.  Being a healthy kid always means that the post-surgery healing is faster than an adult, and Jose was no exception.  His skin graft sites healed quickly, and he started moving his hips and inner groin soon after surgery.
Hallelujah:  Jose was finally able to see his penis, not just a large burn scar that reminded him of his boing water injury, and limited his ability to walk.  Jose told me that he was excited to run again, walk, play futbol – and help his Mom again with the chores.  Talk about a great son and loving family!
What You Can Do About Burns in the Third World
Well, of course, you can always give money.  Share this article on social media to build awareness and perspective.  Even simply being thankful for one thing today, and saying "please" and "thank you" for the kindness around you, would be a great start.
Whatever's going on with your life, I hope that this little story about Jose lifted up  your spirits.
(NOTE-  Jose is not the real name of this patient-  I changed it to protect his privacy.  Although I do have pictures of his smiling face after surgery, I have chosen to keep those private, because he's still under 18 years old. )
Here are the 2 plastic charities I support-  Operation of Hope and Mission Restore.  Feel free to just read about the phenomenal stories behind the plastic surgery that improves lives and smiles throughout the world!
http://operationofhope.org/donate/
http://missionrestore.org/get-involved/make-a-donation/
Want to read about the most touching patient I met in Malawi in 2013?  Click on this link, and learn about the power of a first kiss-
https://drkim.com/2013/09/09/malawi-fairy-tale-you-see-your-loved-one-new-light/