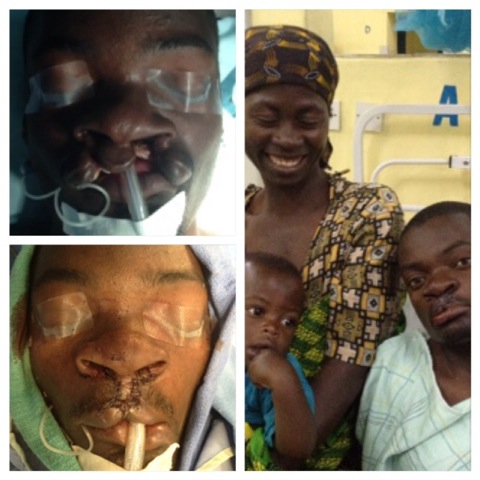 We don't make the trip to Africa so we can play Uno and watch movies.  We're here to perform as many life changing surgeries as we can, for those who otherwise have no access to them.  So coffee up.
Morning Devotions
Every morning, the BEIT-Cure Hospital has a devotional or morning worship service before the day starts.  It's a short service, with a couple of prayers, songs, announcements, and a short sermon.  Although we're not required to go, it's fun for me to go and pray for the patients. All of the hospital staff participate, and I hope that they enjoy going, as opposed to being forced to go.
Surgical Case 1-  Ruth R.
Ruth is a 14 month baby girl with bilateral cleft lip.  Her case was tough, because she has very little normal bone in the middle of her upper jaw to get the best closure.  Also, like many of the patients here, she is underweight for her age-  only 11 pounds , or 5 kilograms.  This is a major concern, because her healing may be slow or impaired due to her lower nutritional status.
Surgical Case 2 – Happy B.
Happy is a 3 month baby boy, who weighs almost as much as Ruth-  about 10.5 pounds.  He had a left unilateral cleft lip.  His case went smoothly, and he should have a good result.
Surgical Case 3 –  Chilungaml K.
Chilungami means "Justice" in Chichewa, the official language of Malawi.  He is 7 years old, and had a left cleft lip.  His repair was more straightforward, because as a bigger child, the anatomic structures are bigger.  It is preferable to repair a cleft lip at a younger age, typically when the child is about 3-6 months old.
Surgical Case 4 –  Dennis E.
Dennis is a healthy 16 year old teenager who was born with a left cleft lip, and has never had a repair.  Like most teenagers, he loves music and is obsessed with his smartphone all of the time, as opposed to talking to human beings.
It's very unusual for me or any other plastic surgeon to repair teenagers or adults in the US with a completely unrepaired cleft lip or palate. There aren't any great textbooks or journal articles addressing this, simply because most teenagers and adults get their cleft lips fixed as infants.
Dennis was really excited to get his procedure done, and he did great with surgery.  He is back in the patient ward, using his smartphone.
Surgical Case 5-  Njima B.
Nijma is a 30 year old Mom who has lived with a right incomplete cleft lip for her entire life.  I can't imagine what that must have been like.  Nijma is a very sweet person with a beautiful daughter.  Her procedure went well, and she did great post surgery.  It will be nice to see her reunited with her daughter.
Surgical Case 6-  Efrida L.
This patient takes the prize for best background story.  Marguerite, a volunteer at the BEIT-Cure Hospital, actually saw Efrida walking around Blantyre 3 weeks ago.  She stopped to talk to him, and told him that she had heard that Operation of Hope might be stopping by the hospital, and that he should make sure to keep his ears open for a radio announcement.  Unfortunately, she lost touch with him.
Amazingly, in the pre-op holding area, Marguerite saw him again.  Both were ecstatic to reconnect!  Efrida is a father, and it was an honor to fix his bilateral cleft lip.  I took a family portrait of him after surgery, and his baby kept on pointing to his Dad's lips and squealing with laughter – it was pretty cute!
His wife too, seemed happy to see her husband with a more normal face! She has never seen him without a bilateral cleft lip. Now, it's fixed!
Six procedures, we're going back to the hotel.  Dinner beckons.  Talk to you later!