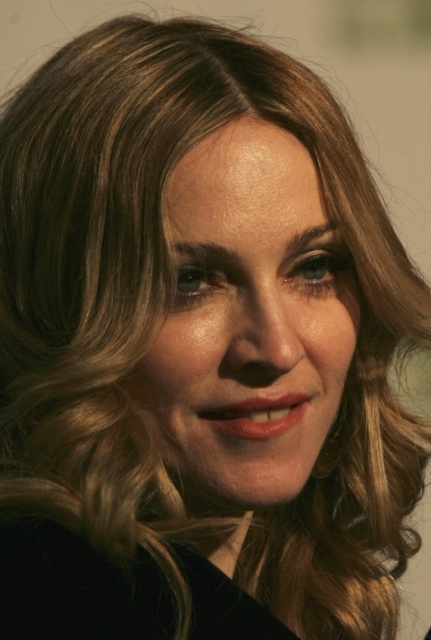 I know you want to believe that a celebrity-endorsed cream will transport you to a Beverly Hills facial reality.  But it won't.  Only a qualified and experienced doctor can do that.
Working for a paycheck is noble and effective.  But who would turn down a winning lottery ticket?  Beauty products can be like that.  Researching and experimenting with what works best for you, will bring you to a personalized regimen that meets your needs.
Still, when a beautiful celebrity appears with an array of products which promise to instantly make you look, well, exactly like that beautiful celebrity, it's just so tempting.  Then again, aren't all infomercials?  (If there's a vegetable chopping device, creating delicious salsa after 10 pm on any channel, there's a high to extremely high chance I will be charging that sucker and snagging some free specialty bacon tongs while I'm at it.)
Let's perform a reality check shall we?  Madonna has been singing and prancing on-stage for what, 60, 70 years now?  She has certainly mastered her trade.  But let's be real about what Madonna is not:  A pioneering chemist and dermatologist.  Nevertheless, she is the latest celebrity cashing in on a new skin care line:  MDNA SKIN.  There are only 3 products, and the descriptions feature claims like, "radiant skin overflowing with energy after every use."
What exactly does "radiant" mean?  No really, describe what in the heck that means.
"Overflowing" skin?  Skin is not a toilet.
Your toilet skin will be overflowing with "energy."  Energetic skin.  Does it do calisthenics? Emit electric shocks? Produce renewable energy?  We simply do not know.
Results after every use.  Please.  Even Pepto Bismol doesn't work every time.
I think you understand what I'm saying.  Is there a chance that her new products are fantastic?  Sure.  But I think they're roughly the same odds as you'll face with the aforementioned lottery scenario.
In my office, we have prescription grade products that work.  We have our preferences in brand names, but I won't even name them here-  because you should know that there is science backing up my claims.  You will get safe, effective results in my office and NOT over TV ads, internet purchases, or non-prescription, OTC/ over the counter products.
If you want your skin to look great (Even better than your humble cosmetic surgeon), contact my office today to schedule a consultation:  info@drkim.com, or call the office at 415-362-1846.
I promise, I have more options than you'll find in a celebrity skin care line.  In fact, I'll have the same number of options that your favorite celebrity has when she visits her cosmetic surgeon.
Did you find this article interesting?  Please share via Twitter, Facebook or Google Plus below.