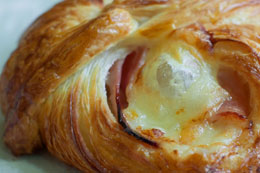 Today's Saturday Shout Out goes to Sandbox Bakery.
This is a tiny bakery with awesome, unique baked goods. The owner and chef is Ms. Takehara, who was at Chez Panisse, Le Farine, Rubicon, and The Slanted Door. She opened up her own place several months ago, and has traditional, Japanese, and fusion pastries and sandwiches. There is also a coffee and espresso bar. The coffee is super hot drip, with Ritual and De La Paz beans.
It's worth a special trip to Bernal Heights for the food! Sandbox Bakery is open 7 days a week.
Sandbox Bakery
833 Cortland Ave. (cross street is Gates St.)
San Francisco, CA 94110
415 642 8580
NOTE – Saturday Shout Out's are never bought, rented, or sold. They are simply unique things, places, and restaurants in San Francisco that I like. Trust me – I'm a doctor.