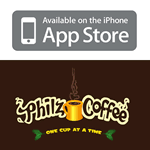 Philz Coffee serves exceptional coffee in many locations, with the original store in the Mission. The coffee blends are unique with secret spices, although I think there's a lot of cardamom and sugar in them.
The coffee is brewed one cup at a time with very hot water. I've only seen this in Turkey, and a couple of other places in San Francisco. This technique makes the coffee very strong, hot, and quite hazardous to small children, but it's worth it!
Philz Coffee
3101 24th St., at Folsom St.
San Francisco, CA 94110
TEL- (415) 875-9370
Facebook– http://www.facebook.com/pages/San-Francisco-CA/Philz-Coffee/31131817744
Twitter– http://twitter.com/philz_coffee
Itunes App– http://itunes.apple.com/app/philz-coffee/id327849884?mt=8
NOTE– Saturday Shout Out's are never bought or sold. They are spontaneous expressions of bliss from my chakra.
Trust me, I'm a doctor.