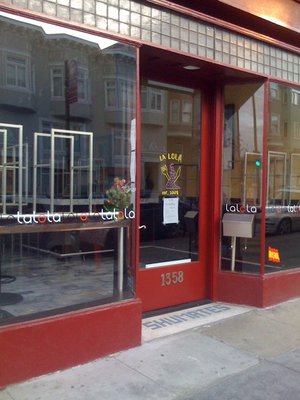 This week's SATURDAY SHOUT OUT goes to Lalola, a great place for tapas.
It's a labor of love for Carlos del Castillo, Gonzalo del Castillo, and Kevin Davis.  They loved tapas so much that they opened the place after fixing it up themselves.  They all still have day jobs, yet they work every day at Lalola because they have a passion for the food and drinks of Spain.
I especially love the pork loin with cheese, quesa manchego, and seafood paella.  Lalola has kick-ass sangria as well.  The place is small and can be noisy, so it's a great place for an automatic party.
For all of you geeks and bargain shoppers out there, Lalola has it's own Iphone app.  If you download it, you get cheap sangria and specials immediately.  Look for it on ITunes!  And I'll see you at Lalola soon!
Lalola
1358 Mason St.  (corner of Mason and Pacific Ave.)
San Francisco, CA  94133
415 981 5652
Just like all other SATURDAY SHOUT OUT's, you can't buy or rent this space.  All of my blog posts are simply places that I love or find interesting.
Trust me-  I'm a doctor.