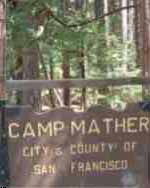 Today's Saturday Shout Out Goes to CAMP MATHER.
Camp Mather is a socialist commune, er, camp run and managed by the City and County of San Francsico. It's at the edge of Yosemite, and I was recently there on vacation with my family.
Camp Mather is open to all, but preferential treatment and lower pricing is given to San Francsico residents. There are cabins and many activities, like a lake, pool, tennis courts, and hiking excursions. Since it's at the edge of Yosemite, you can go on even more hikes within the park.
If you have kids, they'll have a blast. There are alot of other families there, so your kids will make new friends, and you'll have less babyistting to do.
http://sf-recpark.org/index.aspx?page=398
http://www.campmather.com/