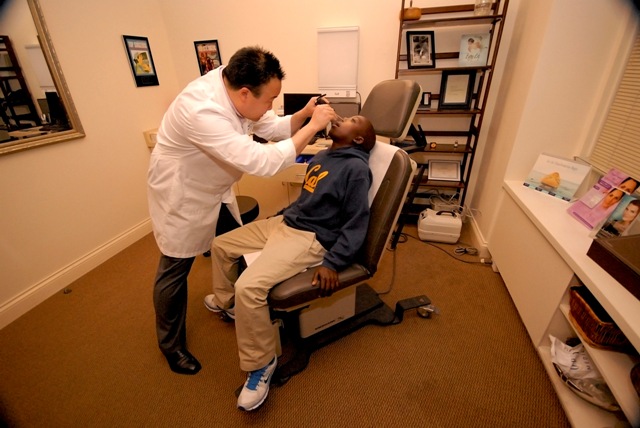 by Charity Ohlund – guest blogger and Dr. Kim admirer
I'm hijacking Dr. Kim's blog today to tell you about Jean Claude, the Rwandan teenager who recently returned to his home country after a successful cleft palate and cleft nose surgery in San Francisco.
I've worked with several doctors in the past, and I've worked as a writer with Dr. Kim for more than a year now. During that time, I've noticed that there are several things that make him unique from most other doctors.
First of all, he is totally "dialed in" to social media and blogging and technology, and he actually cares about producing content that is not only informative and scientifically sound but also fun to read (a.k.a. Not your average boring doctor stuff). This may seem like a no brainer, but trust me, most docs don't think this way.
Dr. Kim also really cares for and connects with his patients. He is a highly-skilled and experienced surgeon, yet it's his personality and easy-going nature that really puts his patients at ease.
Working with the African Mission Alliance, Dr. Kim and a slew of other volunteers worked together to bring Jean Claude to San Francisco for the surgery that would give him an entirely new future. The procedure was a success, and Jean Claude returned to Rwanda where he is attending school for the first time in his life. Jean Claude is working hard on his English with the hopes of returning to the United States for another visit.
Dr. Kim has previously traveled to Guatamala on several medical missions and is going to Malawi in June for yet another. And if that wasn't enough (and it isn't for Dr. Kim), he will visit Rwanda in the Fall. I congratulate Dr. Kim for his success with Jean Claude, and I admire how he continues to use his talent to change the lives of others for the better. We should all find a way to do the same.
Now, grab yourself a box of Kleenex and take a look at this video featuring Jean Claude's amazing story.