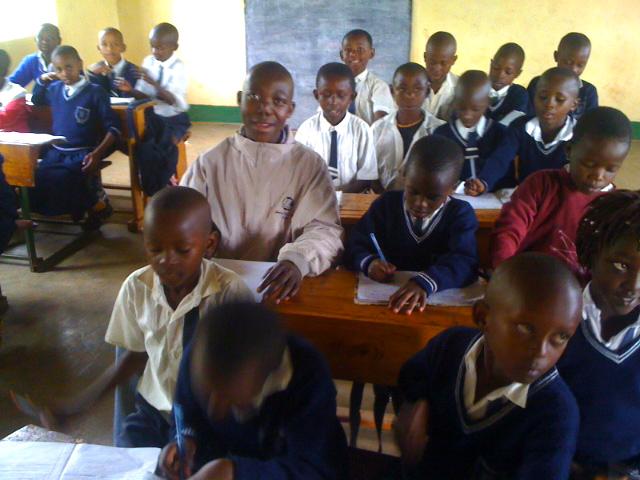 As chronicled here in my blog (see previous stories here and here ) and in the San Francisco Chronicle, I operated on Jean Claude recently.  Jean Claude is a wonderful teenager from Rwanda, and I was able to correct his nose and cleft palate so that he could look better, quit being ostracized in his community and move forward in life.
He traveled home to Rwanda a couple of weeks ago, and I'm happy to report that he's doing great!  His family situation is much better, and he is now VERY interested in going to school.  All of the people that were a part of his team here in San Francisco have grown to love and care about Jean Claude and have promised that we'll visit him. He can actually come back to the U.S., but there is a catch –
Jean Claude has to go to school and learn English.
I don't think this will be be a huge hurdle for him.  In addition to exposure he received for the three months that Jean Claude spent in the States playing on an iPad, watching TV and living with Americans, English is the official language of Rwanda, along with Kinyarwanda. Teens in Rwanda almost all speak English already.
The reason why Jean Claude doesn't know English is because he avoided school for years because everyone made fun of his appearance.  Now that his overall appearance is much more normal, he is more confident and talkative and is eager to go back to school.  I'm looking forward to talking to him in English when I go to Rwanda later this fall.  Of course, I'll probably have to learn a little Kinyarwandan to make the language exchange fair.
The picture above is of Jean Claude in his new school.  Because of his lack of classes so far, he placed into the 3rd grade.  Apparently, due to the overall educational conditions in Rwanda, this is not as uncommon as you would think. Tons of kids can't afford school, or drop out and go back, or move around to different family members and different schools frequently.
I'll be writing more about Rwanda, plastic surgery in the 3rd world, and my lame efforts to learn Kinyarwanda in future posts.
I found this interesting blog of a Peace Corps volunteer named Ian Ross who is currently teaching English in Rwanda. http://ianinrwanda.blogspot.com/