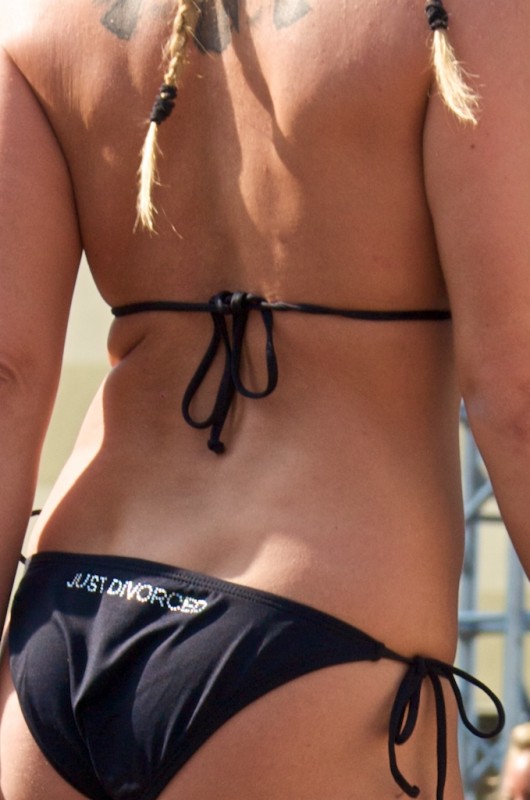 So, you just got divorced, and you're back in the fishing pool?  Do you feel that you need a little help to find "Mr. Right" again?  Or are you just looking for "Mr. He'll Do For Now?"
Although more psychological than surgical, there are some tips to help you during this potentially difficult and trying time in your life.  As a plastic surgeon, I hate to admit it –  but these tips will actually make me less money, and keep YOU happier long-term.
(My accountant is about to apply some SUTH therapy to me –  Slap Upside the Head – so you'd better read this article while I'm still conscious….)
Do It For Yourself
Don't Do "Vengeance" or "Revenge" Plastic Surgery
Work Out
Pick the Procedures That Work For You
Do It For Yourself
Plastic Surgery can be a very empowering experience.  Also, many people decide to get plastic surgery for a boost in self-esteem.  And I know, honey, that you need some boosting after the way that feeble excuse of a man treated you!
But remember, even though plastic surgeons care about you as a patient, they don't really know you well enough to fix the other things going on in that brain of yours.  I hate to sound all hippie-like,  but your soul, your psyche, your "chi" may need some support, analysis, love, and understanding.  Even though your plastic surgeon may be supportive, he is not the right person to help with the other non-physical things going on in your life.  I would recommend really analyzing and focusing on if the plastic surgery procedure you want is for you, and not just to feed your bruised ego.
Don't Do "Vengeance" or "Revenge" Plastic Surgery
There have been articles in the media about Plastic Surgery for vengeance or revenge.  The scorned woman wants to look faab-you-lous and make the ex-hubby jealous.  Maybe there's money involved, and ongoing plastic surgery procedures will really take a monetary bite out of the former spouse's wallet.  Finally, there's the intoxicating yet dangerous mixture of several sins, including vanity, entitlement, and wrath.
If you're going to get plastic surgery, you need to figure out your true motives for wanting a certain procedure.  In general, I'm not going to operate on someone who is doing it to get back at someone else –  I want to operate on someone who is doing it for themselves.
OK, seriously, I can't psychoanalyze you, but whatever feelings of vengeance you may have should be worked on in a different arena.  Perhaps you can get a golf club and chase your husband out of the house and hit his windshield and cause him to back up into a tree and lose consciousness and call an ambulance….  but I digress.  You should NOT seek revenge by getting the plastic surgery procedure or operation that you've just decided you wanted after signing the divorce papers.  You should truly make a serious, thoughtful and informed decision on undergoing an elective, cosmetic procedure.
Watch Your Diet and Work Out
What?  A plastic surgeon recommending NON surgery, and not making a buck off of it?  What gives?  Well, if you have any semblance of feeling depresed, lonely or hopeless, then watching your diet and exercising are great (and cheap) ways to combat those problems.
You really are what you eat.  So eat healthy, eat reasonable portions, and don't become a sad, bluthering sack of whininess, woe-is-me-isms, and other not very attractive qualities that potential new mates will find repulsive/ repugnant/ not sexy.  It's going to be hard to resist eating a whole pint of Haagen-Dazs.  It's going to be difficult resisting drinking the whole bottle of Amarone –  by yourself.    But you know and I know that YOU have it within you to take it one day at a time, and make a conscious decision to make better choices for you.  And a great way to make a better choice is to watch what you're eating.
Exercise is a natural way to get endorphins and other chemicals in your bloodstream to feel happier, healthier, and more energetic.  Plus, if you're even considering liposuction or a tummy tuck, losing weight before the procedure will make my job easier and your results even better.  Heck, if you lose enough weight and you end up with tight skin, you may not even need my plastic surgery services!  Finally, just as a friendly reminder, there are usually more men than women at most fitness clubs and gyms.  Bonus!
Pick the Procedures That Work For You
FINALLY, that plastic surgeon is talking about plastic surgery!  Well, if you're still interested, I would recommend thinking things through, making sure you have social support, and possibly going for (gasp) smaller procedures.
If you're just thinking of getting an office procedure, go with the smaller procedures that don't create a big change.  You'll be pleasantly surprised with what Botox, Juvederm and other dermal fillers, and medical grade skin care can do.  Your skin will glow, and you'll look happier and healthier.
If you're considering a plastic surgery procedure that needs to be done in the operating room, make sure you have social support and someone who can help take care of you after surgery.  Since "the jerk" is no longer around, you will probably have to make extra arrangements with your friends, family members, and others to help take care of you, the kids, the house, and other things.
Plastic Surgery procedures such as a Mommy Makeover or an Eyelid Lift, can do wonders to boost your self-esteem and confidence.  Depending on your wishes and your needs, there are plenty of options available to you.  No matter your choice, you'll come out of your treatment looking younger, happier, and more confident.  And that's truly the best revenge, right?